Previewing MSU's opening Big Ten tournament matchup with Michigan
East Lansing, Mich—Michigan State will get a fifth and final chance to beat its in-state rival this weekend. Coach Danton Cole's squad will travel to Yost Ice Arena for a best-of-three series with No. 5 Michigan for the opening round of the Big Ten Men's Tournament.
The postseason format features three different series in the first round as Michigan will play Michigan State, Notre Dame will play Wisconsin, and Ohio State will play Penn State. The remaining teams will all be re-seeded for a single-elimination semifinal. Minnesota, the tournament's top seed, will play the lowest seed left. Every game, including the championship on March 19, will be played at the home arena of the higher-seeded team.
Michigan (25-9-1, 16-8 Big Ten) ended their regular season on a low note, losing twice on the road to Notre Dame last weekend. That pair of defeats bumped the Wolverines down three spots in the USCHO.com poll and opened the door for Minnesota to take the Big Ten regular season title with a sweep over Wisconsin.
Michigan State (12-21-1, 6-18 Big Ten) needed to get two wins against Penn State to climb out of last place, and it only got one. After blowing a 3-1 lead through two periods last Friday, the Spartans would hold on to secure a 2-1 win on their senior night and break a 13-game losing streak – the third-longest streak in school history.
Game one will begin on Friday, March 4. Game two will be the next night, and game three, if necessary, will be on Sunday, March 6. All games will begin at 7:00 P.M.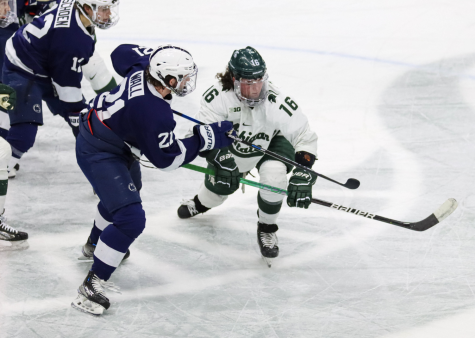 Is Michigan okay?
Getting swept the final weekend of the regular season by a lower-ranked team is certainly not the way that Michigan intended things to end, especially when it had a chance at a first-round bye.
However, hitting the panic button would be an overreaction. Michigan is one of the most talented teams in the entire NCAA. The abundance of NHL lottery picks like Owen Power, Matty Beniers, Luke Hughes, and Kent Johnson is too strong to say that the team is in any real trouble. Michigan will be fine.
How much impact does Michigan State's win against Penn State carry?
It can be easy for Michigan State fans to say that, since the team won a game and the monkey on its back is gone, the Spartans now have the confidence and/or momentum to be the team they were before the Christmas break. I would argue that such fans are being a little too optimistic.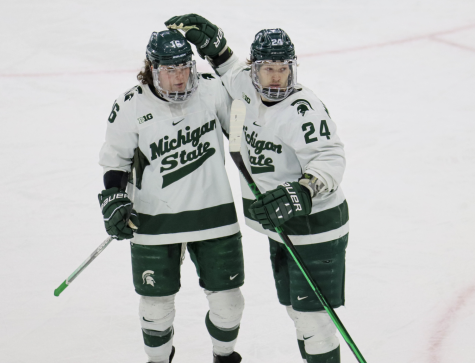 While it definitely is huge for Michigan State to finally get a win, it only did so behind a 38-save masterpiece from senior Drew DeRidder. While the offense looked great in the first period of both Penn State games, the Spartans played on their heels for the third period of those same games. MSU was outshot a combined 38-6 in the third period last weekend. That type of play will not fly against a team like Michigan.
Could there be an upset?
I wouldn't recommend putting money on it. The Spartans are feeling good after finally breaking the losing streak while Michigan lost two straight against Notre Dame. However, Michigan is arguably the most talented team in college hockey.
Keep in mind that this same Michigan team, while missing Power, Beniers, Johnson, and San Jose Sharks prospect Brendan Brisson – all of whom were competing in the Olympics – whooped Michigan State 6-2 and 7-3 less than a month ago.
In order for Michigan State to pull off an upset, it will need to be at the top of its game for a full 60 minutes – twice. Even in their most recent win, the Spartans haven't shown enough for me to reasonably think they can pull off the upset.