Leah Johnson adds former Notre Dame setter Zoe Nunez via transfer portal
EAST LANSING, Mich – New Michigan State volleyball coach Leah Johnson has added her first transfer in two-time first-team All-Atlantic Coast Conference (ACC) graduate transfer setter Zoe Nunez from Notre Dame.fgo
Nunez, a 5-foot-10 setter, has spent the past four seasons at Notre Dame. She has already earned two first team All-ACC nominations while earning a second team nomination as a freshman in 2018. The two first team selections have come in the past two seasons.
She was the No. 52 ranked recruit in the 2017 class according to PrepVolleyball, playing her high school ball at Keith County Country Day (Rockford, Illinois). Nunez was a highly -decorated prospect, leading the team to an Illinois state title in 2014 while also being named to the IHSA State Finals All-Tournament Team. In addition, she was a 2017 Under Armour All-American Honorable Mention.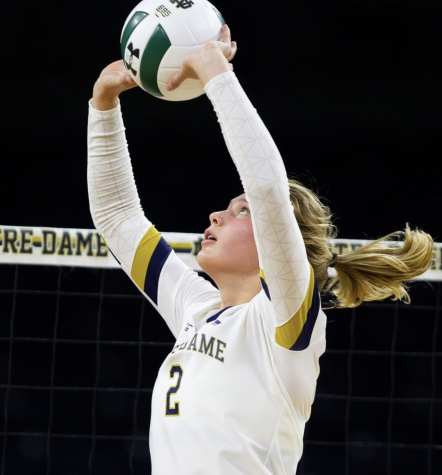 During the 2021-2022 season, she compiled 912 assists, averaging 8.94 assists per set. The 912 assists were the best mark on the team. She also registered 262 digs, the third-best mark on the team.
In 2020, she recorded 753 assists, averaging 10.61 assists per set. The 10.61 assists per set ranked No. 33 in the nation. Despite the impressive numbers, her highest total actually came during her sophomore season, when she recorded 1,219 assists on the season
Nunez will help add much-needed veteran experience as senior outside hitter Molly Johnson, alongside middle blocker Naya Gros and defensive specialist Lauryn Gibbs, are set to graduate. She is the second transfer that the Spartans have added this offseason, after former DePaul defensive specialist/libero Avery Horejsi.