Four third period goals rally Penn State past Michigan State, Spartans lose 13th straight
EAST LANSING, Mich. – Penn State went into Munn Ice Arena and defeated Michigan State 5-3 Friday night, extending the Spartans' losing streak to 13 games. 
The Spartans dominated play through two periods, leading 3-1 behind goals from Josh Nodler, David Gucciardi, and Erik Middendorf. MSU had multiple power play opportunities
The team blamed a series of self-inflicted wounds for what was to come. The Nittany Lions outshot MSU 18-4 over the final 20 minutes, scoring four times to give Penn State the win.
"All the goals were our fault," Middendorf said after the game. "We definitely left Pierce [Charleson] out to dry tonight in the third period, turning pucks over in the slot…Can't get too high, can't get too low, but we just have to finish games and be better than that."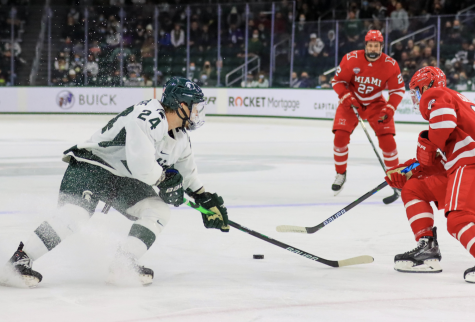 The onslaught began 50 seconds into the period, where an Adam Pilewicz shot took an unexpected bounce off Spartan defenseman Cole Krygier and into the net. Less than three minutes later, freshman forward Jesse Tucker blundered a pass that landed on the tape of Penn State captain Paul DeNaples. DeNaples picked the top blocker-side corner to tie the game. 
Then, with five minutes left in the period, junior Jagger Joshua was sent to the penalty box for elbowing. Penn State forward Connor MacEachern would score on the ensuing power play to go up one. An empty net goal from Ben Copeland would put the game out of reach.
Penn State (15-17-1) improves to 6-16-1 in the Big Ten Conference; Michigan State (11-21-1) falls to 5-18. 
What does this win mean for Penn State?
The answer is two-fold. First, Penn State avoids Michigan or Minnesota in the first round of the postseason. Depending on the result of Saturday's game versus Michigan State, Penn State will play either Notre Dame or Ohio State. 
Second, the Nittany Lions gain momentum. They broke their losing streak of five games, and now they have some confidence that they can take with them into the Big Ten Tournament.
What went wrong for Michigan State?
The Spartans played on their heels for the vast majority of the third period. Some of the early goals were unfortunate bounces (like Pilewicz's goal off Krygier), and some were unforced errors (like the turnover that led to DeNaples' goal). 
However, those bounces don't excuse such a lopsided shot total in the third. Goals like those don't happen if Penn State wasn't dominating the time of possession in that period. The Spartans simply could not keep the puck away from Charleson for long enough to hold on.
How does this game affect Big Ten Tournament seeding?
With the loss, Michigan State cannot finish any higher than last place. That guarantees that the Spartans will face either Michigan or Minnesota in the first round. 
Michigan also lost to Notre Dame Friday night, while Minnesota beat Wisconsin at home. Now, Minnesota has a one-point lead over Michigan. So, if Minnesota completes its sweep of Wisconsin Saturday, it secures the Big Ten regular season title.
Penn State is now tied with Wisconsin in points. If one team wins Saturday and the other loses, then the winner gets the fifth seed. If they either both win or both lose, Penn State will get the fifth seed for having a better head-to-head record versus Wisconsin.