Previewing Michigan State's roster after hopes of March Madness are likely squashed with back-to-back losses
Owen Oszust, Women's Basketball Beat Reporter
February 24, 2022
ANN ARBOR — The Spartans had a hard-fought battle against the Wolverines Thursday night, but just couldn't get it done, falling 62-51. 
It's time to start looking into the future of this MSU team and their future with the NCAA tournament almost certainly out of reach for this season. 
The two freshmen in DeeDee Hagemann and Matilda Ekh are a huge bright spot in this Michigan State team. I've seen both of them improve mightily for MSU as the season has progressed. Hagemman used to only rely on driving, now she's working on becoming a stop-and-pop shooter. For Ekh it's been the 3-point shooting that has always been strong, but now getting to the basket has become a big part of her game as well.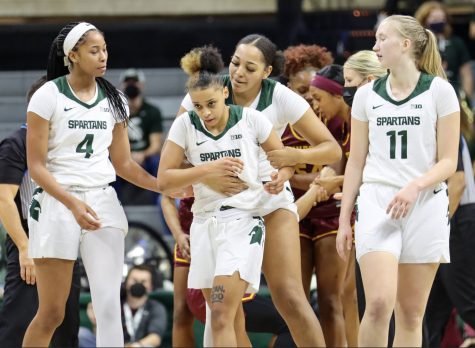 Nia Clouden is going to be an impossible player to replace. With both her skills and leadership departing, it will be a massive hole for the Spartans to fill. It really comes down to finding her replacement whether that is a current member within the team stepping up, or finding a player in the transfer portal.
Tamara Farquhar was such a big addition for MSU in the transfer portal this past season and her absence will be noticed. Tory Ozment and Julia Ayrault are both coming back from season-ending leg injuries and will be nice returns for the Spartans as well. The two can definitely help out with some of the shooting inconsistencies that plagued MSU all season.
MSU's two incoming freshmen guards, Theryn Hallock and Abbey Kimball should play a nice role in the upcoming season. I don't think depth is going to be a problem next season for the Spartans unless more injuries occur (which has been one of the largest problems over the last three seasons for MSU), but lacking star power will.
Ekh and Hagemann have shown that they can both have big games at times but have not done it consistently. Merchant badly needs a big-time transfer portal addition heading into next season if she wants to have the same star power that she has had in the past with names like Clouden and Shay Colley. 
Michigan State also needs a good, consistent big down low, and at the moment they won't have that on their roster next year. Taiyer Parks and Alisia Smith will more than likely both be back next season, but their performances have been roller coasters.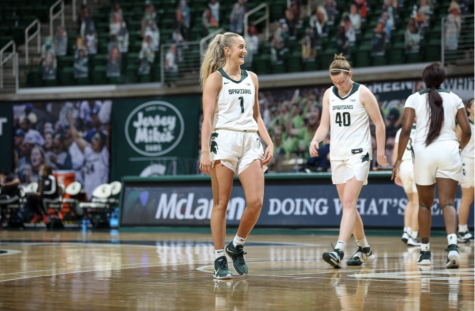 The expectations around this program were high heading into this season, but injuries killed Michigan State. Losing role players and possible starters like Ayrautlt, Ozment and Moira Joiner shook Michigan State to the core this season. Next season, with the team that is currently lined up to be here at MSU, it's going to be a middle-of-the-pack team again in the Big Ten. Lacking star power can only get you so far in college basketball as we've seen the men's basketball team at Michigan State struggle with the same issue this year. 
The Spartans will have the ability to beat any team on a given day next year, but also have that ability to lose to anyone too. It should be interesting to see how this roster shakes up in the end.