Spartan wrestling was victorious against CMU on Senior Night
East Lansing- No. 21 Michigan State took on No. 19 Central Michigan at home on Friday in hopes to end its two-meet losing streak to end the regular season.  It did just that, as Michigan State defeated the Chippewas in a tight 19-17 contest. 
Entering the meet, the Spartans came off a 24-13 loss in Ann Arbor to No. 3 Michigan. Despite a top-10 win by Rayvon Foley, the Spartans were not able to pull it out on the road and stood at 4-4 in the Big Ten.
At 157, the matchup between Johnny Lovett of CMU and Chase Saldate of MSU was a back-and-forth, tense match. These two ranked opponents had a close match, ending with a 4-3 decision in favor of sophomore Chase Saldate. While tensions were high, CMU received an unsportsmanlike conduct, deducting a team point from its total, putting MSU up 10-5.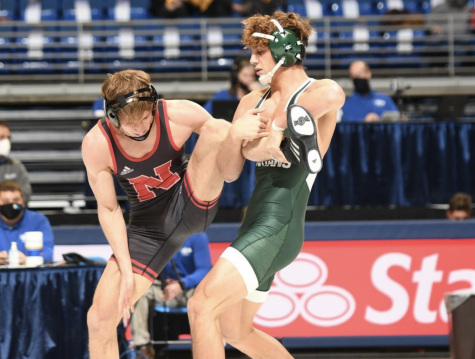 184 was a dynamic match, unlike any other. Despite the match seeming like redshirt junior Layne Malczewski would be pinned early on in the first frame, he found a way to get away from Central Michigan's Ben Cushman. With some unconventional wrestling, Malczewski was able to pull a reversal and use his shoulder blades to get a pin of his own. This match was a significant part of the Spartan victory.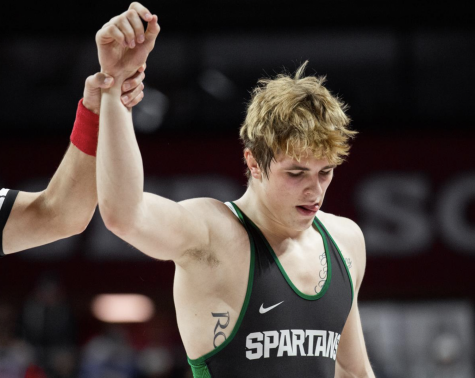 Next, the Spartans head to Lincoln, Nebraska to take part in the Big Ten Championships. The Spartans will head there on a victory after clinching several close but vital matches to pull off the win on senior night.
The Spartans have a lot to feel good about heading to the Big Ten Championships after beating the Chippewas. In its meets where both opponents were ranked, Michigan State came out on top. The Spartans have continued to improve as the season has progressed, and several highlights from their season-ending dual-meet show that they are in a good place heading to Lincoln.