The good and the bad from Michigan State women's basketball's conquering of Minnesota
Owen Oszust, Women's Basketball Beat Reporter
January 23, 2022
EAST LANSING, Mich. — Michigan State continued its winning ways with a gutsy 74-71 win over the Golden Gophers at home on Sunday afternoon. Sara Scalia had 31 points for Minnesota, while Matilda Ekh had 23 and Nia Clouden had 25 for the Spartans.
Here were the most notable takeaways for the Spartans from the contest:
MSU's rebounding needs to be better
Something that was extremely noticeable in this game was the 19 offensive rebounds that the Golden Gophers had. In fact, six different Minnesota players had at least two offensive rebounds.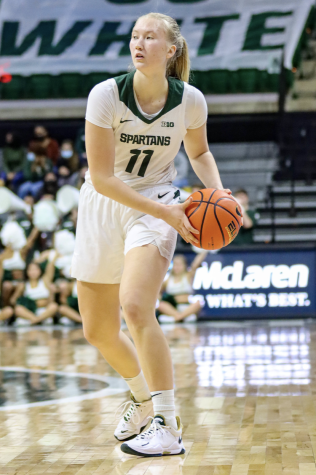 At times, it was an unfortunate bounce to a Minnesota player for the Spartans, but for the most part, the Gophers seemed to outhustle the Spartans. MSU players need to put a body on the closest opposing player to them and box out better going forward.
There were too many second-chance opportunities for Minnesota, and as a result, the Spartans allowed 15 second-chance points.
Ekh and Clouden were the main contributors to the Spartans' success
Plain and simple, it's very easy to tell that freshman Ekh and senior Clouden continue to be the Spartans' biggest players down the stretch. The reason MSU was able to get the lead in the fourth quarter was due to Clouden's 14 points. She hit a couple of big-time 3-pointers and a long 2-pointer as well.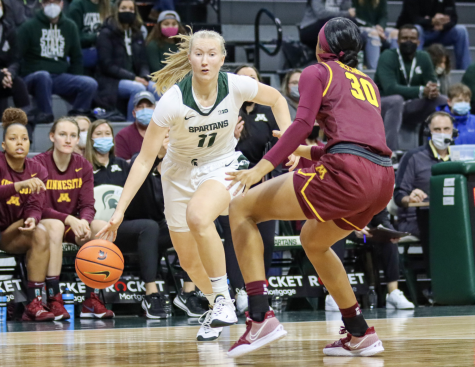 Ekh hit a huge halftime buzzer beater that swung the momentum heading into the locker room. That gave the Spartans a surge starting the second half hot, and it ended up tying the game.
If the Spartans are going to continue to win this season it will be behind Ekh and Clouden at the helm of the ship.
MSU's free-throw shooting almost cost it the win
The Spartans needed to hit a significant number of free throws to ice the game essentially, and they struggled to do it. They shot a measly 18-of-26 from the charity stripe and need to make sure they improve in that area in the future.
Coach Suzy Merchant will likely have MSU working on its free-throw shooting in practice. The Spartans gave Minnesota a couple of chances to retake the lead or tie and, fortunately for MSU, the Gophers could not capitalize on the opportunities.
The Spartans are set to head to Penn State to take on the Nittany Lions on Thursday at 8 p.m. MSU will look to extend its winning streak to three in a row.