Spartans drop fifth straight, downed by visiting OSU 4-1
EAST LANSING, Mich – The Michigan State Spartans welcomed the No. 15 Ohio State Buckeyes to Munn Ice Arena for a weekend slate beginning on Friday night. MSU and OSU split the first series of the season back in October but in Friday's action, the Buckeyes were able to subdue the home team and win 4-1.
"It's a tough one… we gotta keep banging and find some confidence out of that," said MSU head coach Danton Cole.
Right off the bat, OSU caught the Spartans sleeping as Travis Treloar had two high percentage chances point-blank on MSU senior goaltender Drew DeRidder. DeRidder held true and kept it 0-0.
Although the first period was dominated by the Buckeyes, MSU opened up the scoring with a tally from freshman Tanner Kelly for his second goal of the season. Christian Krygier from the nearside point fired the puck and Kelly was able to tip it mid-air and direct it past OSU goalie Jakub Dobeš.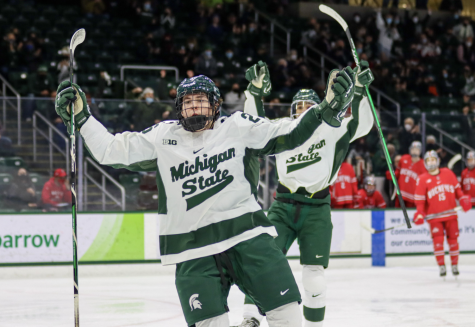 OSU controlled most of the action in the first frame following Kelly's goal, scoring a goal of their own when Tate Singleton took a beautiful 150-foot pass from Mason Lohrei to go in alone and sneak it past DeRidder's glove. DeRidder went on to save 15 out of 16 shots in the first period.
"It's just unfortunate… nice play by them," said DeRidder.
The Spartans started the second period with some fire under their step as Dennis Cesana made a tightrope cross-ice pass to Kyle Haskins, but the sophomore was unable to rifle it in and is still looking for his first on the season.
MSU had a prime opportunity to take back the lead as James Marooney of OSU got called for a 5-minute game misconduct penalty for checking from behind. Haskins, the recipient of the check, seemed fine after the play, however, the Spartans couldn't capitalize on the man advantage.
"We just need to settle things down out there and stick to what we know," Kelly said.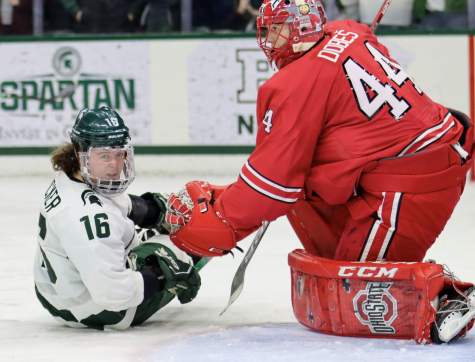 After a 20-minute scoreless stretch for either team dating back to the 16-minute mark of the first, Buckeye forward Cam Thiesing took a pass from freshman Georgii Merkulov from below the net and blasted it past DeRidder to make it 2-1 in favor of OSU with 3:17 remaining in the second.
The third period opened up with a lot of back and forth action and both teams had opportunities to tally a goal. MSU forward Jagger Joshua couldn't tap it home off a great pass from Cesana and OSU forward Jake Wise sent a shot off the crossbar.
OSU then added to its lead early in the third period going up 3-1 as Joe Dunlap, with a stupendous pass, fed Eric Cooley for a back door tap in and his second goal of the season.
The Spartans' offense surged back towards the latter half of the final frame with multiple chances coming from junior Eric Middendorf, but Dobeš came up huge for his team stopping all of them.
Grant Gabriele put the nail in the coffin with an empty-net goal with just under a minute left to play that sealed a 4-1 victory for the Buckeyes.
"The guys didn't cheat us… we'll get some rest and get back to it in 21 hours," said Cole.
The Spartans and the Buckeyes are back in action Saturday evening; puck drop is at 6:00 p.m