Nailor declares for the 2022 NFL Draft
EAST LANSING, Mich—Michigan State redshirt junior wide receiver Jalen Nailor has decided to forgo his final year of eligibility and has declared for the 2022 NFL Draft, he announced on his Twitter on Monday evening. Nailor is the third Spartan to announce his intentions to enter the draft, with offensive lineman Kevin Jarvis previously announcing his decision on Saturday afternoon and running back Kenneth Walker III announcing his decision on Dec. 16. 
🎱 out! T.M.C. 🏁 pic.twitter.com/Qgmntj4x3E

— Jalen R. Nailor (@SpeedyNailor) January 3, 2022
Nailor, nicknamed "Speedy", due to his ability to quickly beat defenders downfield and in the return game, finishes out his career in East Lansing with 86 receptions for 1,454 yards and 12 touchdowns in 27 career games. In his redshirt junior season, Nailor caught 37 passes for 695 yards and six touchdowns. He missed four games in 2021 due to a hand injury, but returned for the Spartans' Peach Bowl victory over Pittsburgh in Atlanta, totaling six catches for 108 yards, including a 50-yard, one-handed catch. 
Against Rutgers on Oct. 9, Nailor caught five passes for 221 yards and three touchdowns. It was the fourth-most receiving yards of any Spartan receiver in any game in school history. He subsequently received All-Big Ten honorable mention honors by the media and was second in the conference in yards per catch (18.94).
Nailor, a 6-foot-tall, 190-pound receiver out of Las Vegas, Nevada, committed to the Spartans in February of 2018 as part of the same year's recruiting class. He was ranked as the No. 750 overall player in his class, according to 247Sports.com. He chose to play for head coach Mark Dantonio over other schools such as Colorado, Arizona, Arizona State, Utah, and Nevada, Wisconsin and Nebraska.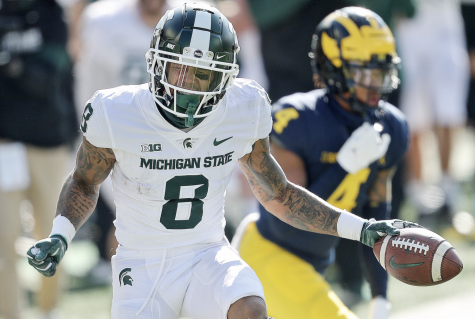 Nailor made an immediate impact for the Spartans during his freshman year in 2018, totaling 95 yards and two touchdowns against Indiana in his third career game. His season high in receiving came in a victory against Purdue, catching three passes for 70 yards and a touchdown. In total, he finished the season with 279 all-purpose yards, including 138 receiving yards, to go along with three total touchdowns in eight games.
In 2019, Nailor only played in four games before suffering an injury. He totaled 15 receptions for 106 yards and 227 all-purpose yards. In 2020, Nailor became a focal point of new head coach Mel Tucker's offense, totaling 26 receptions for 515 yards and four touchdowns. The 515 yards was the best mark on the team and seventh in the Big Ten.
Nailor's departure leaves the Spartans without one of their key contributors on the offensive side of the ball. Nailor will be attractive to NFL teams for his speed and big play ability downfield. The Spartans are also awaiting a decision from redshirt junior Jayden Reed on whether or not he will attempt to go pro. Redshirt sophomore Tre Mosley, freshman Keon Coleman, and Montorie Foster Jr. are some of the potential candidates to replace Nailor.