Christie wins Big Ten Freshman of the Week award for third time in a row
Manit Patel, General Assignment Reporter
December 27, 2021
EAST LANSING, Mich— Following a 17-point scoring output against Oakland on Dec. 21, MSU freshman guard Max Christie has been named as the Big Ten Freshman of the Week for the third time this year. 
The 6-foot-6 guard from Arlington Heights, Illinois, was given the award after recording 17 points and adding four rebounds, an assist, and a block in the Spartans 90-78 win over Oakland. Christie shot exceptionally, going 6-of-8 from the field and 4-for-6 from behind the 3-point line.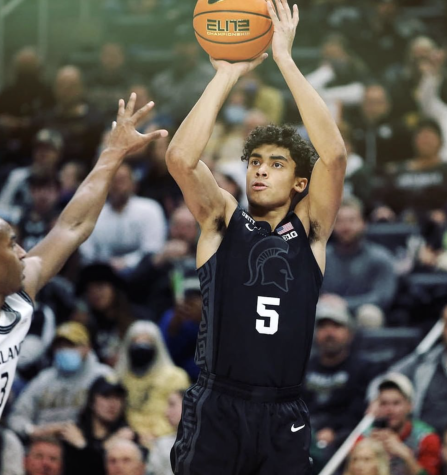 The four made 3-pointers set a new career high for Christie. His 17 points is the second-best mark of his young career, only behind the 18 points he scored in MSU's 73-52 road victory against Butler on Nov. 17.
Christie's stout perimeter defense, along with his exceptional scoring ability, has led head coach Tom Izzo to entrust the freshman with an average of 29.9 minutes per game, the most for any Spartan this year, and the most by any Spartan freshman since Miles Bridges during the 2016-2017 season. Christie is currently averaging 9.4 points and 3.3 rebounds a game while shooting 36.5% from the floor. 
This is Christie's third Big Ten Freshman of the Week award in a row, which leads the Big Ten, after he was given the award on back-to-back weeks to start off the month of December.