Florida hires Spartan RB coach William Peagler as new TE coach
EAST LANSING, Mich—Michigan State's coaching staff will be without an important coach going into the 2022 season after it was announced Friday afternoon that running backs coach William Peagler would be joining new Florida head coach Billy Napier's staff in Gainesville as an assistant coach and tight ends coach. Peagler will remain with the Spartans until after the Peach Bowl on Dec. 30. 
Peagler has previously worked with Napier at the University of Louisiana where he was the quality control coordinator and director of player personnel while Napier was the head coach in 2018. Mel Tucker hired Peagler as his director of quality control at Colorado in 2019 before bringing him to East Lansing as his running backs coach in 2020. 
Previously, Peagler served as a graduate assistant for Georgia in 2017, a season in which the Bulldogs reached the national championship before losing to Alabama in overtime. He spent the 2016 season as an assistant quality control coach at Minnesota under current Spartan offensive coordinator Jay Johnson, who was the Golden Gophers offensive coordinator and quarterbacks coach in 2016.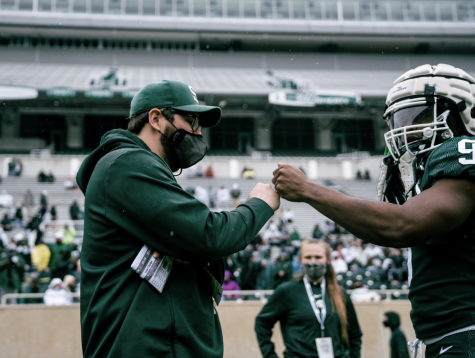 Peagler was best known for his savvy use of the transfer portal, and most notably was the driving force behind recruiting Kenneth Walker III to Michigan State from Wake Forest. Walker was a platoon back during his time with the Demon Deacons but went on to rush for 1,636 yards and 18 touchdowns for the Spartans after being recruited by Peagler. 
Michigan State's running backs showed a large improvement in Peagler's second season. In 2020, the Spartans only ran for 91.4 rushing yards per game, which was second to last in the Big Ten. The Spartans also did not have a rushing touchdown from a running back. In 2021, they ran for 185.6 yards per game, the fifth-best mark in the Big Ten, and 23 touchdowns. 
He is the second position coach that will need to be replaced; former cornerbacks coach Travares Tillman was hired by Georgia Tech on Dec. 7 as the team's new defensive backs coach.