MSU F Ava Cook selected by Chicago Red Stars at No. 18 overall
Luca Melloni, Men's/Women's Soccer Beat Reporter
December 19, 2021
EAST LANSING, Mich— Michigan State women's soccer forward Ava Cook was drafted 18th overall by the Chicago Red Stars of the National Women's Soccer League on Saturday. The Red Stars were a founding member of NWSL in 2012 and have consecutively qualified for the playoffs since 2015, the longest streak in the NWSL. 
She was the highest player selected within the Big Ten.
Cook transferred to Michigan State last summer from Grand Valley State University alongside Hosler and led the Spartans to their first Big Ten tournament since 2011. She scored seven goals and assisted three in her first and only season in the Green and White. The seven goals (and 17 overall points) were both the best marks on the team.
Now, she has taken the next step in her career after she was drafted sixth (18th overall) in the second round of the NWSL Draft.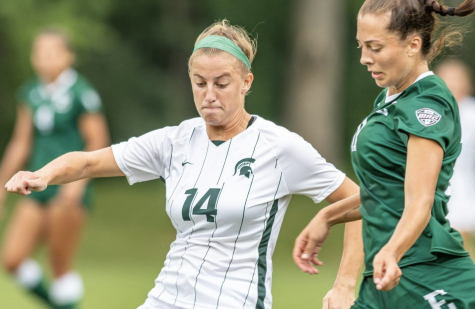 In an exclusive interview on DeMartin Download, Michigan State head coach Jeff Hosler announced in November that Cook had plans to enter the draft after finishing her final collegiate soccer season. 
Midfielder Danielle Stephan was also on the list of players registered for the 2022 NWSL Draft, but she was not selected.
Cook was an unanimous All-American from United Soccer Coaches in 2019 and 2020. In 2019, she led the nation in goals with 29, points with 69 and led Grand Valley State to the Division II National Championship.
During her time at GVSU, she was a four-time All-GLIAC selection, and she scored 76 goals, the best out of any player in the country. 
Cook is one of five players drafted to the Red Stars in this year's NWSL Draft. She is also one of eight players selected from the Big Ten conference, which includes Michigan midfielder Raleigh Loughman, Rutgers defender Gabby Provenzano and Purdue forward Sarah Griffith. 
"It is so great that her personal commitment to growth and expanding her game over the years has led to this opportunity. Her mentality will provide for a lengthy pro career," Hosler said in a press release.
In Chicago, Cook will play alongside experienced USWNT players such as Julie Ertz, Mallory Pugh, Vanessa DiBernardo and many more top-level professionals.