Previewing MSU's upcoming two-game series against Penn State
EAST LANSING, Mich — The Michigan State Spartans (8-5-1, 3-3-0 Big Ten) are set to return to Big Ten play this week when they travel to Pegula Ice Arena to take on the Penn State Nittany Lions (9-6-0, 1-5-0 Big Ten) for the first time this season. This will be the first of two consecutive road series the Spartans have to begin the month of December. 
The Spartans, who were idle during the week of Thanksgiving, last hit the ice at home against the Wisconsin Badgers on Nov. 19. The Spartans took the series opener thanks to junior forward Erik Middendorf's two goals. Middendorf got the Spartans on the board early in the first period with a power-play goal, and then followed up with a tally halfway through the third period, giving the Spartans a 3-1 lead. 
Wisconsin's Carson Bantle scored with just over five minutes left made things interesting, but MSU goaltender Drew DeRidder's 40-save performance was enough to give the Spartans a 3-2 victory. 
Michigan State was able to secure the series sweep with a three-goal surge in the third period, en route to a 5-2 victory. The Spartans jumped out to a 2-0 lead in the first period with goals from forward Mitchell Lewandowksi and defenseman Dennis Cesana.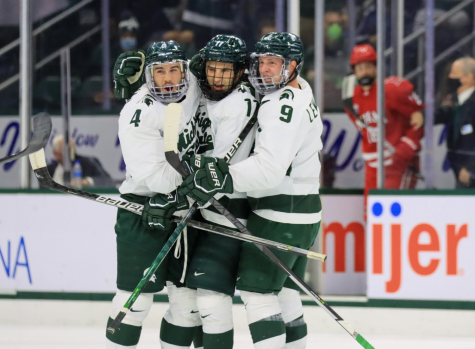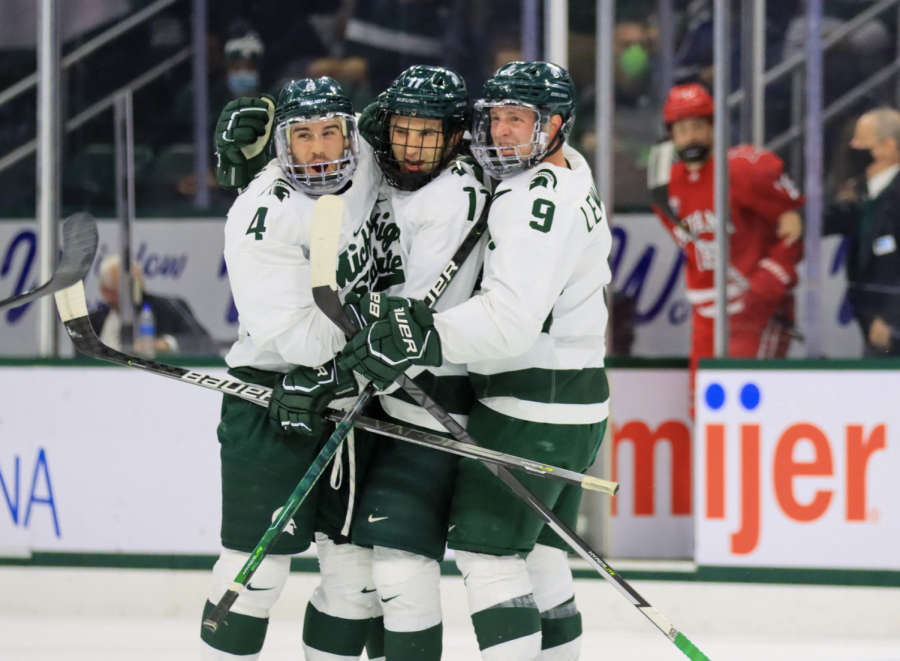 The Badges would strike back in the second period with goals from senior forward Tarek Baker and sophomore Sam Stange to tie the game heading into the final frame. Spartan forward Jeremy Davidson opened his scoring for the game with a power-play goal in the first three minutes of the third period. 
Davidson would add another for his third goal of the series and freshman forward Jesse Tucker would score his first goal as a Spartan as MSU scored three times in under 10 minutes, pushing the win streak to four games. 
Penn State enters the weekend having swept St. Thomas on the road, outscoring the Tommies 9-2 over a two-game series during the week of Thanksgiving. Sophomore forward Tyler Paquette and junior Kevin Wall led the scoring with a combined five goals during the series. 
The Nittany Lions started the season winning six out of their first seven games, including a 6-4 victory over then No. 6 North Dakota. Since then, Penn State has gone 3-5, including going 1-5 to start Big Ten play having been swept by Ohio State, and Michigan. Their only Big Ten win came against Minnesota in what was a 5-3 victory, followed by a 4-2 loss the next day. 
Penn State leads the all-time series 18-12-4, including a 10-3-3 record at home. The Nittany Lions won three out of the four meetings last season with two of those games being decided by one goal. In fact, only one of the previous 10 games has been decided by more than two goals, which came last season in the form of a 5-1 victory for the Spartans on Jan. 4, 2021 in East Lansing. 
Penn State wins if…
…it scores on the power-play. Penn State is 8-2 when scoring on the man-advantage and has the No. 4 power-play in the Big Ten (24.1%). Michigan State is 4-4-0 when it allows a power-play goal and is 4-1-1 when not allowing a power-play goal. If Penn State can better the Spartans No. 3-ranked penalty-kill, it will be in good shape to get a much-needed Big Ten win. 
Michigan State wins if…
…it limits Penn State to two goals or less. The Spartans are 1-5 when allowing three or more goals and are 6-0-1 when giving up two or less this season. Penn State is also winless when scoring two or fewer goals. If MSU can hold PSU's offense and its ability to funnel pucks to the net at bay, they will be in good shape to earn another Big Ten victory. 
Puck drop for Friday's matchup is set for 7:00, while Saturday's game is scheduled for 5:00.