Three takeaways from Spartans' win over Valparaiso
Allie Cohen, Women's Basketball Beat Reporter
November 16, 2021
East Lansing — The Michigan State Spartans earned their third win of the season and head coach Suzy Merchant's 500th career win Tuesday night with a 73-62 victory against Valparaiso. The Spartans are now 3-0 for the year as they continue their non-conference schedule. Here are some takeaways from the successful night: 
All about Alyza Winston
In her first five minutes of gameplay, the junior guard went 3-of-3 with 3- point field goals, and shortly after, went on to score her fourth of the night. Winston was second in scoring for the Spartans during the 2020-21 season and is certainly living up to that expectation this year. After leading the Spartans in scoring in the first two games, she was second in scoring on Tuesday with 17 points, just behind Nia Clouden's 18 points. 
Winston played for 37 minutes and not only was the second leading scorer, but had great control on the court and helped her teammates with multiple blocked shots, rebounds and assists.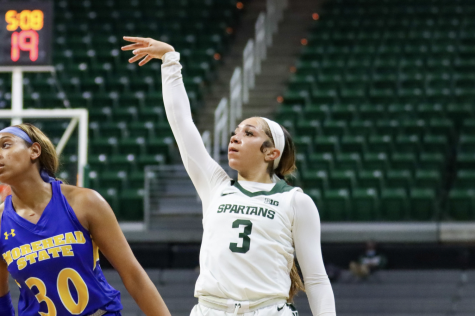 Turnover troubles for the Spartans
The Spartans started the game tonight with five turnovers within the first five minutes of the game. By the end of the game, the Spartans turned over the ball 16 times. Although Valparaiso only scored four points off those turnovers, it brought the Spartans' lead significantly down to just a four-point MSU lead at one point in the third quarter. Back-to-back turnovers also led to multiple scoring droughts, including a three-minute drought in the second quarter, a 0-of-7 field-goal run and a near three-minute long drought near the end of the fourth. 
3-point shots and strong defense seem to be Spartans' biggest strengths 
During their first game this season, the Spartans set an all-time team record for 3-point field goals with 17. Although it did not score as many this game, MSU is not letting its 3-point ability go without being seen. Against Valparaiso, the Spartans made nine 3-point field goals, shooting them at 43%. Winston, Clouden, Matilda Ekh and Moira Joiner contributed to the nine successful baskets. Along with 3-pointers, another strength being shown by the Spartans is their defense. This defense ran the Valparaiso clock to the buzzer three times in the first half and had 30 defensive rebounds. They also attained three blocks and had six steals. Anytime the lead got cut down, it was because of the Spartans' scoring droughts, and this team's strong defense is what kept the Spartans in the game.  
MSU looks to become 4-0 when it takes on Bryant at home on Friday at 12 p.m.