The biggest takeaways from Michigan State's home opener against Morehead State
Owen Oszust, Women's Basketball Beat Reporter
November 9, 2021
EAST LANSING — The Spartans had a dominating win against the Morehead State Eagles on Tuesday evening that included a preview of what could be one of the best front courts in the Big Ten with Nia Clouden and Alyza Winston
Here are the three biggest takeaways from the contest at the Breslin Center:
The Spartans Defense
Michigan State's main emphasis for defense was keeping the ball in front of it and closing out under control. The Spartans did a fantastic job of that with the amount of halfcourt traps they had. There were a couple of 10-second violations that MSU forced as well.
"Alyza is really starting to see the ball well defensively," said Michigan State coach Suzy Merchant.
Winston led the Spartans with six steals, and Michigan State totaled 16 steals as a team in what was a brilliant defensive showing. Michigan State rarely let the Eagles get a clean shot off and would swarm their opponents with double teams.
Michigan State's Backcourt
A big question mark coming into this season was how good would the Spartans backcourt of the senior star Clouden and the junior Winston be. It's clear these two need to be good in order for the Spartans to have success this season. Though Morehead State is a much inferior team, the two star guards left no doubt in anyone's minds Tuesday night.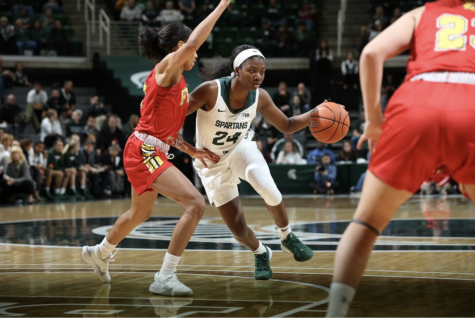 Winston led the team with 20 points and Clouden finished with 15. It seemed like at times last season, the Spartans would only get a good performance from one of their star guards, but tonight, they both had flawless showings.
Winston appears to have really matured as a player, and Clouden looks like the star guard that everyone is used to seeing.
The Spartans 3-point shooting
MSU set a new school record with 17 shots made from beyond the arc. Deedee Hagemann, Matilda Ekh, Mo Joiner, Laurel Jacqmain, Winston and Clouden all had multiple 3-pointers and looked fantastic from range.
With the injuries to key players from last season like Julia Ayrault and Tory Ozment, Michigan State is going to need players to step up in a big way and fill their spots. Ekh and Hagemann looked like they could do that tonight with their shooting performances.
If the Spartans can shoot the 3-pointer effectively this season, MSU can be a potent force in the Big Ten this season.
MSU will look to make it two wins in a row against Niagara on Sunday at 2 p.m.