Drew DeRidder earns Big Ten's Second Star
EAST LANSING — For the second consecutive week, a Michigan State Spartan earned Big Ten accolades as senior goaltender, Drew DeRidder, earned the Big Ten's Second Star of the week after a 37-save performance in the Spartans' tie against UMass-Lowell on Friday. Last week, Jeremy Davidson earned the Big Ten's Second Star after a three-goal weekend against the Miami Redhawks. 
DeRidder is no stranger to awards this season after being named an All-Big Ten Preseason honorable mention in September. He joined the honorable mention list with fellow Spartans Dennis Cesana and Mitchell Lewandowski.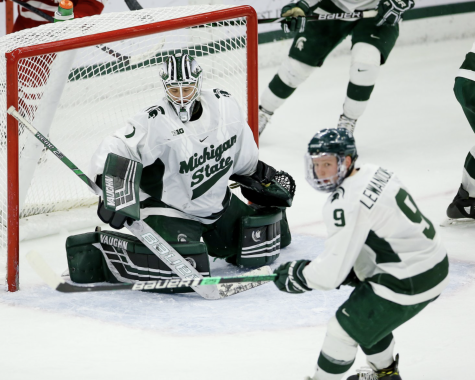 The senior, who hails from Fenton, Michigan, made a season-best 37 saves against UMass-Lowell and has compiled three-straight games with 35 or more saves this season. DeRidder currently sits fifth in the nation (second in the Big Ten) with a .947 save percentage and has a 1-1-1 record in three starts this season. His .947 save percentage and 1.92 GAA are both currently on pace to be his career-best marks in those categories. 
Last year, DeRidder led the Big Ten in total saves with 723 and saves per game (30.12) en route to a 7-15-2 record. He was tested mightily during his junior year and eclipsed the 50-save plateau for the second time in his career with 51 saves in a 5-1 loss against Ohio State. DeRidder was forced to make 35 or more saves seven times last season with a 3-3-1 record in those contests. 
Michigan State opens its Big Ten conference schedule this weekend when it travels to Columbus, Ohio, to take on the Ohio State Buckeyes. Puck drop is scheduled for 6:00 p.m. on Friday and 2:00 p.m. on Saturday.