Michigan State has historic day in 31-13 win at Rutgers
PISCATAWAY, N.J. — Michigan State's route to its sixth win was certainly not an easy one, but much to its own fault. The Spartans won 31-13 in an ugly battle against Rutgers on the road. Penalties, a subpar defensive performance and bad decision-making all around made the day more challenging than it had to be for MSU.
Nonetheless, the Spartans won, and they remain undefeated.
MSU came out with a strong march down the field, but was ultimately held to fourth down on the Rutgers 25-yard line. A fake field goal call was made with six yards to go for the first down, but the Spartans couldn't convert. 
The Scarlet Knights capitalized on the turnover on downs, going on its own trudge down the field. As opposed to the Spartans, Rutgers came away with points on the board, as wide receiver Aron Cruickshank scored on a 4-yard reception from quarterback Johnny Langan.
Rutgers fans weren't able to celebrate long, though. MSU bounced back immediately with a 12-yard gain for running back Kenneth Walker, and then a 63-yard TD connection between Spartan QB Payton Thorne and wide receiver Jalen Nailor.
Thorne finished the day with 339 passing yards and three touchdowns in the air.
The start of the second quarter was when MSU really began to come unloose in terms of its discipline. The defense was given back-to-back penalties that contributed to a 10-play drive into the red zone. 
The Spartans demonstrated their "bend, but don't break" mentality yet again this game, as they  were able to hold the Scarlet Knights to a field goal. Rutgers went ahead again with a 10-7 lead.
Still, SHI Stadium's homecoming crowd only had four MSU offensive plays to celebrate before Nailor scored again on what was another very coincidental 63-yard reception. 
MSU finally stopped the Rutgers offense with an opportunity to pad its 14-10 lead. But a Spartan fumble at the MSU 13-yard line threw the momentum right back Rutgers' way.
The MSU defense was determined not to give away the lead again, and forced the Scarlet Knights to settle for a 29-yard field goal.
As if the Spartans' response time to a Rutgers score couldn't get any quicker, the first and only play of MSU's next drive served as a 65-yard TD reception for Nailor that came off a flea flicker.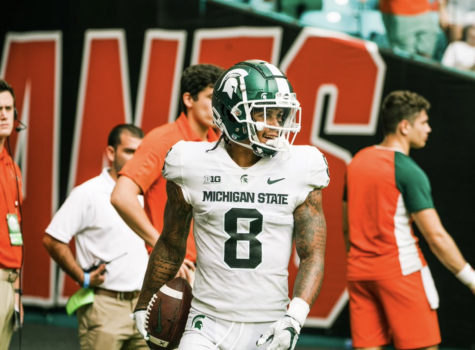 Nailor finished the half with 208 receiving yards and three touchdowns. He set the single-game receiving record in SHI Stadium that had previously been held by Larry Fitzgerald.
MSU would have one more chance to add to its 8-point lead before the end of the half, but Spartan kicker Matt Coghlin's last-second 35-yard field goal was no good.
MSU led 21-13 at the half.
The third quarter was far from eventful, as neither team's offense could get much going. After a back-and-forth three-and-out battle, MSU would break the silence when Walker was handed the ball and rushed for a 94-yard TD. 
The run was MSU's longest rushing TD and the longest play from scrimmage in program history.
MSU led 28-13, and would go into the fourth quarter having forced three-straight Rutgers three and outs. 
The Scarlet Knights opened the fourth quarter with a long and promising march into the red zone, but the MSU defense held its own and forced a fourth down. Rutgers chose to go for it, but Vedral's pass was incomplete out of the back of the end zone, turning the ball over to the Spartans.
Thorne's attempt at a near spotless performance was blemished with an interception on MSU's first drive of the quarter. 
The ball would only be in Rutgers' possession for five plays, as defensive tackle Simeon Barrow caused a sack-fumble that was picked up and run by defensive tackle Jacob Slade, who made it 19 yards before being brought down.
The Spartan drive resulted in a 35-yard goal for Coghlin, which notched him the record for most field goals made in program history.
MSU goes on the road to face Indiana at Memorial Stadium for another conference away game next Saturday at noon.