TEACHER FEATURE: Dr. Folu Ogundimu's experience as a journalist in extreme conditions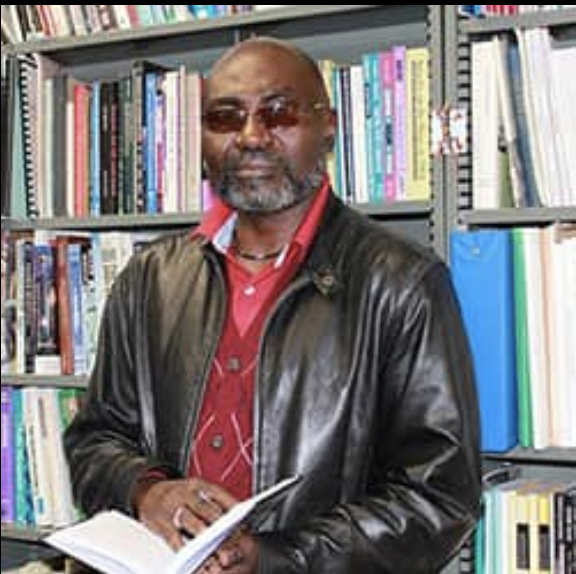 EAST LANSING – Growing up in a war-torn Nigeria never stopped Dr. Folu Ogundimu from building a successful career in journalism. After surviving censorship, government harassment and threats to both his life and career, Dr. Ogundimu has earned his place as one of the most accomplished and fascinating professors at Michigan State University.
Dr. Ogundimu was born in northern Nigeria and spent his early education at seven different primary schools across northern and southern Nigeria. In 1958, the discovery of oil fields in Nigeria attracted foreign interests to the country, resulting in economic, social and environmental consequences. Throughout the 1960s, Nigeria was in a state of political tension that eventually erupted into civil war, which Dr. Ogundimu was caught in at only 16-years-old.
Dr. Ogundimu recounted how he, his fellow students, and his younger brother "escaped in a smuggler's steamboat on the open ocean." The boat traveled from Warri, Nigeria to Lagos, Nigeria where the group was able to find safety.
However, Dr. Ogundimu soon decided that in order to pursue the higher education he craved, he had to risk his safety.
"I left my brother, who was two years younger than I, in the safe zone while I went back to the warzone," he said. 
In 1970, Dr. Ogundimu began his journalistic career at the Nigerian National Press where he quickly moved up the ranks until he had the privilege of writing his own column every Sunday. Just as his Sunday column began to gain popularity, government censorship intervened. 
"On Monday when we got to the office there were soldiers waiting for us," said Dr. Ogundimu. 
The Nigerian National Press had mislabeled a photograph of a prominent public official, angering the military governor. The newspaper was shut down and 5,000 people lost their jobs. 
Out of work, Dr. Ogundimu decided to go back to school. However, it was not long before he landed a job at the popular Indigo Magazine.  
"It was the Esquire of Nigeria, mixed with Playboy. We had in-depth stories, fiction, and models," said Dr. Ogundimu.  
However, Dr. Ogundimu's career was disrupted once again by political upheaval when a military coup overthrew the existing Nigerian government. The new power-holders seized control of news stations and targeted journalists.
Dr. Ogundimu recounts how the military surrounded his office looking for him. 
"I made a speedy retreat." He said, "By the time I went back home, soldiers had been to my house when I was not home. I went into hiding for a few days." 
A friend of Dr. Ogundimu was able to secure an embassy car to aid in his escape to Washington, D.C. Meanwhile, Dr. Ogundimu's father was able to contact a relative to call off the manhunt. 
While in Washington, D.C., Dr. Ogundimu participated in a multi-national journalist project. The project provided him with two internships that took him around the U.S. It is these experiences that he attributes his exposure to American life.
At the end of the project in 1976, Dr. Ogundimu returned to Nigeria to work for Western Nigeria Broadcasting Corporation, one of Nigeria's oldest television services. However, political unrest would once again threaten journalism in Nigeria. 
In February of 1976, an attempted military coup resulted in the assassination of the Nigerian president and a transition of power. The new government took an aggressive stance against journalistic corporations by federalizing all television.
"The government decided my broadcasting network was too powerful and they wanted to break it up," said Dr. Ogundimu. 
Despite government censorship of Nigerian journalism, Dr. Ogundimu said "They were still not able to exercise the kind of control they thought they could exercise." 
After becoming principal editor and winning several awards, Dr. Ogundimu returned to the U.S. to further his education at the University of Indiana. The next time he found himself in Nigeria he experienced his most terrifying encounter with government censorship.
In 1984, Dr. Ogundimu was targeted by the Nigerian government which was once again under a new authority with a mission to censor journalists. He was detained three times within four months. In one instance he was confined to a room and threatened for information. These threats included a suggestion that his wife and children would be harmed if he did not comply.
"That is what led me back into exile," said Dr. Ogundimu, who returned to the U.S. after the incident.
Dr. Ogundimu's experiences remind every journalist to fearlessly pursue freedom of the press even in the face of an oppressive government. His stories continue to inspire his students every day.
"I'm glad for the experiences I've had. I've had the ability to have been a part of a large part of human progress and to see the complexity of human progress. To me, it has been very fulfilling to be able to share those experiences with my students. I have tremendously enjoyed the teaching experience," said Dr. Ogundimu.