Preview: Spartan hockey begins season against USNTDP
EAST LANSING, Mich. — The Michigan State Spartans will begin their 2021-22 season on the road when they face the U.S. National Team Development Program's U-18 team in an exhibition matchup this Saturday in Plymouth.
The Spartans will be back in action for the first time since their heartbreaking 2-1 overtime loss to Minnesota in the 2020-21 Big Ten tournament's opening round in March. MSU finished last season with a 7-18-2 overall record while coming in last place in the Big Ten conference. 
This season, the Spartans will have a very different look with 16 underclassmen making up the roster, including four recruits. Michigan State lost seven players this offseason, including Charlie Combs, who was the team's leading goal scorer. MSU also lost former captain Tommy Miller, who has since transferred to Northeastern University. Miller led the team in blocked shots with 56 last season. 
The Spartans will be led by new captain Dennis Cesana and assistant captains Mitchell Lewandowski and Josh Nodler. Lewandowski returns for his fifth season at MSU, after being granted an extra year of eligibility by the NCAA due to the COVID-19 pandemic. He currently sits sixth in the nation in active total points with 101 and is one goal shy of 50 for his career. 
The USNTDP U-18's (3-1-0) have shown their prowess on offense ealy this season. In four games they have scored 21 goals, including a combined 13 goals in their season-opening sweep of the Muskegon Lumberjacks. Frank Nazar III is the current danger man for the U-18's with five goals so far this season. Nazar, a University of Michigan commit, leads the team with eight points, followed closely by Isaac Howard (Minnesota-Duluth) and Jimmy Snuggerud (Minnesota), who both have seven points. 
These two teams last met in the 2019-20 season at Munn Ice Arena in what was a gritty 2-1 victory for the Spartans. Patrick Khodorenko and Gianluca Esteves were the goal scorers for the Spartans, with Esteves' third-period tally being the game winner. The lone goal scorer for the U-18's was Mathew Beniers, who was picked second overall by the Seattle Kraken in this year's NHL Draft and currently plays for the University of Michigan.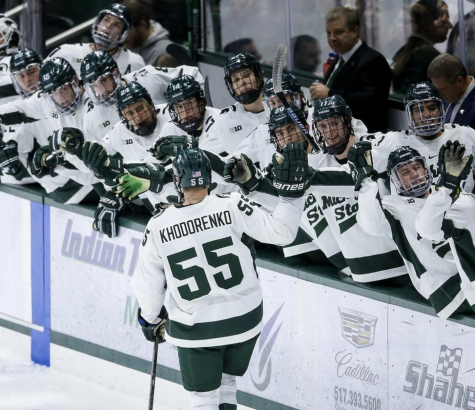 Saturday's matchup will mark the Spartan debuts for many players, including transfers Griffin Loughran and Chris Berger. Loughran played in 88 games in three seasons at Northern Michigan University, amassing 72 points, including 35 goals. Berger, a transfer from Brown University, had 28 points in 65 appearances for the Bears. Both players will be looking to help the Spartans score more goals this season after only tallying 40 goals in the 2020-21 season. For comparison, Minnesota had 99 goals heading into the Big Ten tournament last season, which was second in the nation at that time. 
The Spartans will also be able to see their options between the pipes, as senior goaltender Drew DeRidder and sophomore Pierce Charleson will split time in net on Saturday. DeRidder was named an All-Big Ten Preseason honorable mention coming into this season and led the Big Ten in saves (723) and saves per game (30.12) last season. Charleson, however, showed his merits in the Big Ten hockey tournament when he earned the start over DeRidder and went on to make 48 saves in the 2-1 loss. Charleson made seven appearances last season while amassing a 2.57 GAA and .937 save percentage. Both goalies have proven themselves as capable options for coach Danton Cole and should stack up to being one of the best goalie tandems in the Big Ten this season. 
USNTDP will win if…
…they use their speed to their advantage. The U-18's have shown they can score goals and play defence relatively well. It was speed that hurt the Spartans last year and could continue to do so this year. MSU went winless against Minnesota and Wisconsin, who were two of the more offensively explosive and speedy teams in the Big Ten last year. If the U-18's can turn this game into a track meet, then the Spartans may be in for a long night. 
MSU will win if…
…they can take a lead into the second intermission. Not a lot went right last season for the Spartans, except when they were leading going into the third period The Spartans were 5-0-2 last season when leading after two frames, and this could work to their advantage on Saturday. MSU is comfortable being a defensive team, and it helps when you have two goaltenders that can make that crucial save when needed. If the Spartans can get a lead and hold on to it after 40 minutes, they will be in great shape to bunker down defensively in the third and maybe catch the USNTDP being overzealous offensively.