Concert Review | Isaiah Rashad
In the five year absence since his last album, Chattanooga-raised rapper Isaiah Rashad had been to hell and back. He went to rehab, lost nearly all his money and stopped making art. Just seeing Rashad take the stage in good health felt like a triumph in and of itself.
Fresh off his long-awaited follow-up The House Is Burning, Rashad is making a stellar case for comeback rapper of the year. Since the powerhouse label TDE scooped him up as a gem in the rough in 2014, turbulence in his personal life has hindered Rashad's professional career.  The crowd at 20 Monroe Live in Grand Rapids was eager to celebrate his hard-earned redemption arc; to give Rashad his flowers.
But he had no interest in receiving them. 
Just as the show was reaching the brink of chaos, as "From The Garden" entered its final chorus, the ever-reclusive Rashad fled the scene. He had no intentions of a goodbye, let alone an encore. Setting up the concert closer with "Lay Wit Ya" — a similarly riotous trunk-rattler off The House Is Burning — he left a near-frenzying crowd hanging.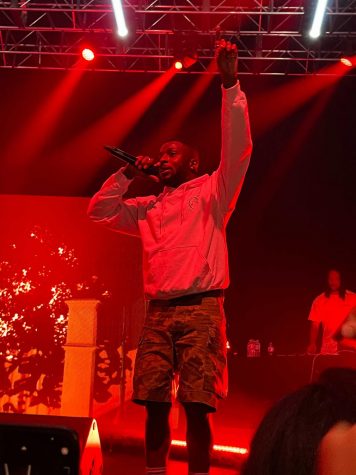 Rashad warned the audience at the start of his set: keep it chill, don't start pushing people around. By squeezing his two most club-ready if uncharacteristic songs in at the end, he averted the chaos. Deferring the rave and praise in favor of calm and humility is to be expected from the veteran cult hero, now 30.
But ultimately, calm left the realm of possibility three songs into Rashad's set. Appetizing performances from openers Childish Major and newest TDE signee Ray Vaughn primed the crowd for a casual spectacle delivered by Rashad. Drawing from fan favorites, album cuts and his wheelhouse of slow jams alike, he commanded attention with ease.
Hanging on every last word of emotionally poignant tracks like "Heavenly Father" and "Shot You Down," Rashad remarked upon the Grand Rapids audience's ideal energy: wild and fun, but still chill enough for his liking. The roar of lyrics being bounced back to Rashad made it clear that these were no casual concertgoers; they had been looking forward to this show for some time.
After all, he has been building a passionate fanbase since at least 2014's Cilvia Demo while developing a reputation as a troubled genius. It's a legend supported when "Menthol," a dark and woozy cut from the back half of Cilvia, gets as great a reception as the beloved shout-along "Park" does. Furthermore, the true climax of the show was not the biggest hits off Rashad's newest album but "R.I.P. Kevin Miller," a mid-set callback to the beloved Cilvia Demo anthem. He seemed happiest when performing such throwbacks. 
Fitted in a black tee shirt and camo cargo shorts, Rashad looked and felt at home, like he'd never stopped touring since 2016's The Sun's Tirade. It was that album's centerpiece, "Tity and Dolla," that earned him a standing ovation midway through his set. Despite Rashad's best efforts to ignore the fact, his Lil Sunny's Awesome Vacation Tour is a victory lap.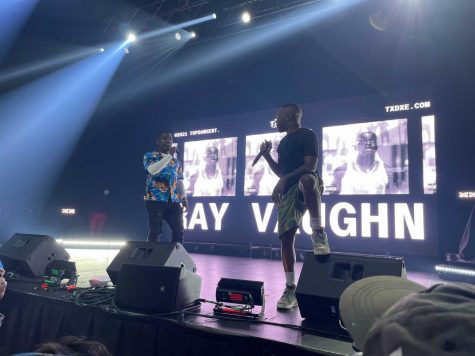 That's not to call it the Isaiah Rashad Show, though. As the concert was nearing its climax, Rashad welcomed Childish Major and Ray Vaughn to the stage for a reprise of the latter's "Top Shottas" off Vaughn's new Peer Pressure EP. It was a generous and unsurprising show of solidarity between the TDE labelmates. 
To be sure, it is a triumph that Rashad is not only able to return to form after a traumatic past five years, but to emerge with a newfound lust for life. "I want my payback," he crooned on The House Is Burning's last song, "HB2U." For Rashad, that payback is not exactly thunderous applause as he concludes his set with his new album's biggest hits. Perhaps seeing his earlier chronicles of the ache that once characterized his work hold as much weight as those hits makes it all worth it.