Previewing MSU's upcoming road games against Nebraska and Iowa
Luca Melloni, Men's/ Women's Soccer Beat Reporter
September 28, 2021
EAST LANSING— The Michigan State women's soccer team is set to begin a two-game road trip to Nebraska and Iowa starting on Thursday, Sept. 30 in Lincoln. The Spartans (7-1-2) overcame last week's 1-0 loss to Wisconsin with an important win against Minnesota that included sophomore MJ Andrus' 84th-minute winner, settling the score at 2-1. 
The Spartans sit in fourth place in the Big Ten standings, and they have demonstrated their ability to overcome adversity against Minnesota. 
"I think if this [game] was a month ago, we would have drawn at best," head coach Jeff Hosler said on Tuesday at MSU's media availability. "They showed resilience, came back and scored four minutes later to take the game."
Hosler also said that there is still a third of the season ahead, and as such, multiple improvement opportunities are still present.
Their upcoming opponent, Nebraska (4-6-1), has yet to win this season in conference play (0-2-1). 
The Cornhuskers' recently lost to No. 9 Rutgers in a tight 1-0 outing, where Nebraska goalkeeper Samantha Hauk made five saves in six shots on target. 
Nebraska forward Reagan Raabe leads the team in scoring with six goals but has not appeared on the scoresheet in their last two games. Her last goal was in Nebraska's 3-1 loss to Purdue. 
The Spartans can take advantage of a low-scoring Cornhusker team but will have to play through adversity as the visitors. 
Midfielder Danielle Stephan guided the Spartans to victory with two assists in last year's matchup against the Cornhuskers. The final score was 2-0, with goals from defenders Miranda Hart and Abby Gardiner.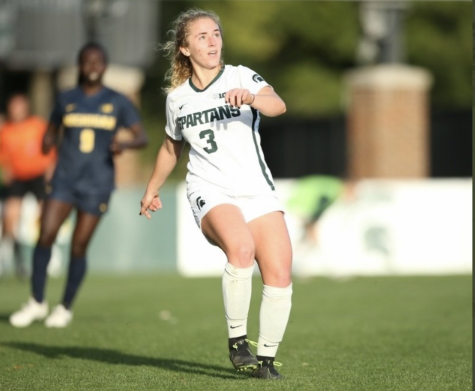 Gardiner and Samantha White have been Hosler's preferred center-back pairing that has helped keep five clean sheets this season. 
"They [Gardiner and White] have grown a lot in their intelligence in the game, and they have a good vibe going," Hosler said. 
The Spartans will then travel to Iowa City, where they will conclude the brief road trip against the Iowa Hawkeyes. The Hawkeyes are 1-2 in conference play this season and will play against Maryland on Sept. 3. 
The Hawkeyes are on a two-game losing streak but have an overall record of 7-3-1.
Goalkeeper Monica Wilhelm has been excellent this season and currently has a .760% save percentage along with six clean sheets, according to Iowa's stats page. 
The matchup against Iowa will be challenging for the Spartans and their forwards, given the Hawkeyes' formidable defensive record. They have not conceded more than two goals in a game. 
"It's a different style of play, and I love it," forward Ava Cook said when asked about her experience at MSU and the Big Ten conference compared to Grand Valley State. "It's high-intensity all the time, and that's where I need to be to grow my game."
Cook is in second place in scoring for MSU with three goals while also providing two assists this season. She will be looking to add more to her tally in the next two games.
Thursday's game against Nebraska kicks off at 7 p.m. while Sunday's contest against Iowa is set to start at 1 p.m.