Jackson: Key moments from Izzo's season-opening press conference
EAST LANSING— On Tuesday, head coach Tom Izzo met with the media prior to the first basketball practice of the 2021-22 season. The most pressing topic on Izzo's mind during the press conference was vaccinations and how important it is for everyone to get vaccinated for the safety of those around them.
"I am encouraging, I'm pleading, I am begging for you to get vaccinated," Izzo said early on in his opening statement.
He said that he feels for the students who have missed out on much of what the college experience should be by not being able to attend classes in person. Izzo also "triple thanked" the professors who have been able to hold in-person classes.
The vaccine has become a major storyline in the NBA as some players have refused to take the vaccine. Luckily for Izzo, his players, and the rest of his staff, this is not a problem that will linger into the beginning of the season.
"Every single one of them," Izzo said when asked if his team and staff had taken the vaccine, "and I say that with great pride." He even mentioned the janitor when listing off all the staff that has gotten the vaccine.
As for actual basketball talk, Izzo was happy with where his team is at the moment as well as the work they put in during the summer. One of the first players he mentioned was senior center, Marcus Bingham Jr., who is now listed at 7 feet tall and 230 pounds.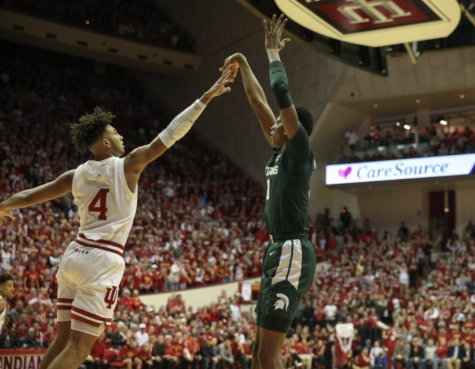 "When you are my size, figuring out if he's 6-foot-10, 6-foot-11, 7-foot, I really don't know and I don't give a damn," Izzo said. "I think he's long, I think he's stronger, and maybe most important, his focus this year has been tremendously different."
Normally, captains for the upcoming season are picked at the beginning of summer camp. This year, Izzo decided to have only the players vote on team captains at the end of the summer. The two choices made by the team were junior forward Malik Hall and senior forward Gabe Brown.
Izzo said that the picks were "pretty unanimous" and he was proud of his team.
"Getting back to a player-coached team is important and I think this will be a very important selection," Izzo said.
At the end of summer camp, 12 former players returned to campus to practice and talk with the current team. Eight of those players are on current NBA rosters including Draymond Green (Golden State Warriors), Jaren Jackson, Xavier Tillman (Memphis Grizzlies) and Bryn Forbes (San Antonio Spurs).
The biggest smile of the day from Izzo came when talking about what it meant to him and the team to have former players return and spend time with the team.
"Would I trade it for a Big Ten Championship?" he said, " I think I would take the players. A National Championship? I'll take the National Championship."