Melloni: MSU women's soccer head coach Jeff Hosler superseding expectations
Luca Melloni, Men's/Women's Soccer Beat Reporter
September 14, 2021
EAST LANSING— The start of the Big Ten season is right around the corner for the Michigan State women's soccer team and for the first time since 2014, they are undefeated in their non-conference schedule.
With an impressive 5-0-2 record, the start of head coach Jeff Hosler's debut season at MSU has exceeded expectations.
In those seven games, the Spartans have scored a total of 15 goals while only conceding three.
But, would you really expect anything else from a coach who won three Division II NCAA Championships at Grand Valley State, earned five title game appearances and compiled an overall record of 144-12-6, the best mark in ALL of NCAA soccer during that span?
The teams' new attacking identity and attention to detail have been evident, especially with the three new transfers that have added quality and depth to Hosler's side.
Transfers Ava Cook and Lauren DeBeau have combined for four goals and four assists in seven games, making them a lethal partnership for MSU.
Cook has shown her flair that carried over from her years at Grand Valley State University where she scored 76 goals— the most out of any current player in the country.
Hosler and Cook won the Division II national championship in 2019 with the Lakers.
Justina Gaynor, the redshirt freshman transfer from Butler, grabbed her first and only goal so far this season against Detroit Mercy, and her performances in the middle of the pitch has been eye-popping.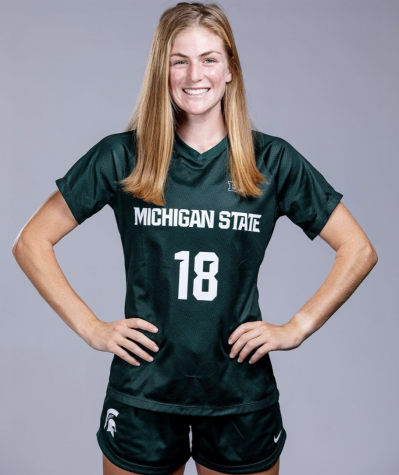 In the last two years of Tom Saxton's lengthy career at MSU, the Spartans finished with a conference record of 1-9-1 in 2019 and 2020.
The last time the Spartans had a non-conference schedule was in 2019 when they got off to a hot start with a 7-1-0 record, but failed to carry the momentum into the Big Ten season, finishing second to last.
This season, Hosler's team has demonstrated the ability and talent to challenge the best teams in the conference and potentially surprise the nation.
I will examine three key points to the Spartans' excellent start to the season:
1. Attacking depth
Like I mentioned earlier, Hosler recruited proven goalscorers in Cook and DeBeau, but it is the supporting cast around them that has shown signs of improvement from last season.
Sophomore midfielder/forward Zivana Labovic finished last season as the teams' top goalscorer with three goals. In seven games this season, she has tied her spring 2020 record, with her most recent goal coming in the 3-1 win over Dayton on Sept. 12. Expect to see more goals and involvement from Labovic as the season progresses.
"We want our midfielders to be involved in the attack to put our forwards in dangerous positions," Hosler said when asked about Labovic's involvement in the midfield.
Freshman Jordyn Wickes is the next attacking talent on the rise for the Spartans. Wickes finished her senior year of high school with 30 goals and nine assists while playing for Brunswick High School, located in Brunswick, Ohio.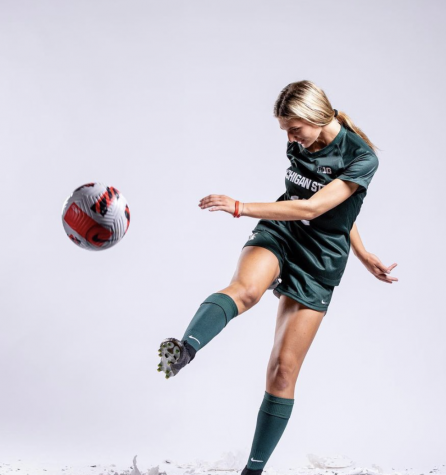 Wickes scored her first goal for the Spartans against Detroit Mercy and her impact coming off the bench is exceptional. She valiantly attacks opposing defenders with her clever dribbling and body feints that leave defenders on their heels. At 5-foot-9, Wickes is a threat in the air and is difficult to stop on the run. Her development this season is another key storyline to monitor as the season heads into conference play.
2. The art of defending
As difficult as it is to score goals, it is often harder to prevent them from going into your net.
This season, Hosler's side has shown that they pride themselves with their rock-solid defense.
Redshirt junior goalkeeper Lauren Kozal has earned four clean sheets this season, making her a brick wall between the sticks; she has saved 22 shots this season while only letting in three.
"It gives us a lot of confidence when she [Kozal] is in goal," Hosler said. "It allows our defenders to take on some more risks."
In front of Kozal is a fortress of trustworthy defenders that includes seniors Abby Gardiner and Samantha White. Gardiner and White have been a key pairing at the center back position for Hosler and we can continue to see them being regulars in the lineup for the rest of the season.
"Sam and I have a really close relationship and we communicate well alongside Lauren (Kozal) in the backline," Gardiner said earlier this season.
When the Spartans went into overtime against the Bowling Green Falcons, Gardiner and White played the entire 110 minutes alongside Kozal to secure a challenging 1-1 draw.
3. Veteran experience
The Spartans lost two key players in the offseason: defender Bria Schrotenboer (transferred to Duke) and forward Paige Webber (transferred to Indiana).
Webber was a crucial part of the offense in the 2019 season where she scored six goals and recorded two assists while Schrotenboer was considered one of the best defenders in the Big Ten.
However, the Spartans retained important veteran players like forward Gia Wahlberg, forward Camryn Evans and midfielder Danielle Stephan, who are all three-year starters coming into this season.
Wahlberg, Evans and Stephan are immensely valuable in a locker room full of young, talented players, and they have shown they can step up in difficult situations as well as transition into a new style of play under Hosler.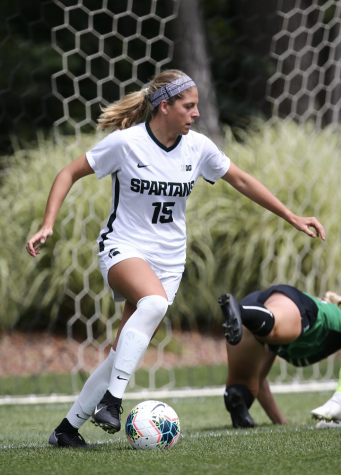 Evans scored her first goal of the season against Dayton on Sept. 12 and looks comfortable playing alongside Cook up top. Her versatility makes her a reliable choice for Hosler coming off the bench or as a starter.
The Spartans look to continue their undefeated streak as they open the Big Ten season against Indiana in Bloomington on Sunday, Sept. 19. The Hoosiers will come into Sunday's matchup sporting a 6-1-1 record, with their only loss coming to Memphis 1-0 on Aug. 29.