MSU marches to 42-14 home-opening victory
EAST LANSING — Michigan State football dominated its home opener from start to finish en route to a 42-14 dismantling of Youngstown State.
The Spartan offense came out firing from the very first snap. Just like Week 1, MSU scored on its very first offensive play of the game, but this time, it was a 75-yard passing touchdown correlated between QB Payton Thorne and wide receiver Jayden Reed. 
The defense responded with a burst of its own, as senior safety Xavier Henderson sacked Youngstown State QB Demeatric Crenshaw on the first play of the drive.
Coach Mel Tucker said the aggression from the get-go was expected.
"The plan was to come out and attack," Tucker said. "The opponents changed, but the standard was not changed."
He added, "I don't know any other way to play. I don't know how else you would go into a game and what other type of mindset that you would have other than that regardless of who you're playing."
The possession ended in a three-and-out, which was followed by another three-and-out in YSU's next possession.
Week 1 Big Ten Offensive Player of the Week Kenneth Walker III started the Spartans' next drive with a big run. Just when the running back looked like he had been stopped on a rush to the right side, he maneuvered back to the left, crossing into YSU territory for a first-down 24-yard gain.
Just five plays later, Thorne found the end zone on a 10-yard QB keep. 
YSU didn't back down, though, as the Penguins marched their way into Spartan territory on the following drive. The scoring attempt was then halted, as Spartan defensive end Jeff Pietrowski sacked Crenshaw for a loss of five yards, forcing YSU to punt.
It was then sophomore running back Jordon Simmons' turn to make plays for the Spartan backfield. Simmons put together three successful runs in a row, including a 24-yard gain, an 11-yard gain and a 10-yard gain.
Simmons finished with 123 rushing yards.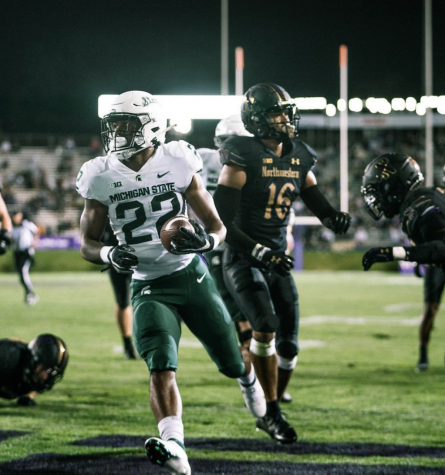 The drive ended in a blocked punt that put the Penguins on MSU's 46-yard line. 
YSU carried the momentum into the second quarter after a 16-yard rush from senior tailback Christian Turner advanced the ball to the Spartans' 29-yard line for a first down.
On a pass that looked like it had the potential of resulting in a touchdown, Henderson made the defensive play of the game with a remarkable acrobatic interception that kept the Penguins scoreless.
Three plays later, Thorne connected with Reed for a deep 85-yard TD pass. 
Reed credited the Spartan crowd for contributing to the confidence behind his 181-yard, two touchdown performance.
"Spartan Nation was out there," he said. "[They] gave me a huge spark. They built my confidence, really. It was just great having Spartan Nation back and hearing them out there."
On the next Spartan possession, junior Elijah Collins was the next back to take the field for MSU. He gained yardage on three-straight runs and then added the cherry on top with a 20-yard reception from Thorne. It was his first career TD catch.
The Penguins still refused to settle before the half. YSU's senior tailback Jaleel McLaughlin entered Spartan territory on a 30-yard reception that ignited a push into the red zone. The drive ended with a 6-yard TD rush from Crenshaw.
Before the Penguins could have the last say in the half, Walker found the end zone on a 6-yard rush of his own in the closing minute of the quarter.
MSU led at intermission with a commanding 35-7 lead.
YSU opened the second half with a 10-play drive that finished with a 26-yard rushing TD from senior tailback Christian Turner.
The Spartans responded with an eight-play drive, but were not successful, as kicker Matt Coghlin missed a 50-yard field goal.
MSU would get the ball back after forcing another three-and-out. Reed continued his strong outing, setting the Spartans up with great field positioning after a 30-yard punt return.
The drive would then result in a 16-yard TD reception by redshirt junior wide receiver Jalen Nailor.
Thorne's 280-yard passing day was done, as backup QB Anthony Russo would make his Spartan debut at the end of the quarter.
Russo led a long 15-play drive later in the fourth quarter, but couldn't capitalize after turning the ball over on a fumble on the Penguins' 3-yard line.
MSU will hope to extend its winning streak to 3-0 next Saturday when it heads on the road to face Miami at Hard Rock Stadium for a noon kickoff.