Previewing Michigan State's season opener against Northwestern
EAST LANSING — Football is here, and with crowds returning to stadiums around the nation, it's bound to feel legitimate again. 
Spartan football is back as well. Michigan State will be heading on the road to face off against Northwestern for its Week 1 matchup. 
The Spartans enter the season after a disappointing 2-5 record in 2020 for coach Mel Tucker's first season at the helm. This year's squad will look much different though, as the program had a busy offseason making constant moves in the transfer portal.
The biggest question remains amongst the Spartan faithful: Who will be taking the field as the starting quarterback on Friday? QB Payton Thorne and Temple transfer Anthony Russo have been in an offseason-long battle for the spot, both having a lot to offer in different ways. At this point, fans likely won't know the decision until moments prior to kickoff.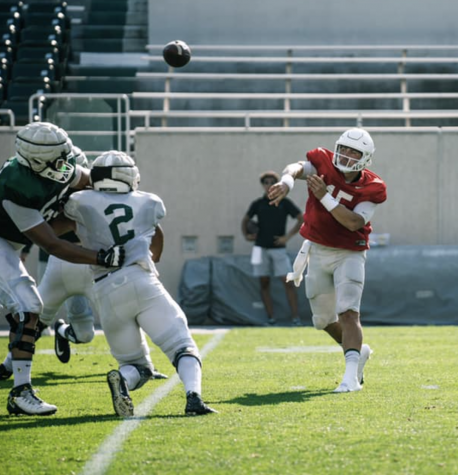 NU will be starting this new season with some uncertainty on its end as well. Coming off an impressive 7-2 record last season, the Wildcats' roster looks a lot different as well, having lost many key starters in the offseason. 
The NU starting QB spot was granted to fifth-year senior Hunter Johnson, who only appeared in two games last season. He is expected to likely share time with backup transfer Ryan Hilinski. 
The Wildcats will begin the season without their star running back Cam Porter. The sophomore's lower-body injury was a major detriment to NU, as he was projected to be one of the team's more elite returners. 
My prediction:
It's difficult to make a confident prediction in a game like this, let alone the opening game. There is uncertainty all over the board, as both teams will have a number of different faces taking the field in Evanston. 
Here's the bottom line. MSU is going to be displaying a lot of talent on both sides of the ball. And if I'm going to make a prediction that can't be based on prior evidence, I have to go with the aura around the two teams.
MSU just seems to have a positive, optimistic outlook on what it is capable of this season. NU is still feeling the loss of its players from its successful season last year and losing Porter certainly does not help. 
Despite all that, I do believe that fans can expect a close, gritty contest to open up the season. I think the first-half will highlight the first-game jitters of each team, but it will be MSU who comes out with a dominant offensive display after intermission. 
I'm giving the edge to MSU in what I predict to be a 28-24 victory. 
The Spartans and Wildcats will face off at 9 p.m. at Ryan Field on Friday. The game can be watched on ESPN.