Five Spartans who are set for career years in 2021
EAST LANSING— With the addition of 15 transfers and 18 freshmen on scholarship, Michigan State is set to feature a markedly different product in 2021 compared to 2020's 2-5 squad. The departure of linebacker Antjuan Simmons, defensive tackle Naquan Jones and cornerback Shakur Brown, among others, has provided an opportunity for several underclassmen and depth players to latch onto a larger role for the upcoming season. Below are five players who are set to have career years in the second year of the Mel Tucker era:
1. CB/S Angelo Grose
Although cornerbacks Shakur Brown, Tre Person and Kalon Gervin were mainstays on the back end in 2020, perhaps no other secondary player forced their way into the rotation more as the season went on then cornerback Angelo Grose. Whereas Brown and Gervin excelled as press corners on the outside, Grose' quickness, route recognition and sure-handed tackling ability quickly netted him a role as the team's primary nickelback in the latter half of the season.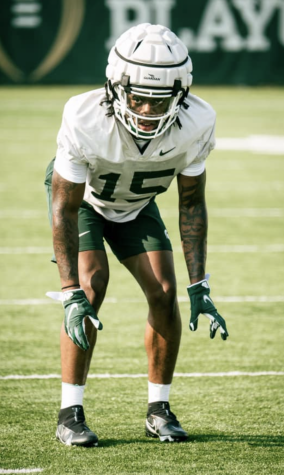 Although he is now taking reps at safety alongside Xavier Henderson and Michael Dowell, his ability to bring down speedy wideouts over the middle and in space while also offering plus run support in the box will serve a defense that gave up over 35 points per game in 2020, the worst mark in the Big Ten, well. Although not the flashiest player in the world, his technical excellence has him primed for an excellent 2021 season.
2. T Jarrett Horst
Perhaps no transfer is flying under the radar moreso than Jarrett Horst. While running back Kenneth Walker, quarterback Anthony Russo and defensive end Drew Jordan have received the bulk of the media's attention early on, Horst may end up playing a more crucial role than any of them. In an era where MSU hasn't scored more than 25 points a game since 2015, the seemingly constant issues on the offensive line are a primary reason why. Injuries, lack of continuity and a myriad of other factors haven't helped, but the hope is that Horst, a former third-team All-Sun Belt selection at Arkansas State, will finally be able to stabilize the left tackle position once and for all.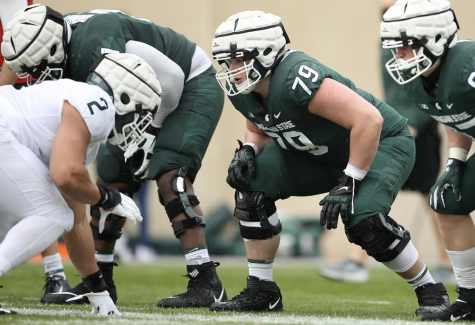 Horst has constructed a reputation as a mauler who finishes relentlessly through the whistle, and if he can do that with regularity, MSU may be able to kick right tackle Kevin Jarvis inside to right guard (where he started for the first two years of his career) and current left tackle AJ Arcuri out to right tackle. This could finally allow for MSU to field an above-average offensive line for the first time in over half a decade.
3. RB Elijah Collins
Boy, how can things seemingly change in a year.
After nearly rushing for 1,000 yards, as well as five touchdowns, as a redshirt freshman in 2019, Collins found himself slotted behind freshman running back Jordon Simmons and Connor Heyward in 2020 en route to only rushing for 90 yards on 41 carries. Throughout spring practice and into fall camp, the word has been that Collins has forced his way back up the depth chart, a great sign. Although the Spartans return Simmons and Heyward, while also welcoming in transfers Kenneth Walker and Harold Joiner, Collins may have more latent ability than any of his fellow halfbacks.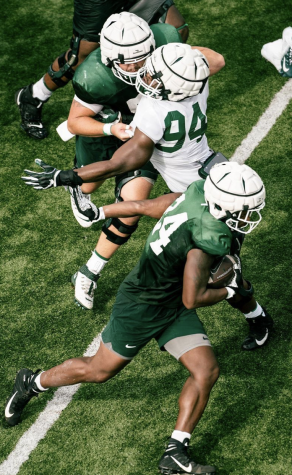 It often gets lost in the shuffle that Collins ran for 988 yards with one of the worst offensive cores in the country only two years ago; the bottom line is that Collins, a shifty running back who possesses excellent vision and agility, as well as patience through the hole and the ability to run through first contact, can be a monster with an average offensive line and a strong supporting cast at receiver.
4. DT Jalen Hunt
When one thinks of a prototypical build for a defensive tackle, redshirt sophomore Jalen Hunt fits the mold. For a player who "is big off the bus," he showed a variety of encouraging signs last season despite being slotted behind Naquan Jones and Jacob Slade. Although Slade and Dashaun Mallory return, Hunt may possess more quickness off the ball than either of those two. Hunt, who possesses an impressive amount of brute strength, showed the ability to succeed in slowing down other team's rushing attacks due in large part to his superb ability to maintain outstanding pad level while making first contact with excellent hand usage as both a one and three tech.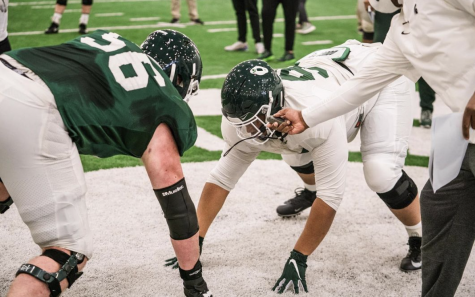 An elite defensive tackle must possess both extreme athleticism and impeccable technique; Hunt easily fulfills both of these requirements. Him, along with Slade, Mallory and returning redshirt sophomore Maverick Hansen, have the potential to form one of the two or three best interior quartets in the Big Ten.
5.  LB Ben VanSumeren
Like Hunt, Ben VanSumeren is a strong, strong man.
VanSumeren, who appeared in eight games at both linebacker and fullback for Michigan over a two-year span, is the prototypical "gym rat," that is one who seemingly spends half the day in the weight room bettering themselves. Although this is purely anecdotal, one would have to think that VanSumeren can probably bench press and deadlift more than half the offensive linemen currently on the roster. That's not a knock on anyone in particular; rather an endorsement on VanSumeren's dedication to improving his already gargantuan strength.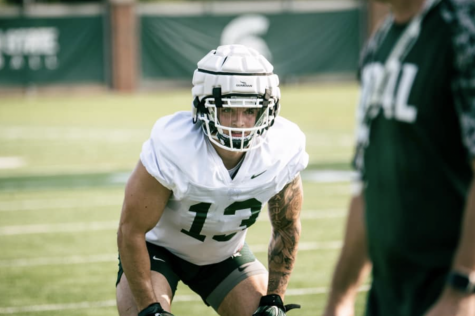 With the exception of returning MIKE linebacker Noah Harvey, the Spartans will need to find at least two suitable 'backers between a pool that includes Tennessee transfer Quavaris Crouch, Minnesota transfer Itayvion Brown, incoming four-star and former USC commit Ma'a Gaoteote and Chase Kline. Although this trio possesses appealing traits in their own right, starting VanSumeren gives MSU a true throwback linebacker who succeeds at downhill run support and laying jarring hits to opposing running backs and offensive lineman. Despite not being the quickest player in coverage, opposing receivers will be forced to keep their head on a swivel across the middle with VanSumeren in the game.