MSU swept by Penn State in first match after COVID-19 pause
EAST LANSING — After three weeks of postponements and isolation, Michigan State was excited and able to play volleyball again. The team completed its first full practice on Thursday and was looking forward to stepping onto the court Friday at Jenison Field House to play Penn State.
The excitement didn't last long, however, as the Spartans showed their rust in a frustrating 25-18, 25-17, 25-14 loss to the Nittany Lions on Friday. 
"It was a little tough, getting everything together," said MSU coach Cathy George. "But it was great to be back here."
"Coming back from all the time we missed, it was a big task at hand," said senior outside hitter Meredith Norris.
Both teams came to play on offense in the first set. The Nittany Lions hit .500 and the Spartans .338 to start the match, though those numbers slipped throughout the game for both teams. Neither team could crack .200 in the second set, with Michigan State recording -.050.
The Nittany Lions dominated at the net on both sides of the ball. Outside hitter Jonni Parker and middle blocker Kaitlyn Hord teamed up on three blocks, imposing their will on the Spartan middles. 
The Spartans' offense flowed through their outside hitters for much of the night. Seniors Norris and Alyssa Chronowski started and played most of the game there as MSU's rotation at the spot was limited due to game-time decisions on a number of players. Chronowski tied for the team lead with eight kills and Norris added six on the night.
"I thought there were moments where they played really well," said George. "They had a big block on them…we're trying to move the offense so they don't have to carry the load quite as much."
Junior middle Naya Gros got free in the third set, scoring three of her eight kills on just four swings. Sophomore middle Emma Monks was held scoreless in that set but did earn one of MSU's two blocks on an excellent read, rising up to reject Parker's back-row attack.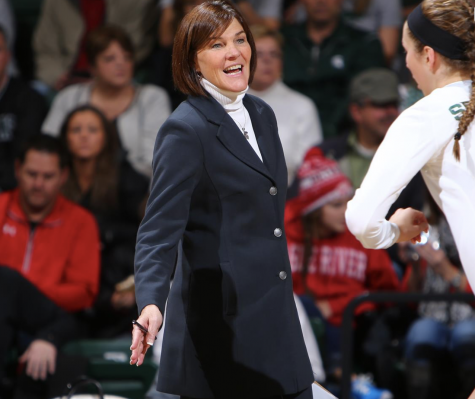 "I've been really impressed with how [Gros] has stepped up as a leader," said George. "She's really taking those steps that you like to see for her to become great."
As the match continued, the Spartans' lack of practice showed. There were missed assignments and bad errors that had players visibly frustrated. At one point, setter Celia Cullen, together with her Penn State counterpart Gabby Blossom, appeared to receive a verbal warning from the net official.
"I think the hardest part about playing Big Ten volleyball is the speed that we play at…we have a lot of things to work on," said Norris.
Though there is much to work on for tomorrow's rematch against the Nittany Lions and next week's practices, the players are still confident they can get back up to speed by the end of the season.
"We've been dealt a hard set of cards, and we knew that today was going to be sloppy," said Chronowski. "But if we've learned anything, it's that we got through them and we got through them by being together." 
Michigan State plays the second game of its home series against Penn State Saturday at 6 p.m.