For Michigan State volleyball, just having a season is a miracle. Can they make a run in a tough Big Ten?
EAST LANSING— On Tuesday afternoon's press conference, senior captain Meredith Norris was asked how excited she was to be able to play volleyball this year. 
"My first initial reaction was just starstruck," she said. "I didn't know how to handle things."
For Norris and the four other seniors on this Michigan State volleyball team, the release of the Big Ten schedule is a reminder that in the middle of the coronavirus pandemic, they have to appreciate whatever breaks they can get. The season is already starting in the spring instead of the typical fall after the conference postponed non-football fall sports back in August, and the schedule will surely shift between now and the season's end on April 3.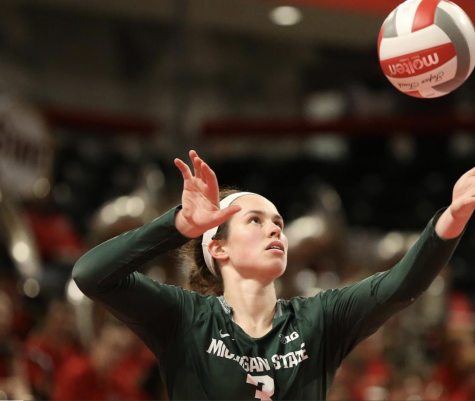 But that's not what coach Cathy George's squad wants to focus on.
"We're very excited to play Minnesota this weekend," George said. "And who doesn't love Michigan week?"
The Golden Gophers and Wolverines are the first two opponents in the 22-game schedule for the Spartans (15-15 in 2019, 6-14 Big Ten). Though the Big Ten is a tough conference loaded with volleyball powerhouses, George has had success in the past with experienced rosters like this year's. In 2017, her roster with seven seniors made it to the NCAA Elite Eight.
That team had a non-conference schedule that they could run through with few problems. This year, they're going right into the fire. Below, I'll be breaking down the Spartans' year in more detail:
NEW PLAYERS WHO COULD MAKE A BIG IMPACT IN 2021:

Celia Cullen, S, Brighton
George raved about all the incoming players on Tuesday, but she seemed especially excited to coach Cullen.
"She's got a moxie to her, a certain intensity and competitive nature…she's got a nice court presence," George said.
Teammate Jamye Cox agreed. 
"She might be the most competitive female I've ever met," Cox said.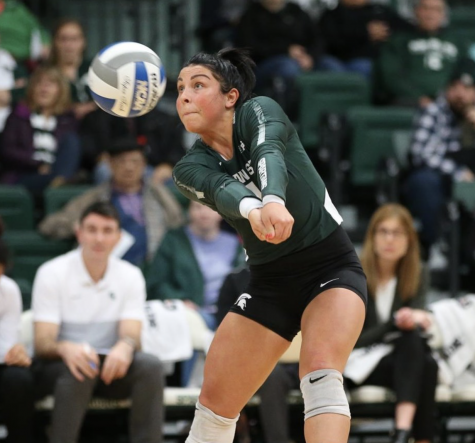 Cullen might need to use that competitive drive early. The Spartans are thin at setter due to the graduation of seniors Maggie Midgette and Audrey Alford. Junior Elena Shkylar, the primary setter two years ago, will likely retake that larger role, but her and Cullen are the only two setters on the entire roster. If Shkylar gets injured or George decides to roll with two setters again, the No. 24 senior nationwide in the 2020 class will see extended time.
Cecilee Max-Brown, OH, Oregon State
Max-Brown is the only transfer in the class, coming from Oregon State after a year with coach Mark Barnard's squad in which she averaged 2.92 kills per set, good for second on the team. The British Columbia native played twice for Canada's youth national team and got training time with the adult squad in 2019. 
She was injured often in 2019, only appearing in 11 games for the Beavers. If she's healthy, she gives the Spartans another long body at outside hitter who will be a strong competitor for playing time next season should Alyssa Chronowski, Norris, and Lauren Swartz forgo another year of eligibility.
KEY DEPARTURES
Audrey Alford, S
Alford came in as a graduate transfer in 2019 from the University of Oklahoma and immediately won a share of the starting setter role. The Spartans used her with Shkylar or Midgette at the same time, running with a two-setter lineup for much of last year to accommodate the surplus of players at the position.
Alford played 101 sets, the most of the three, and posted similar assist/set numbers to Shkylar, though Shkylar was the best server. Her departure means George probably returns to a one-setter lineup.
Samantha McLean, DS
McLean is probably the most consequential player not returning for 2021. She and Cox were a dependable pairing on the back line for the Spartans for the last three years. Though she never put up flashy numbers, she was excellent at rotating and did whatever was needed in a pinch.
SCHEDULE PREDICTION:
Last year was somewhat disappointing for Michigan State. The Spartans were dominant in non-conference play and put up a good fight against Tennessee, who at the time was hanging around the bottom of the top 25. 
Then the team hit conference play. No one can complain too much about losing games to teams like Nebraska, Wisconsin, or Penn State. Improvement this year should come from winning against the teams they should, such as  Northwestern, Ohio State, and Maryland, all of whom the Spartans dropped close games against in 2019.
With that in mind, I think this team has the talent to compete and improve on its record from last year. I'm predicting that even with a conference-only schedule, the Spartans will finish 12-10.
The Spartans' season-opening series  is away at Minnesota on Jan. 23 and 24.