Aaron Henry wins Big Ten Player of the Week Honors
EAST LANSING — MSU junior forward Aaron Henry was named Big Ten Player of the Week for the week of March 1-7. The honor was Henry's first of his career, and he is the first Spartan to be named player of the week since Cassius Winston won it in back-to-back weeks over the final two weeks of the 2019-20 season.
Henry was awarded the honor after playing a huge role in Spartan wins over Indiana and Michigan this past week. Henry averaged 18 points, six rebounds and three assists over the course of three games last week. His performance against No. 2 Michigan at the Breslin Center pushed the Spartans to a 70-64 victory that should ensure them an at-large NCAA tournament bid. 
Against Michigan on Sunday, Henry scored 13 of his 18 total points in the second half. Henry also played an astronomical number of minutes every game this past week, playing 106 minutes of a possible 120.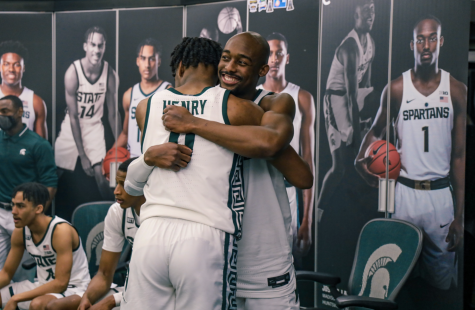 While the Spartans have struggled to find consistency throughout the year, Henry has been a consistent bright spot. Averaging 15.5 points and 5.5 rebounds, Henry has failed to score double digits in a game only twice this year (at Rutgers, vs Eastern Michigan). 
Henry and the Spartans look to continue playing at a high level going into the Big Ten tournament, after going  5-2 to close out the season. The Spartans are scheduled to play their first Big Ten tournament game on Thursday, March 11 against the Maryland Terrapins at 11:30 a.m. at Lucas Oil Stadium.