Spartans handle Detroit Mercy in blowout victory
Sutton Magee, Women's Basketball Beat Reporter
November 8, 2019
EAST LANSING – The Michigan State Spartans handily defeated the Detroit Mercy Titans Friday night by a final score of 110-52. 
Shay Colley, a major piece of the Spartans starting lineup, remained out with a leg injury suffered in the home opener against Eastern Michigan, leaving a gap for some younger players to step into some crucial minutes. They took advantage, and every player for the Spartans had a field goal in Friday's game. 
Head coach Suzy Merchant called on the dogs early with a full-court press that devastated Detroit Mercy. They forced 12 first-quarter turnovers and 30 for the whole game.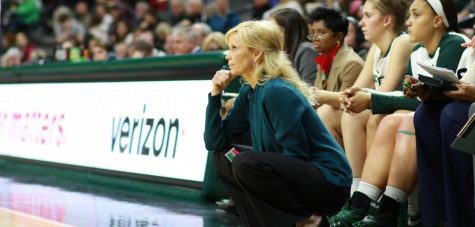 The press led to many easy buckets for the Spartans, allowing them to shoot 52.6% from the floor. Many buckets came on fast break layups, with the Spartan guards showing off their quickness. 
"I just love the energy that we bring, we have quickness, athleticism and we have speed coming off the bench, and depth," said Merchant. "It lends itself to play more of a full court game defensively and offensively." 
With the amount of layups given up to Michigan State, the Titans had to make a corresponding move. The Spartans interior passing was too quick and elite, making it hard on the Titans help defense.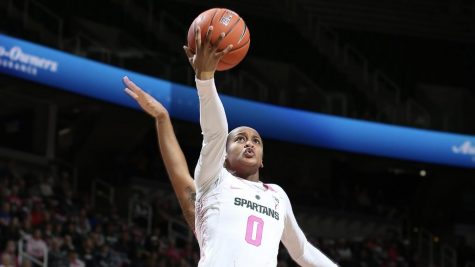 The Spartans didn't stay one dimensional though, with many kickout passes to open shooters outside the arc. Merchant made it obvious that inside out basketball was a priority. They made Detroit Mercy pay with several timely 3-pointers.    
"We work on that a lot in practice when we do guard and post break down, especially today we knew they were going into a zone," freshman forward Taiyier Parks said. "We're very close as a team so that helps too." 
After a flashy behind the back assist by senior Nia Hollie, the bench went into a frenzy after the Spartans pushed the lead to 84-47 late in the third quarter. The Spartan bench didn't hesitate to applaud whoever was on the court.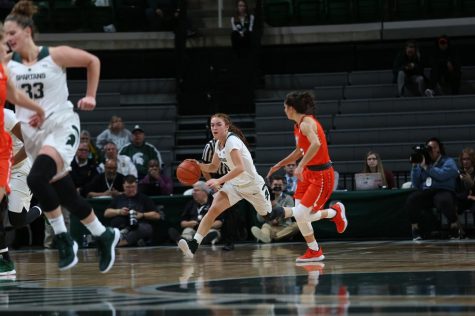 The entire Michigan State bench received playing time against a Titans team that went 4-25 just a season ago. While the rotation will surely be tighter against a top-25 opponent in Notre Dame coming up, Merchant has to be happy with the extreme depth she has been afforded this year. 
"You just gotta go in there as it's us against the world," Merchant said. "Nobody's gonna want to see us go in there and win, that's for sure. That's Notre Dame, that's one of the most storied programs ever. We've gone in there and had a tough go of it in the past, but it's different teams now. Both of us are looking forward to the challenge." 
The Spartans are back in action Thursday, Nov. 14, with a road trip to the Joyce Center to take on the Notre Dame Fighting Irish. Tipoff will come at 8 p.m. on the ACC network.
Contact Sutton Magee at [email protected] Follow him on Twitter @suttonmagee12.