Nia Clouden named to preseason All-Big Ten team
EAST LANSING — Michigan State women's basketball's star junior guard Nia Clouden was voted as a member of the preseason All-Big Ten team by both media feature student-athletes and conference coaches on Wednesday. 
Clouden is coming off a dominant season in which she averaged 14.5 points, including seven games with 20-plus points scored; she is expected to return as one of the Spartans' top options in the upcoming season. Clouden will be tasked with leading a young MSU squad that lost guards Taryn McCutcheon and Shay Colley, as well as forwards Nia Hollie and Victoria Gaines to graduation. 
In addition to Clouden, the Spartans are returning starting guard Moira Joiner, starting forward Tory Ozment, center Taiyier Parks, forward Mardrekia Cook and reserve guards Julia Ayrault and Alyza Winston.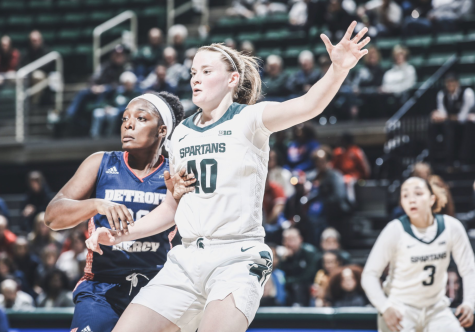 Transfer center Lauren Rewers will also play a vital role during the 2020-21 season for MSU. Rewers, who previously played basketball for Hawaii, averaged 6.6 points and 3.9 rebounds per game as a junior. 
Kayla Belles, the Spartans' starting center during the 2019-20 season, transferred to BYU in April. 
Clouden succeeds former Spartan guard Shay Colley as an MSU representative on the list of honorees. 
She joins Indiana guards Grace Berger and Ali Patberg, Iowa forward Monika Czinano, Maryland guard Ashley Owusu, Michigan forward Naz Hillmon, Northwestern guards Veronica Burton and Lindsey Pulliam, Ohio State forward Dorka Juhász and Rutgers guard Arella Guirantes on the team.
The honor follows Clouden's achievement of making the 2019-20 second-team All-Big Ten.