Michigan State welcomes in No. 13 Notre Dame
No. 3 Notre Dame comes to Munn Ice Arena to continue conference play against a surging Michigan State hockey team. The Fighting Irish (8-1-1, 4-1-1 Big Ten) are in second place in the Big Ten and are coming off a weekend when they split with Wisconsin in Madison. Michigan State (5-5, 3-1 Big Ten) are in third place in the Big Ten and are coming off a sweep of in-state rival Michigan.
Both teams are backed by solid goaltending. Michigan State is led by senior John Lethemon, who is coming off a 35-save shutout against Michigan at Munn. While the Irish have two goaltenders who can hurt you, the main goalie in South Bend is senior Cale Morris, who is 5-1 and has a .913 save percentage this season.
On offense both teams are very physical, strong and opportunistic teams. They aren't like Penn State where they get as many shots on net as possible, they get less, but they make them count.
There are two main players to watch on Notre Dame, Cal Burke and Mike O'Leary.
Burke is the senior captain for Notre Dame and currently averages 1.3 points per game, leading the potent Irish offense. Burke is a strong force on the Irish power play and even strength.
O'Leary is a senior as well, averaging 1.2 points per game, and if him and Burke get hot, Michigan State will struggle in their own end.
Two players to watch for the Spartans are senior forward Patrick Khodorenko and senior defenseman Jerad Rosburg. Khodorenko has 13 points (six goals, six assists) in the last six games and is a big reason Michigan State is off to a good start in conference play. Rosburg is a leader in the offensive and defensive zones. Michigan State generates a lot of offense from the blue line and a lot of that is credited to Rosburg, who also leads the power play from the point.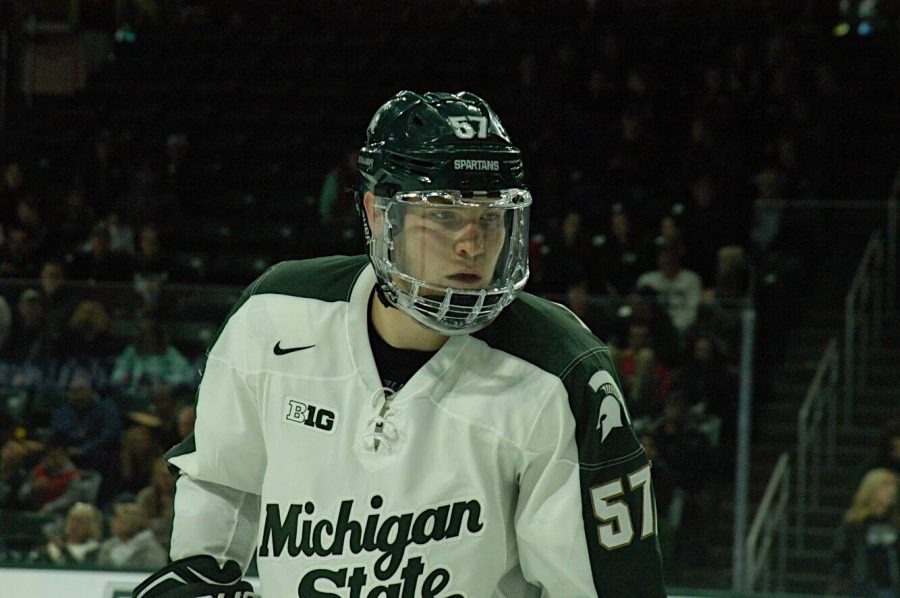 This series will be physical and opportunistic because of how good these defenses and goalies are. It will likely come down to whoever does better with blocking shots, staying out of the penalty box and taking advantage of special teams.
This series will be pivotal in not only the Big Ten standings, but national rankings. If Michigan State sweeps or splits, they have a very good case to be ranked in the poll. Notre Dame also needs two wins against Michigan State to maintain their No. 3 spot in the USCHO poll.
Contact Kyle Hatty at [email protected] Follow him on Twitter at @KyleHattyIN.