Michigan State hangs tough in loss to Minnesota
EAST LANSING – Coming on the heels of two straight losses to top-10 teams in not just the Big Ten but the country in Penn State and Wisconsin, it might've been fair to ask if Michigan State volleyball had what it took to compete with another conference heavy hitter in Minnesota.
It didn't look good early, as Minnesota took advantage of multiple misplays and errors by the Spartans to take at one point a 17-5 lead in the first set. The Spartans would not be turned away that easy though. 
MSU would manage to claw at the deficit toward the middle and latter half of the first set, including a five-point run to cut to 24-21 and give themselves at least a chance before Minnesota would get the final point and take the first set 25-21.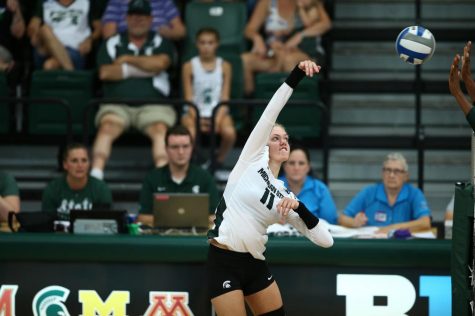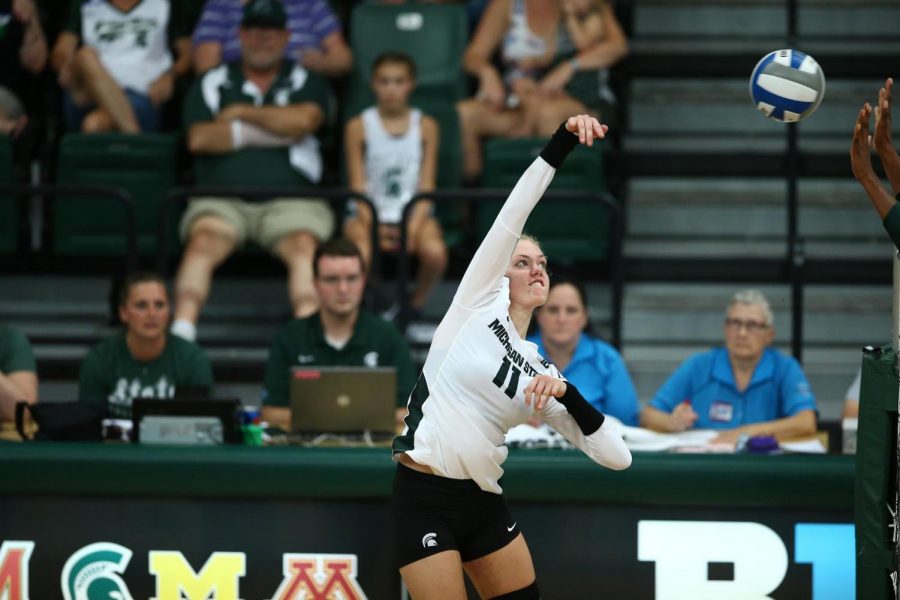 The fight that MSU showed to close the gap in the first set would continue to demonstrate itself in the second set, as MSU went back and forth with the Gophers, with neither team being able to build a sustained lead up until when the set was tied at 20. 
MSU had its best chance to take the set when it was tied at 20, but Minnesota would end up scoring five straight to end the second set and take a 2-0 lead on MSU at Jenison Field House. 
Even after losing a second set that seemingly could have gone their way, MSU didn't wilt, instead they came out firing to start the third set, racing out to a 7-1 lead and forcing Minnesota to take a timeout and reset. 
Eventually, Minnesota would reset and get themselves back into the set, coming back to tie it at 10, and from that point on the set was very back and forth, with any lead only being a few points.
The set hit a crescendo when the score became tied at 17 and MSU and Minnesota would go back and forth trading kills and errors, tying the score up until MSU finally took the winning point on an error by Minnesota to avoid a shutout and cut the lead to only one. 
The fourth set, however, would end up mirroring the first set, only in the worst ways for Michigan State and the best ways for Minnesota. Minnesota would get out to early leads of 6-1, 10-4 and 19-9, looking as good as they had since the beginning portion of the first set with Michigan State looking like they might have finally run out of gas.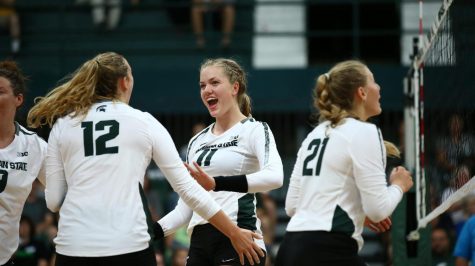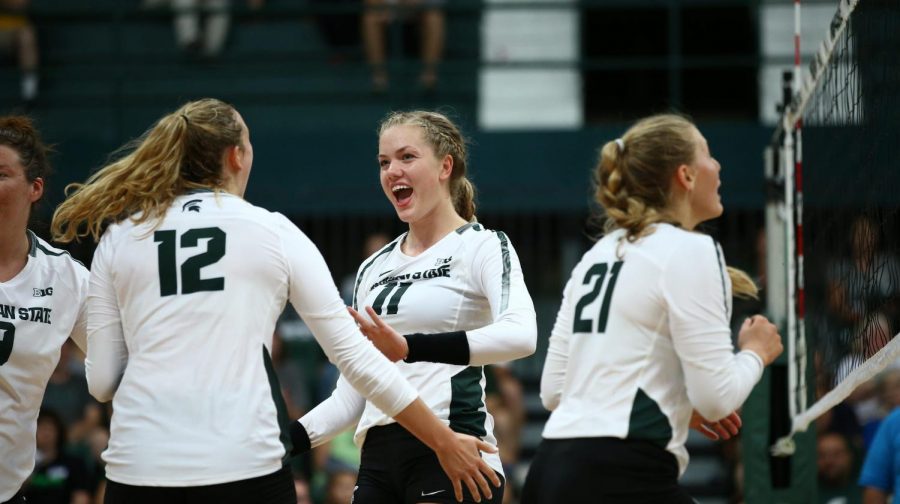 Once again, however, Michigan State would not go quietly, sandwiching two different four-point streaks to cut the lead in the set down to 21-18, but Minnesota would kill the rally by scoring four straight to take the fourth set 25-18 and beat Michigan State three sets to one.
Regan Pittman was the standout for Minnesota, finishing with a game-high 19 kills on 30 attempts, including seven in the first set. Rebecka Poljan, Alyssa Chronowski and Biamba Kabengele each finished with double-digit kills for Michigan State. 
MSU head coach Cathy George would commend her team's effort after the game.
"The one thing you want to do no matter what is continue to fight and I thought we did that," said George. "We didn't just lay over after a while, we fought back after slow starts in two of those sets but we still need to work on how to raise our game and looking for where are we scoring and how are we scoring and what we're going to do." 
When looking at improvements the team can make to better stack up to the level of competition that Minnesota offers, George was straightforward with her thoughts.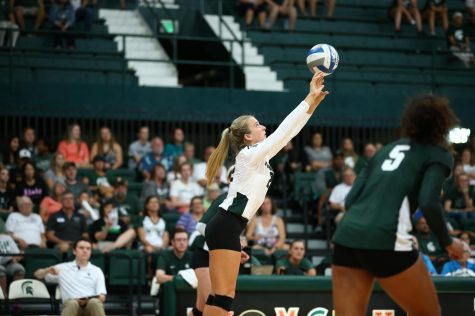 "We need to play cleaner," said George. "We gave up too many easy points. We're just making unforced errors that we don't need to make and we're not communicating as well as we need to on the way we're handling the ball and defense."
"I think we have to kind of identify and be very decisive about what we're doing and keep it cleaner so that we are getting the offense that we need."
Michigan State's next chance to get back in the win column will be at Northwestern on Friday, while Minnesota will take on Ohio State at home.
Contact Darin Baydoun at [email protected].