Spartans defeat CMU, earn much-needed victory
EAST LANSING – For Michigan State, it feels good to win again. Especially considering how rough of a go it has been lately for the Spartans, this was one they needed to have. The fans needed this, the coaches needed this and most importantly, the players needed this. It was all thanks to a 3-0 victory over Central Michigan on Sunday afternoon.
It is exceedingly difficult for any team to not lose confidence and trust in the way things are done when only two games are won in a month. Sunday served as a glimmering reminder that despite the struggles of a young and ever growing MSU team over the past month and change, the foundation has been laid this year for widespread success next year and beyond.
The Green and White left absolutely no doubt as to who was the better club on Sunday, as they thumped the visiting Central Michigan Chippewas with shot after shot on goal en route to a 3-0 victory.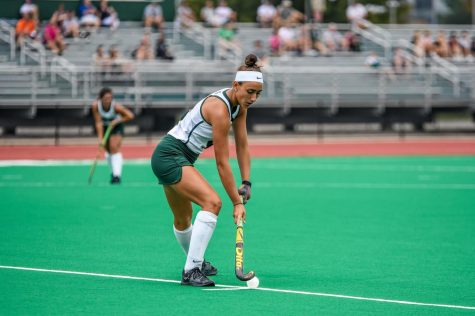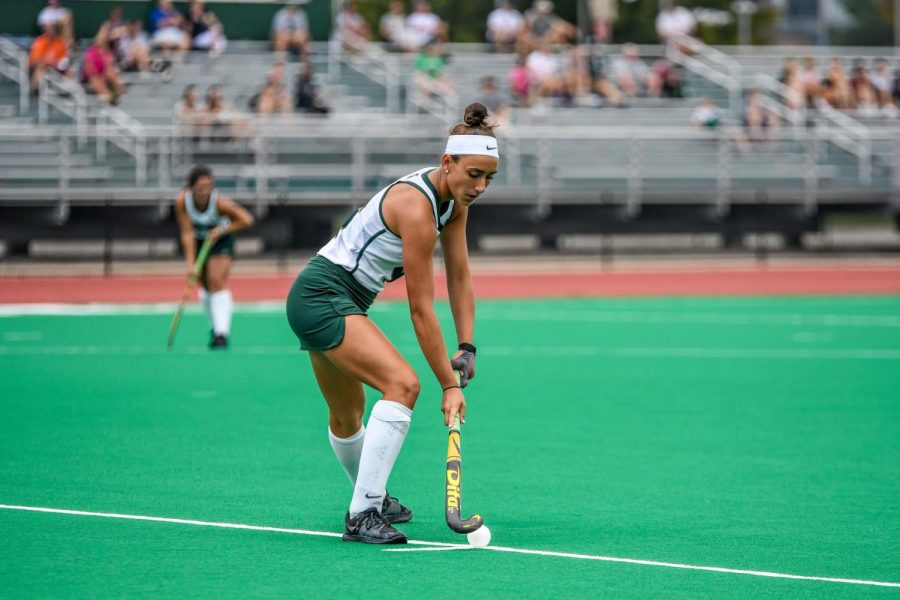 Seemingly every Big Ten opponent that MSU has played this year has either been highly ranked or overall well disciplined. Frankly, going from playing the No. 2 team in the land to a two-win MAC team is a bit of a step down. It's been a minute since the Spartans went into a game as the consensus favorite.
Still, credit must be assigned to the host club for taking care of business and doing exactly what they needed to against a vastly inferior opponent. Considering how this team has struggled throughout the season to generate shots on goal and corner opportunities, the fact that MSU had 10 first-half corners and outshot the Chippewas eightfold was remarkable.
The score was 2-0 at half, but it felt like a 5-0 game based on the overall trend of play. 
Junior forward Meredith Ross, who scored the first goal of the game, aludded to how the Spartans wanted to get out and run against the overmatched Chippewas.
"We talked about outletting the ball and taking the ball on the move," said Ross. "We played our game and played at a fast pace. We attacked the right side and it paid off. We had a lot of opportunities and we attacked the baseline and we got a lot of chances off of that."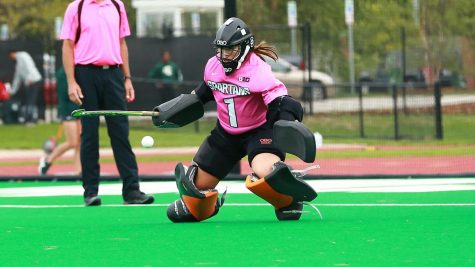 Good teams win games like this. MSU winning this game in the dominant way that it did gives them that distinction, at least for a day. 
On a cold and windy fall afternoon, it was the host team who came out clicking on all cylinders. After having a sloppy early few minutes that included a CMU corner try, State would generate one corner after another. In a sequence of 30 seconds, the Spartans would receive three consecutive corners, and despite CMU goalie Abigail Ebersole holding strong, the Green and White were maintaining possession and having good ball rotation.
Although the score was nodded at nothing at the end of one quarter, the fact that MSU had accumulated four corners to CMU's one and outshot the Chips by an 8-1 margin was quite encouraging to see. 
Two more quick corners would be registered for MSU within the first three minutes of the second half, but yet again, MSU would not capitalize on the CMU fouls. Despite MSU outshooting CMU 14-1, they would be unable to finally register a scoring tally until the halfway point of the second, when Ross redirected a rebound shot out in front and poked it past Ebersole.
Jillian Mahon would get in on the fun only a couple minutes later, with help from Mackenzie Brown. Just like that, MSU had broken the door down off its hinges to take firm control of the game, as the first half concluded.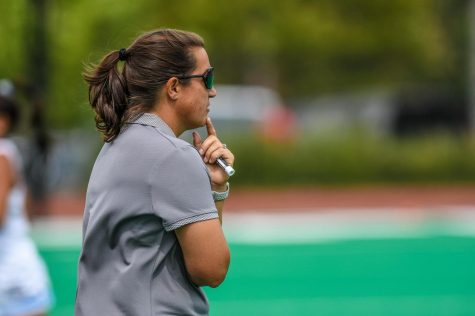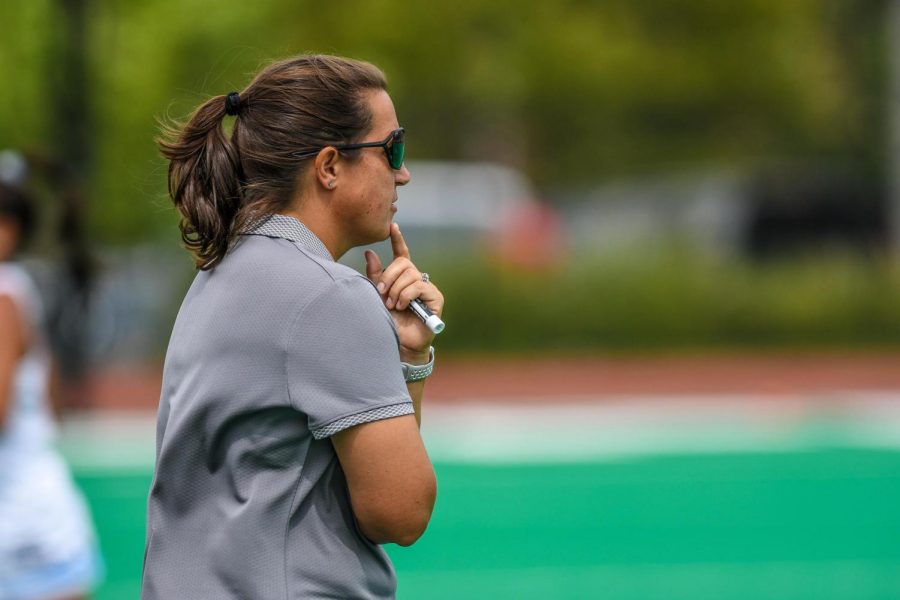 Lia Sinisi would collect her seventh goal of the season midway through the third, which helped to crush any momentum that the Chippewas had been accumulating to that point. The Spartans would be content with playing rather cautiously throughout most of the third in order to protect their three-goal advantage. To quote Disney masterpiece Frozen, it truly was ''the first time in forever'' since MSU controlled and dominated a game going into the fourth quarter. 
Nothing of significant importance occurred in the fourth. MSU held serve and as the final horn sounded, the scoreboard displayed the overall margin, in which Michigan State had completely leveled the visiting Chippewass. Outshooting a team by a 38-4 margin normally shows that you completely outplayed an opponent and that was the case on Sunday.
To put a bow on an otherwise wonderful effort, MSU registered 14 corners to CMU's three. Ross mentioned how she thought her and her teammates truly played together today.
"We played as a team and it feels really good to be back in the win column," said Ross.
The Spartans will be looking to finish the season on a high note and avoid a winless conference record, as they welcome the Ohio State Buckeyes to Ralph Young field next Saturday at 1 p.m. Ohio State is ranked as the No. 21 team in the land despite a 6-8 overall mark on the season. With the season over the next week, coach Helen Knull said there is still much to be determined.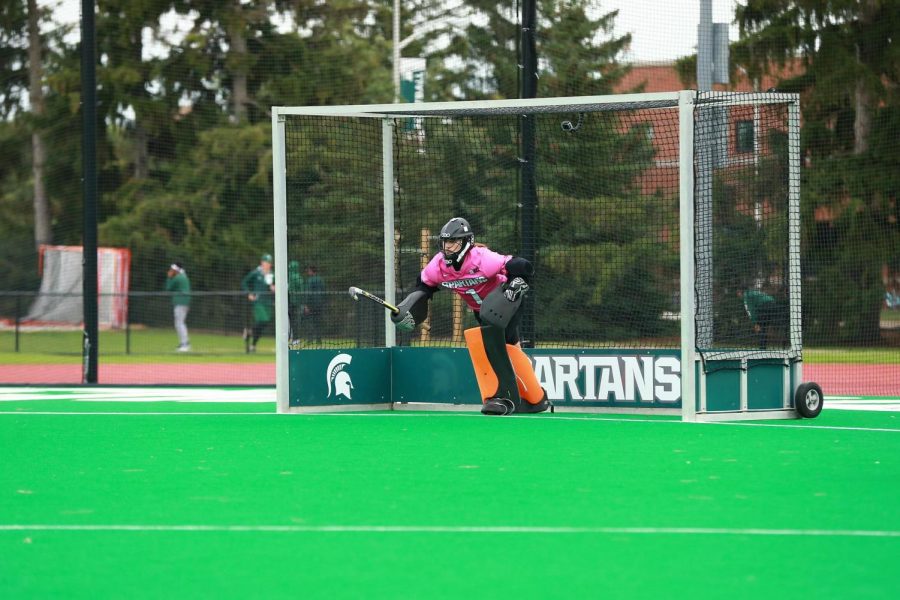 "Obviously not making the playoffs stings, but we want to play good for the program and finish the season on a high note," said Knull. "That is really important to me."
Ross would also echo this sentiment.
"I know that we might not have had the season that we wanted to," said Ross. "We are going to have a hard week of practice and we are going to come out and try to beat Ohio State and ruin their seeding a little bit."
Winning the season finale in a rivalry game against a ranked foe would most certainly put a nice little bow on the season. We shall see if that comes to fruition or not.
Contact Nathan Stearns at [email protected]. Follow him on Twitter at @NathanStearns11.