Spartans prepare to face Rutgers, look to finish season on high note
EAST LANSING – There are often two trains of thought commonly known by society, the glass as half full approach, and the glass as half empty. If this line of thinking is applied to Michigan State women's soccer, then both approaches of can certainly be applied. For one, any chance of postseason hope for the Spartans went up in flames courtesy of a lone Maryland goal. 
Fortunately for the Green and White, Sunday marks a chance for the seniors to knock off a ranked team in Rutgers and regain a bit of momentum headed into the offseason. Combined with the fact that Sunday is Senior Day, and it is clear that much can still be gained during the last two games of the season.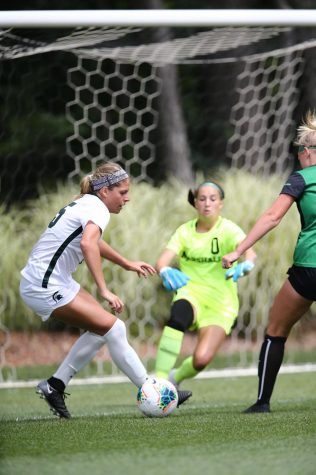 Head coach Tom Saxton didn't mince words after Thursday's Maryland game, when referring to the lack of a postseason berth as a "tough pill to swallow." The pain and disappointment was evident on the sidelines after the reality of the season ending in a week began to dawn on the Spartans.
Reflecting on the season at large, Saxton expressed extreme pride and gratification for the exemplary effort that this team expressed both on and off the field. 
It would be both illogical and downright idiotic to surmize that a victory over a 13-2 Rutgers team would be able to eliminate the sting of a lost season. After all, how can one game make up for an entire body of work? With nothing left to play for at this point but pride and offseason momentum, the onus lies on the Spartans to make the most out of these last two contests. 
Based on the postgame comments of Saxton, it's abundantly clear that he expects and demands this team to come out the next two games with the same fire and fury that they have brought to each and every game.
After the conclusion of the Rutgers contest on Sunday, MSU will welcome an Indiana squad into town for the season finale. Indiana has been remarkably average the entire season, boasting a 7-7-2 record out of conference and a 3-4-1 record in conference.
If MSU can add a bit of a bow on an otherwise disappointing season, the outlook for next year will improve greatly. As a senior-filled team (12 to be exact), the Green and White will be replacing quite a few star players. The young underclassmen will have a key chance to cement themselves as possible starters next year over the last two games.
Contact Nathan Stearns at [email protected]. Follow him on Twitter at @NathanStearns11.