Spartans fall to Penn State, suffer third straight loss
Aidan Hunt, Football Beat Reporter
October 26, 2019
EAST LANSING – No. 6 Penn State traveled to Spartan Stadium on Saturday to take on Michigan State in the rain. The weather was as dreary as the Spartans' performance in this one, as they were embarrassed for the third straight game, 28-7.
On the game's opening kickoff, Penn State's KJ Hamler fumbled on the return, setting the stage early for the physicality of the game. On the opening drive, Penn State went three-and-out due to a strong start by the Michigan State defensive line.
Michigan State looked to respond strongly, but was stopped just short of a first down after three consecutive runs by Elijah Collins.
Both teams looked to make a breakthrough in the rain after failing to do anything on their first drives. 
Penn State was able to get three first downs on their second drive, courtesy of a long pass to tight end Pat Freiermuth, an offsides penalty on Naquan Jones and a third down pass to Hamler before Sean Clifford was able to connect with Freiermuth again for a 16-yard touchdown to open the game's scoring, 7-0.
After Penn State's kickoff went out of bounds, Michigan State started its second drive on the 35-yard line. The Spartans were able to get their offense moving a little bit, managing to get two first downs, but were forced to punt despite being on Penn State's half of the field. 
The Nittany Lions were able to march down the field after their drive was extended by a Xavier Henderson holding on a third down incompletion. Clifford and Freiermuth capped off another scoring drive, this time with a 19-yard touchdown to extend Penn State's lead, 14-0 to start the second quarter.
Michigan State's offensive woes continued in the second quarter as another three-and-out forced them to punt again. Running back Elijah Collins headed to the locker room after the Spartans' third drive, creating more concern for their dwindling offense. 
Penn State, however, was forced into a three-and-out of their own by Michigan State's defense, though Tyriq Thompson limping off the field during the drive continued the Spartans' bad injury luck. 
The Spartans managed another four first downs on the ensuing drive, including converting on fourth down, before Matt Coghlin's 46-yard field goal was blocked by Penn State.
Penn State began its final drive of the second half on their own 46-yard line. The Nittany Lions found success with short runs and passes before Clifford connected with a wide-open Hamler for a 27-yard touchdown pass. 
After Clifford ran the two-point conversion successfully, Penn State's lead extended to 21-0 as the second quarter ended shortly thereafter.
To start the second half, Michigan State continued its lackluster offensive performance and punted yet again. Despite the Spartan defense holding Penn State to a three-and-out, Brandon Sowards' muffed punt return was recovered by the Nittany Lions on the Michigan State 6. 
Their first play was yet another touchdown pass from Clifford to Freiermuth, bringing the score to 28-0.
When all hope for any semblance of Spartan offense was lost, Lewerke connected with Cody White for a 49-yard pass that put Michigan State on the Penn State 4. An option run a couple plays later resulted in Michigan State's first touchdown in nine quarters of play, bringing the score to 28-7.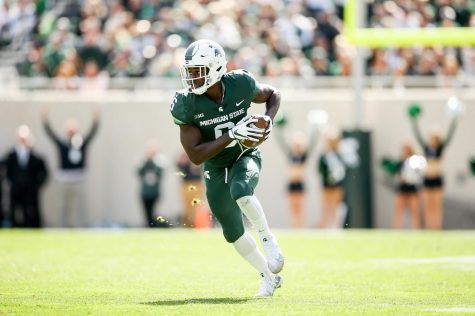 On Penn State's ensuing drive, a pressured Clifford hurled the ball downfield into the arms of David Dowell, giving the Spartans the ball again on their own 31. On the very next play, however, Lewerke threw an interception of his own and Penn State had the ball back on Michigan State's 46.
Following a Penn State punt, Michigan State looked to be making progress toward the red zone until Lewerke was sacked and fumbled the ball straight into the hands of Jayson Oweh. The entire fourth quarter saw possession change back and forth, but the game was over in the second quarter as the Nittany Lions took care of things, 28-7.
"We gotta be a little more violent with our hands," linebacker Joe Bachie said. "We gotta come out with a violent mentality, especially on a wet day like this. It's very possible to get the ball of them, and we just didn't do it."
Clifford finished 18-for-32 for 189 yards and four touchdowns, and his favorite target, Freiermuth, had five receptions for 60 yards and three touchdowns. Lewerke finished 16-for-32 for 165 yards before being replaced in the fourth quarter by Rocky Lombardi.
"Everything gets looked at," head coach Mark Dantonio said. "Nobody's more disappointed in production than the offensive coaches, or the offensive players."
Michigan State has another bye week before hosting Illinois on Nov. 9. Kickoff for that game is still to be determined.
Contact Aidan Hunt at [email protected]. Follow him on Twitter @TheAidanHunt.