Michigan State swept by No. 8 Penn State on Sunday afternoon
EAST LANSING – Consistency. It all came down to consistency. Michigan State walked into Jenison Field House boasting a 13-3 record, including a 6-1 mark in the Big Ten, after sweeping Rutgers on Friday.
The Spartans looked to avenge their lone conference loss to the Nittany Lions back in their Big Ten opener, but they would fall in three sets on Sunday afternoon.
A rally-infested first set got things going for the two sides. Michigan State got off to a strong start after quickly getting a group of kills by outside hitters Meredith Norris, Molly Johnson and Alyssa Chronowski.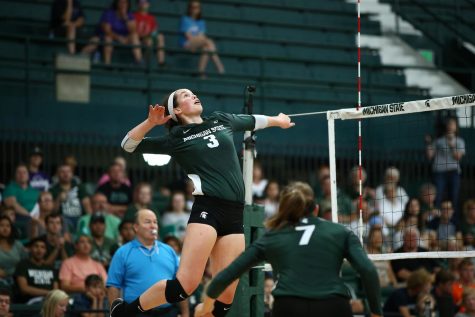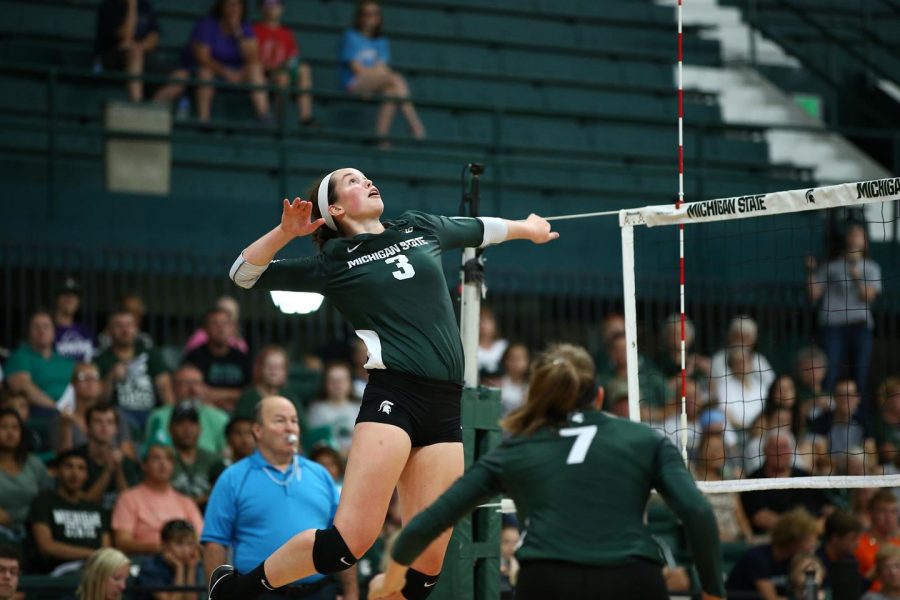 "I thought we were extremely aggressive early," head coach Cathy George said following the game.
Middle blocker Rebecka Poljan excelled on the court in set one, including a big hussle block by her and Johnson to force a second timeout by the Nittany Lions, with the Spartans leading 17-12. 
Then, after a kill by Penn State outside hitter Jonni Parker was called in, George pulled out her green card.
"Game one we're playing very well, and we hit that challenge and it just distracted us," George said. "Our services started to fall apart and they (Penn State) regrouped over their side and the rest is history, really."
Chronowski booked a cross-court kill to force a win-by-two situation for the Spartans, but she couldn't finish after her kill attempt went just wide of the line to give the Nittany Lions the first set.
The Spartans finished the first set hitting just over .200, when at one point, they hit nearly .350.
Set two began with a handful of errors resulting in a five-point run by the Nittany Lions. Norris made a pair of attack errors and Johnson got an attack error for herself. This forced George to call a timeout.
Norris and Johnson would soon follow up with revenge kills of their own.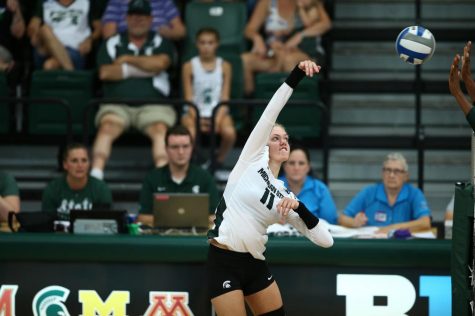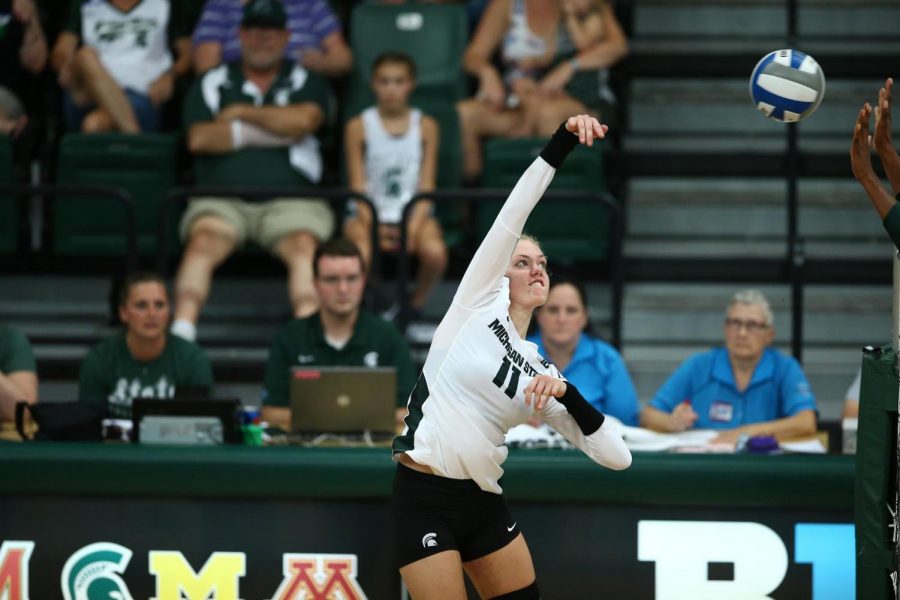 "They've got a huge front row, one of the best in the country, so you just go to make plays and try to hit around them," Norris said.
Staying as close to a five-point deficit through most of the second set, the set really began to come out of hand when outside hitters Parker and Tori Gorrell both booked kills of their own, expanding Penn State's lead to seven points.
The Nittany Lions kept feeding off of what the Spartans fed them, as the team found pockets when needed and unforced errors by Michigan State also helped to keep expanding the lead.
The Spartans lost set two 25-11, scoring less than half of what they did in the first set.
Entering the third set, the Spartans were hitting less than half of the Nittany Lions. MSU owned a .127 hitting percentage compared to a .328 hitting percentage for the Nittany Lions. All Penn State attackers had five or more kills under their belt after two sets.
The Nittany Lions quickly went on an 8-3 run to start set three before George used her first timeout of the set. A Poljan kill for the Spartans garnered a bit of hope but Gorrell quickly responded for the Nittany Lions.
Late in the set, Norris booked a pair of kills, Poljan contributed with blocks and Chronowski got going again with two big swings of her own. A solo block by Johnson forced a timeout to be called by Penn State head coach Russ Rose, his first since the two he took in set one.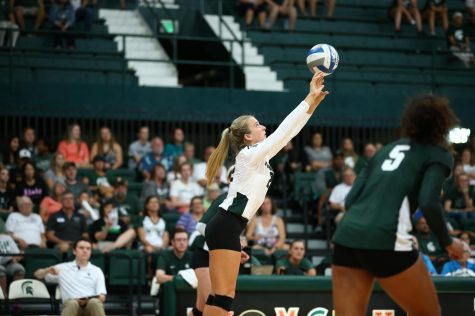 "I thought it was really important that our right side scored for us," George said.
Once again, the hole the Spartans dug themselves was too deep. The Nittany Lions sealed the deal with a Parker kill, and set three ended with a final score of 25-19.
Overall, No. 8 Penn State out-served the Spartans with eight aces compared to MSU's two.
Penn State's Parker led all players with 10 kills, hitting .375 on the day. Meanwhile, Molly Johnson led the Spartans, racking up seven kills and hitting .312 on the day.
"I thought, Molly, you know, slowed down a little bit somewhere in the middle there but then she came out strong and I thought she was taking big strong swings," George said.
Norris led all Spartan players with nine kills on the day.
Moving into next weekend's matchups against No. 6 Wisconsin and No. 7 Minnesota, Michigan State has some cleaning up to do.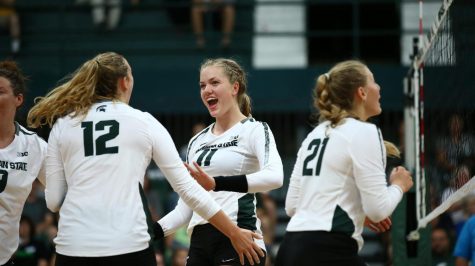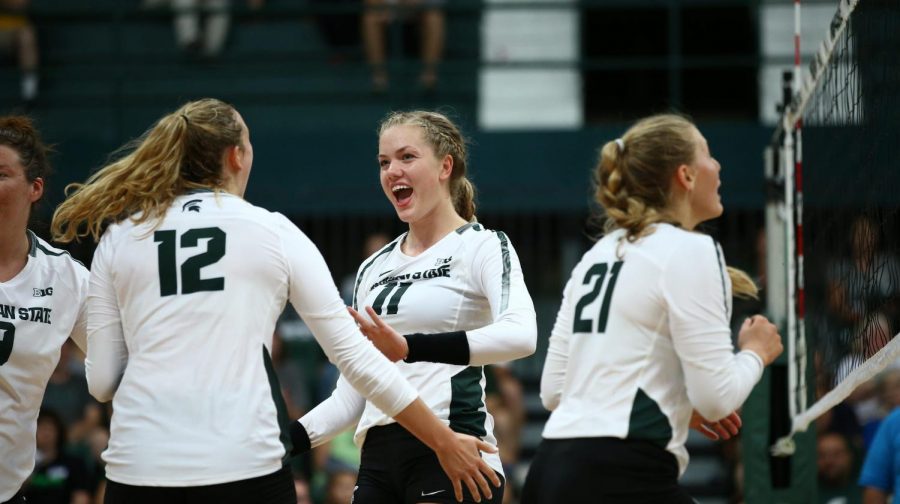 "This is going to be a character builder. We are heading into the season and this is a decision of whether or not we're going to fight against these teams," Chronowski said. 
"We've got a lot of work to do," George said. "We got two top teams coming in and we've got a lot of challenges here. We've got to make sure that we're not being as easy to play against."
The Spartans continue their homestand, hosting No. 6 Wisconsin on Friday before No. 7 Minnesota comes to town on Sunday. 
The Wisconsin match is scheduled to begin at 7 p.m. and can be found on BTN+. The Minnesota match is scheduled to begin at noon and can be watched on BTN.
Contact Hikaru Kudo at [email protected] Follow him on Twitter @HikaruKudo1.