Spartans look ahead to grueling schedule
EAST LANSING – The Spartan hockey team played one last exhibition game before the season starts for good. Michigan State defeated the United States National Team Development Program 2-1 in a game that will not count on the record. However, every game the rest of the way for the Spartans will count on the record, but they will have to work for every win.
"This is a great evaluation game, way better than practice," MSU head coach Danton Cole said after Friday's exhibition win. "The pace was good, a lot of plays being made. It was a good hockey game."
The Spartans start the season on Oct. 25, when they travel out west to take on Colorado College. That will be the first game of a grueling schedule for Michigan State. Every opponent but one (including last week's opponent, Northern Michigan) is either currently ranked or received votes in the USCHO.com Division I Men's Poll as of Oct. 18.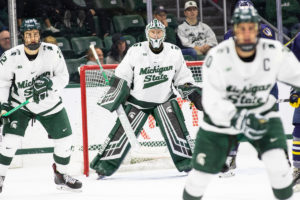 The only exception to the list is the Spartans' Great Lakes Invitational (GLI) opponent, Michigan Tech, who they will play at Little Caesars Arena in Detroit in late December. If they beat Michigan Tech, then they play the winner of Michigan and Ferris State. Both in-state rivals would be a tough matchup on the latter end of a back-to-back.
Michigan State has 31 games left after this weekend, and they start off the tough schedule right away. They go on the road to face Colorado College, who received 11 votes in the USCHO poll and would be the No. 24 team in the country if the poll went to 25 teams.
It gets even harder after that when Michigan State hosts Cornell for the Spartans' home opener. Cornell is ranked No. 5 in the country as of Oct. 18, however Michigan State did sweep Cornell last year on the road when Cornell was ranked eighth in the country.
Following the Cornell series, Michigan State opens conference play. During the conference season Michigan State will see Notre Dame, Ohio State and Penn State (who received one first place vote in the poll). All of whom are ranked in the top 12 in the entire country.
A whopping 16 of the Spartans remaining 31 games this season are against teams currently ranked in the top 20. If Michigan State wants to be the best in this stacked Big Ten conference, they are going to have to beat the best.
Contact Kyle Hatty at [email protected] Follow him on Twitter @KyleHattyIN.