Spartans must keep their foot on the gas headed into crucial conference weekend
EAST LANSING – Close only counts in horseshoes. Playing well enough to win and actually winning are two markedly different things. For Michigan State on Sunday, playing Wake Forest "close" only resulted in yet another blemish for the overall season mark.
For as much that has been made about the inability of Michigan State to really challenge ranked teams this year, Sunday against No. 20 Wake Forest was as well as the Spartans have played against a ranked foe all season. It was quite refreshing to see MSU not only draw nearly even in corner opportunities (8-7 Wake Forest advantage), but also yield 10 total shots on goal.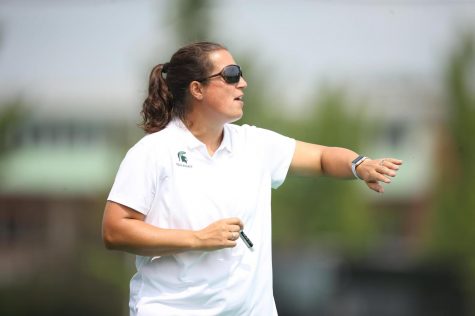 It also bears mentioning that not only were the Spartans on the road for this contest, but they also had just squeaked out a win in nasty conditions against Ohio at home 36 hours before the Wake Forest game. 
The question then becomes, where was this team all year? We could be talking about a completely different season script had MSU played UConn, Louisville Iowa and other elite clubs like they did against the Demon Deacons.
Only three out of the nine schools who field squads in the Big Ten conference are not ranked right now. MSU currently belongs in this less than flattering distinction, however so do the Penn State Nittany Lions, who will come to East Lansing this Friday looking to get over the .500 mark in conference play. Simply put, this is a game the Spartans must win.
When you are winless in conference play, despite stretches of solid play, the onus becomes about defeating the teams who are in the same general category as you are.
In a season full of quality losses, being defeated by Indiana earlier in the season was not acceptable for a young team looking to establish some sturdy footing within the Big Ten.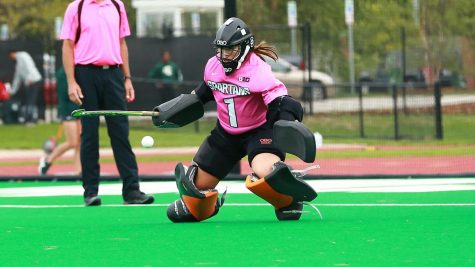 Losing to one conference doormat in Indiana is bad enough. Being defeated by another conference opponent who sports an abysmal 3-9 mark in Big Ten play is devastating. Penn State has struggled mightily during the majority of this season and its season high point is knocking off Northwestern 3-2 at home.
Looking ahead past Penn State, MSU will once again play host to an above-average squad in Rutgers this Sunday. Unlike the Nittany Lions, the Scarlet Knights, who despite being 1-3 in conference, enjoy a top-20 ranking. Rutgers is not UConn, Louisville or Maryland, however. They are a solid squad who struggles to blow teams out and usually wins by the skin of their teeth, as evidenced by their 6-6 record.
"So much of sport is mental, so you need to have the right mentality when we come out," MSU head coach Helen Knull said after her team defeated Ohio. "When you're playing to win, you're aggressive and on the front foot, as well as attacking and looking forward. To me, when you are playing to lose, you are reactive on your back foot. If there's one thing I know about this team, it is that we cannot play on our back foot. We've got to play going forward."
We can only speculate as to what was said after MSU's embarrassing defeat to Michigan. What we can attest to the fact that in the two games since, this MSU team looks more dialed in on the fundamental side of things, as well as more cohesive as a unit. In this reporter's humble opinion, that Sunday contest against Wake Forest was the first time all season a legitimate case could be made that MSU could have knocked off a ranked opponent.
We shall see if this higher level of urgency is displayed once again this Friday and Sunday. If MSU has any desire to put a bit of a bow on the finishing stages of the season, it better.
Contact Nathan Stearns at [email protected]. Follow him on Twitter @NathanStearns11.