Michigan State looks to rebound after loss to Maryland
Hang on for a minute...we're trying to find some more stories you might like.
EAST LANSING – Entering the third week of conference play, the Spartans look to bounce back after a tough five-set loss to Maryland after sweeping them one week prior.
On the docket: No. 5 Nebraska Friday and Iowa on Sunday.
No. 5 Nebraska
Nebraska enters week three of Big Ten play after getting swept by No. 13 Wisconsin last Saturday. With records of 3-1 in conference play and 11-2 overall, the Huskers' focus is in their offense. They book 13.34 kills per set, good for eighth in the Big Ten, and 12.43 assists for set, good for sixth in the conference.
The Nebraska offense is led by outside hitter Lexi Sun, who is drilling 3.60 kills per set and hitting .280 on the season. Sun is supported by her counterpart, outside hitter Jazz Sweet, who is booking 3.71 kills per set through the first four conference matches, including a hitting percentage just shy of .400.
All-American middle blocker Lauren Stivrins adds an additional 2.34 kills to the attack effort while hitting over .500 in conference play.
Add setter Nicklin Hames to the mix as well, who is averaging 10.53 assists per set, and it starts to make sense why this team is ranked No. 5 in the nation.
For the Spartans to be able to win a set, let alone the match, they have to continue using their strengths to their advantage: the defense.
Middle blockers Rebecka Poljan and Naya Gros need to continue being effective on the front line, especially when it comes to blocking. The Spartans are booking 2.82 blocks per set, good for first in the conference, and this must be showcased against Nebraska if Michigan State wants any chance of stealing the win.
Otherwise for Michigan State, its consistency in hitting percentage, digs and limiting the errors will also benefit the team. 
The attack errors hurt the Spartans last weekend when they fell to Maryland. A whopping 33 attack errors in five sets, including 12 in set four, hampered the team. If Michigan State can limit the errors and therefore award less free points to Nebraska, this may turn out to be one of the better matches the Spartans have played this season.
Iowa
The match against Iowa is a must-win. Perhaps not a sweep, but it must be a win.
Iowa enters week three of conference play with a 1-3 conference record and 7-8 record overall. The Hawkeyes' lone conference win was against Northwestern in the Big Ten opener back in late September.
Looking at the numbers alone, the Hawkeyes don't look bad at all.
Iowa is earning 13.34 kills per set and hitting .262 as a team, both good for fifth in the conference.
The offensive effort, which is booking better numbers than the 12.58 kills per set Michigan State currently owns, can come to the Hawkeyes help on the court.
The attack is led by outside hitter and right side switcher Meghan Buzzerio, who's booking just shy of four kills per set.
She is supported by the company of outside hitter Griere Hughes, who's booking 3.49 kills per set with a .312 hitting percentage, and Meghan's sister Courtney, a true sophomore drilling 2.64 kills per set.
The offensive numbers may look good and better than those booked by the Spartans, but it's a different story for the defense.
The Hawkeye defense, specifically the blocking, is struggling.
Iowa is seventh in digs in the conference, earning 13.91 digs per set, which is better than the Spartans 12.72 digs per set.
The digging effort is led by libero Halle Johnston, who's putting up 4.56 digs per set, good for third in the conference. In comparison, veteran senior libero Jamye Cox is putting up 3.86 digs per set for Michigan State.
However, like the Nebraska matchup, blocking is where Michigan State can really shift the momentum and change the trend of the match.
The Spartan block effort is led by middle blockers Rebecka Poljan and Naya Gros. Poljan is recording 1.30 blocks per set, which is good for third in the conference, and Gros is recording 1.24 blocks per set, good for sixth in the Big Ten.
The other advantage the Spartans have is their head coach. The Hawkeyes removed the interim label from head coach Vicki Brown back in May. Brown is currently the youngest head coach in the Big Ten. She served as an associate head coach for the Hawkeyes prior to her promotion.
Meanwhile, Michigan State has veteran head coach Cathy George under its belt, who is entering her 15th season with the Spartans and her 33rd season overall in coaching. George could potentially pull a few tricks out of her hat during the Iowa match to help her team out.
As close as this match is going to be, the Spartans must get a win against the Hawkeyes as a confidence booster, as the Nebraska match will be a very difficult match to win a set, let alone a match.
Where to watch
The 11-3 Spartans play No. 5 Nebraska Friday at 9 p.m. EST in Lincoln, Nebraska before heading over to Des Moines, Iowa on Sunday, as Michigan State plays the Hawkeyes at 2 p.m. EST. The Nebraska match is available to be viewed on BTN while the Hawkeyes match can be found on BTN+.
Contact Hikaru Kudo at kudohika@msu.edu. Follow him on Twitter at @HikaruKudo1.
About the Writer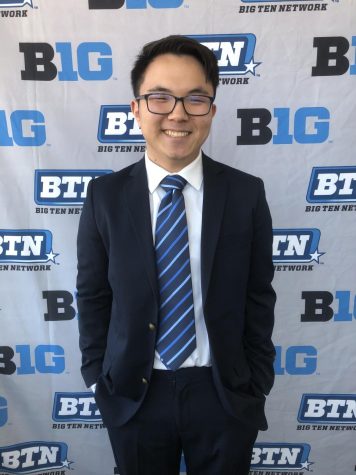 Hikaru Kudo, Sports Broadcast Director
Hikaru Kudo is a sophomore journalism student from Novi, Michigan. Hikaru is the Sports Broadcast Director at Impact 89FM and oversees all aspects of play-by-play, live or recorded, for any athletic event Impact sends staff to. He is also the producer of Impact Sports flagship radio show, The Green & White Report. In addition, he is the co-host of The Chant, an Impact Exclusive featuring sports and music news from the past week. Hikaru covers volleyball, men's and women's basketball, men's and...