Michigan State heads to Madison for a game set to be decided in the trenches
EAST LANSING – Madison, Wisconsin. It has been a few years since Michigan State (4-2, 2-1 Big Ten) made the trek across the pond – Lake Michigan that is – to take on the Badgers. 
The last time these two teams met, Andrew Maxwell was under center and Bennie Fowler was in the endzone for a 12-yard touchdown catch. A walk-off victory for the Spartans, 16-13 over a then No. 25-ranked Wisconsin team.
That was seven years ago in 2012.
Things are very different now.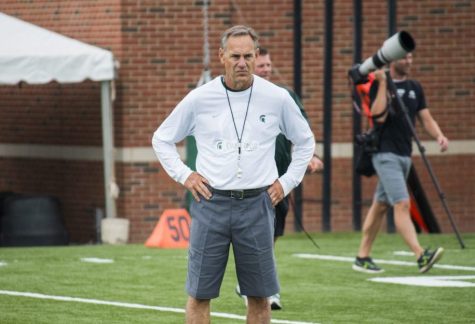 This No. 8-ranked Wisconsin (5-0, 2-0 Big Ten) team put a beating on Michigan, who many picked to win the Big Ten, and is coming off a 48-0 win over Kent State.
MSU just suffered a 34-10 defeat at the hands of No. 3 Ohio State in Columbus. 
With the Spartans reeling, it feels as though a season is on the line for MSU, and Wisconsin smells blood in the water. 
"It's our first time going up there since 2012," Dantonio said on Tuesday. "We've always had great games with Wisconsin …  I have a tremendous amount of respect for Paul Chryst and what he's been able to accomplish up there and what he continues to do."
Offense vs. defense: In the trenches
This is a game that truly does play into the strengths of MSU. One team is good at running the football – a heisman candidate in Johnathan Taylor – the other is like a feral pack of hyenas trying to stop it.
Wisconsin's offensive line is always its strength, allowing the team to average 254 rushing yards per game. 
Buoyed by veteran All Big-Ten center Tyler Biadasz, the offensive line lost four All-Conference players but is of course, O-Line-U, and reloaded. This year the offense has been even better and this team, who went 8-5 last season, is on a collision course with the Buckeyes for that euphoric Big Ten title belt.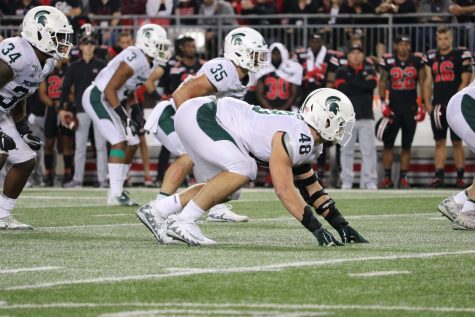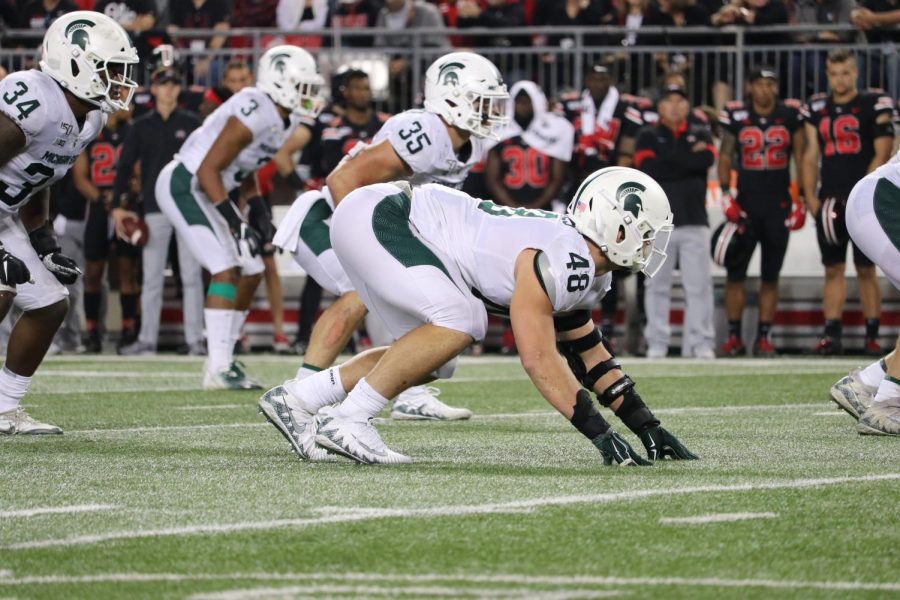 Quarterback Jack Coan is one guy that a lot of the pressure will be put on. 
Especially how the style of Wisconsin, a ground-and-pound offense that will be put to the test against the defensive line of MSU. 
"It is a different type of attack. You know, when you look at Ohio State," Dantonio said. "They ran inside zone 18 times, or 20 times, they were in the outside zone 18 times, and a quarterback counter once and a truck play, which is a gap schemes play, one time maybe."
The offense of Wisconsin will try to get "JT" the ball as much as it can. So if the Spartans can gameplan around that, then this game can be winnable. But it all starts with stopping Taylor. 
Especially with Josh Butler and cornerbacks outside of Josiah Scott struggling with faster, stronger receivers, this team will need to focus on erasing one aspect of Wisconsin's offensive game plan and force Coan to beat them.
Prediction
Wisconsin plays power football. They want to beat MSU up at the line of scrimmage, so this one will be an absolute dog fight.
Michigan State came here last in 2012, and it worked out for them well. 
This time, not so much: Wisconsin takes this one 24-10 over MSU and stays unbeaten as the stars align for the Badgers to travel to Indianapolis, and MSU's season begins to fade.
Contact Joe Dandron at [email protected]. Follow him on Twitter at @JosephDandronMI.