Saccone: Michigan State's offense is ready to put the pieces together
EAST LANSING – The Michigan State offense has had its share of ups and downs this season. The Spartans scored 51 points against Western Michigan, but only seven against Arizona State. Then they put up 40 against Indiana, but only 10 last week at Ohio State.
As the Spartans approach Wisconsin, the pieces are there for Michigan State. A good, seasoned quarterback. A quick, elusive running back. Playmakers on the outside and an offensive line that is aided by a solid group of tight ends. 
Now, halfway through the season, it's time for the Spartans to put those pieces together consistently. Especially against a solid Wisconsin defense that has had three shutouts this season, and held Michigan to just 14 points.
The backfield
Brian Lewerke has had an impressive season. He has quietly led the Big Ten in total passing yards, completions and attempts. Justin Fields has overshadowed Lewerke with Ohio State's success, but Lewerke has had just as good of a season thus far. 
He has thrown 11 touchdowns and only two interceptions along with 1,543 yards, averaging about 257 passing yards per game. Lewerke will definitely need to rely on his arm against a solid Wisconsin defensive line.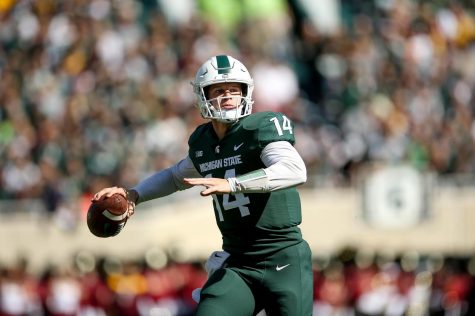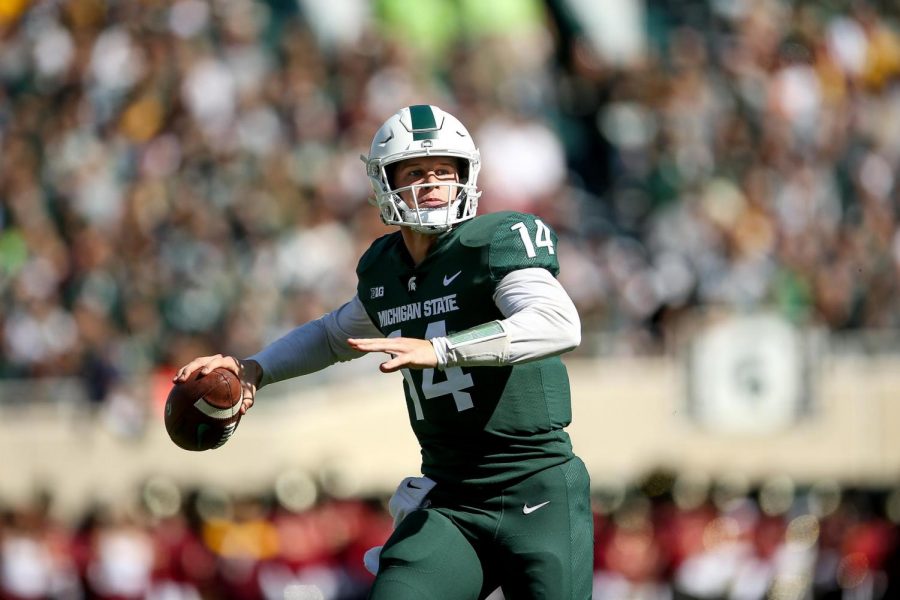 "They do a lot of things, and they try to keep you guessing," Lewerke said. "They don't want you knowing what they do."
And now, Lewerke has himself a true number one running back in Elijah Collins. While the redshirt freshman has not put up numbers like Wisconsin running back Johnathon Taylor, Collins has solidified himself in the starting role. This is especially considering that both Connor Heyward and La'Darius Jefferson have entered the transfer portal.
"Now it's time for me to step up, and take a leadership role more than anything," Collins said. "Because being one of the more experienced dudes in the room, I just have to embrace that role."
Collins erupted onto the scene with 192 yards on just 17 carries against Western Michigan. He currently sits at 476 yards this season, averaging over five yards per carry with three touchdowns. 
Having Collins for Michigan State is huge because he is a guy who has the ability to break off long runs, but also he is a guy who can get you five yards on a play to put the offense in good position. 
The receiving core
Michigan State's passing game is very improved from last season. Lewerke has himself a couple handfuls of guys on the perimeter who he can trust. Darrell Stewart, the Big Ten's leading receiver, is the obvious number one guy for Lewerke. Stewart was able to find the endzone for the fourth time this season against the Buckeyes. 
Cody White and C.J. Hayes are other guys on the edge that have playmaking abilities. However, the team hasn't quite connected these two pieces completely yet. Hayes is without a touchdown this season, and dropped an easy third down conversion against Ohio State last weekend. 
White has had problems holding on to the ball this season. Against the Buckeyes, White fumbled on the second play for the Spartans.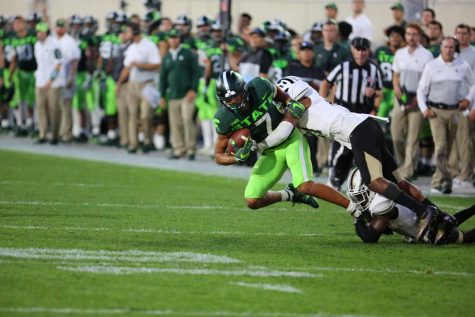 However, the play from the tight end position has had a huge impact on the offense this season. Matt Seybert jumped onto the scene several weeks ago and is continuing his success. 
Aside from his impact in the red zone, his impact on the line is just as impressive. Against Ohio State, Collins broke off a good chunk run, all because Seybert was able to seal the edge with a great block on the end man on the line of scrimmage. The play is well overlooked but is a testament to how important the tight end position is becoming for the Spartans.
Meanwhile, Matt Dotson is another asset for the offense, as well as Trenton Gillison, who had a solid outing against Ohio State. Gillison finished with three catches, which led all tight ends, for 34 yards. Another moment that might get overlooked was one of Gillison's receptions.
"Trenton's a young player, but he caught the ball very well last week," Dantonio said. "He's an athletic guy." 
He was able to bring in a throw in between a couple of defenders for a first down, then powered his way for several more yards. It's important the tight ends for Michigan State continue to find success, even against a very good Wisconsin defense. 
The line
The offensive line this year is not as puzzling as one might think. Kevin Jarvis did go down against Arizona State, however Tyler Higby was able to step into the starting role. The Spartans have only used two different starting lineups on the line, and the only reason it changed was because Jarvis' injury.
The line has a lot to handle with the Wisconsin defense. The Badgers are the leaders in the FBS in several categories including total defense, scoring defense, passing defense and third down defense. The offensive line of Michigan State has a lot to handle in that Wisconsin defense. They will be aided, however, with the help of the Spartan tight ends.
The outcome
Michigan State matches up well with Wisconsin. Both teams have great defenses that are able to stop the run. While Johnathon Taylor is a Heisman-looking running back, Wisconsin doesn't have as many weapons as Ohio State. 
This allows the Spartans to focus a little more on stopping the run. And for the offense, the Spartans will be able to move the ball. It will be tough to score against the Badger defense, but Michigan State will score more points against Wisconsin than any other team the Badgers have faced this season. 
In the end, however, Michigan State loses a hard-fought, defensive battle.
Contact Luke Saccone at [email protected]. Follow him on Twitter at @luke_saccone4.