A quick look into the 2019-20 Michigan State hockey team
EAST LANSING, Mich. – Michigan State hockey is back in action, and the team now prepares for its season-opening series this weekend at Northern Michigan University.
The roster doesn't vary a whole lot from last year's, but there are definitely some voids after losing four outstanding athletes over the offseason.
Seniors Cody Milan, Brennan Sanford and Zach Osburn naturally made their exits from Michigan State after ending the year by dropping both playoff games to Notre Dame back in early March. Outstanding starting left winger Taro Hirose decided to forfeit his last year of NCAA eligibility to start another journey in his life; playing in the NHL for the Detroit Red Wings.
With those playmakers being absent on the 2019-20 roster, head coach Danton Cole and his staff are finding ways to fill those gaps. Cole has added three new freshman forwards to the roster in hopes to obtain more scoring credibility – the Big Ten being filled with multiple offensively-threatening teams including Ohio State, Notre Dame and Michigan.
Nonetheless, the addition of three high-caliber freshmen may be the answer the Spartans are looking for.
Freshmen Nicolas Müller, Jagger Joshua and Josh Nodler proved their value during the exhibition match against Western Ontario on Monday night. Switzerland native Nicolas Müller is currently the starting right winger for the group, and he scored his first NCAA goal last night in front of his new home crowd at Munn Ice Arena.
"He's pretty cerebral. He can pass and attack very well on offense," Cole said. "The more he plays, the better he's going to get."
Jagger Joshua and Josh Nodler are line mates with co-captain Sam Saliba on the second line; Joshua acts as the left winger and Nodler will be taking over as the center. Aside from both having pretty sweet names, the two freshmen actually competed against each other at the junior level in the USHL last season. Now, they'll have to learn how to play friendly together.
Nodler will be relieving Saliba of his center duties, and this raised a couple eyebrows, including mine. Saliba was the go-to center for MSU last season, but Cole might have another trick up his sleeve by moving him to the wing position.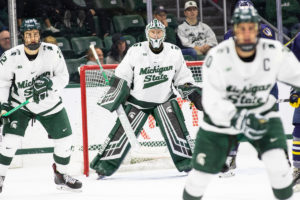 "We [the coaching staff] think that Sam will score more goals at the left wing spot," Cole said. "But there will be times where we'll need his skills as a right-hander in the face-off circle."
Saliba was the stand-alone captain of the team last year. This season, junior center Tommy Apap will also be wearing the "C" on his chest. I think it's a great move to have two captains rather than one, and hopefully the new leadership will result in a different outcome for this Spartan team.
The defense looks really physical and quicker at passing. Redshirt senior Jerad Rosburg and sophomore Dennis Cesana should be the starting defensive pair all season. Both tallied assists as well as delivered some huge hits during Monday's game. Another interesting switch is that the Krygier brothers (Christian and Cole) are now playing together on the second defensive line.
Cole only needed a year to see how the two reacted to playing in the NCAA before he trusted them enough to be his second line of defense.
"As twins they have a pretty good bond, and they work well with each other. Puck maintenance was the main issue I had with them two tonight, but we will focus on that moving forward and they'll be ready come Friday," Cole said.
Senior defenseman Butrus Ghafari and junior Tommy Miller will be a strong third line for this Spartan defense.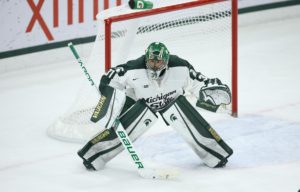 The starting goaltending spot is still up in the air, and there is a good chance it will be a weekly battle between John Lethemon and Drew DeRidder for the position. I like what I saw from both goalies last season, and I'm excited to see what both bring to the table.
Overall, this Spartan hockey team has evolved so much over the past three seasons. This will be Cole's third season as head coach of the Spartans, and each year his team has shown much improvement.
I believe Michigan State will fare better in conference play this season, and they'll have a really good chance to win the Big Ten.
Contact John Supan at [email protected] Follow him on Twitter at @johnsupan415.