Biggest takeaways from on and off the ice at Michigan State hockey media day
EAST LANSING, Mich. – The overwhelming takeaway from Michigan State hockey head coach Danton Cole's press conference at the team's media day on Wednesday was his focus on building a winning culture and mindset in his tenure at Michigan State. He made moves this offseason that reflected that.
He brought in volunteer assistant Jim Slater, a former player for MSU who had a lot of success in East Lansing, including two years as captain of the Spartans and finishing as a finalist for the Hobey Baker award in 2004.
"He has all the skills and knowledge of hockey. But his passion for the game and passion for Michigan State is outstanding," Cole said.
Cole also named two captains for this upcoming year in order to establish leadership in the locker room that the team can lean on during the year.
"You have to build that culture every day. It can't ever get away from you. But when the players are driving it, it's way stronger, and what they did in the spring and the summer was that they took control of that locker room. It's their locker room now," Cole said.
The biggest takeaway from the intrasquad scrimmage was how good the chemistry was on both teams. The vision of the players and the ability to find the open man was a strong spot all day for the Spartans. The power play scenarios demonstrated that even more. The power plays, especially the green team with Patrick Khodorenko and Mitchell Lewandowski, were calm and poised the entire time.
The duo was also joined by Nicolas Müller, who looked to be in place of Taro Hirose, who left for the NHL's Detroit Red Wings after being a Hobey Baker award finalist last season. The white team seemed to be on their heels because of the ability the green power play had to spread the puck around and generate quality chances.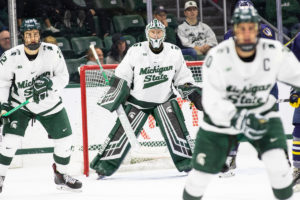 If that continues into the season, this team's offense will be very hard to contain. That offense along with the fact that both goaltenders looked composed, and faster, in the scrimmage compared to last year will help the Spartans moving forward. Playing more aggressively in power play situations and not giving up rebounds also means the Spartans could be a nightmare matchup in all three zones in a game.
Off the ice, the team looked relaxed and excited to start the year. The players were smiling with their friends and family and all gave answers that hinted this year could be a big one for the Spartans.
Contact Kyle Hatty at [email protected]. Follow him on Twitter at @KyleHattyIN.