Spartans struggle in consecutive games, now look to rebound against Michigan
EAST LANSING, Mich. – Oh how the mighty have fallen. After a promising 4-1 start to the season, the No. 24-ranked Michigan State Spartans have scuffled as of late, mustering only a 1-4 record over their last five games. The Spartans had an especially rough weekend stretch on the road against No. 7 Northwestern and No. 8 Iowa last weekend.
In this two-game gauntlet, MSU was outscored 9-1 and outshot 54-10. Things don't get any easier, as MSU now draws No. 9 Michigan on the road this Sunday. This recent rough patch for the Spartans has dropped their overall season mark to 5-5 and more importantly, 0-3 in Big Ten play.
What has caused Michigan State to struggle as of late? The combination of mental lapses and a brutal stretch of games is predominantly responsible for the downturn in production. It has been mentioned several times throughout the course of the season that the East Lansing-based squad has struggled mightily to limit the amount of corner opportunities against quality opponents.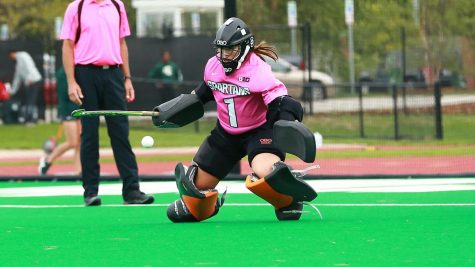 The same problem that has plagued this team time and time again reared its ugly head against highly-ranked Northwestern, in the form of the Wildcats generating 10 corner inserts, compared to the Spartans' five. This number itself is a bit deceiving, as MSU wasn't able to achieve their first corner opportunity on the offensive end until the fourth quarter. 
It's no secret that goaltender Jade Arundell has been nothing short of phenomenal between the cage this year. In all of the Spartans' losses this year, four have been against top-10 teams, one common fixture has been Arundell being peppered with shot after shot. Against Northwestern this past Friday, MSU was outshot by a 22-10 margin. The mark would be even more lopsided on Sunday afternoon, with Iowa more than quadrupling the amount of shots MSU collected (32-7). 
When looking at the Spartans' body of work as a whole this season, it cannot be overstated as to the extreme level of difficulty the team has been faced with in the scheduling column. In any sport, when you play four top-10 teams in 10 games and five top-10 teams in 11 games, winning becomes a struggle. However, there is a definite intrinsic value in going through such an arduous schedule.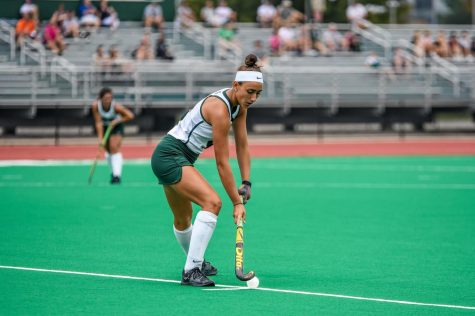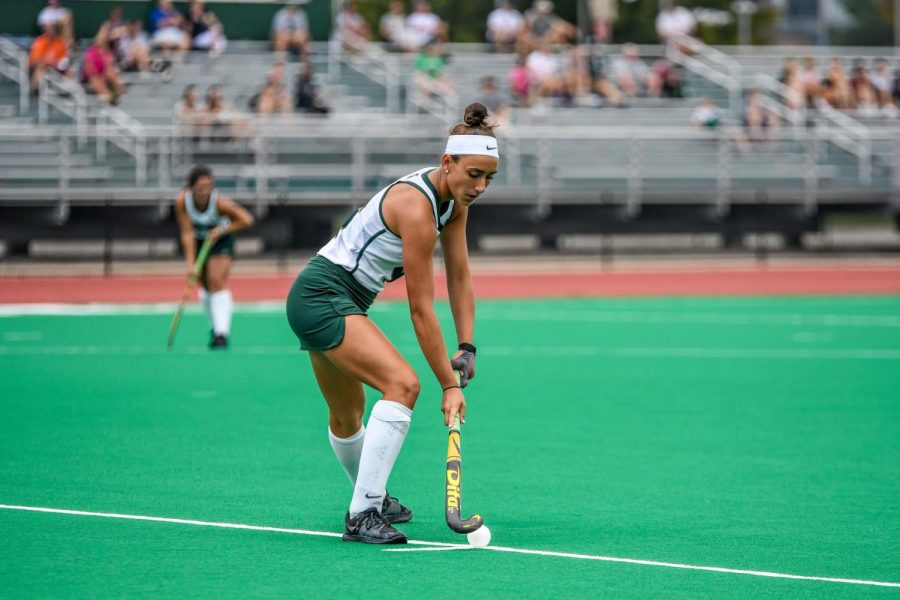 Head coach Helen Knull often talks about how you learn more about your team in losses against marquee squads than you do in wins against lesser competition. For a team that is on the uptick and is looking to cement itself as a national contender, this strenuous agenda affords the Spartans an opportunity to take a long hard look at themselves in the mirror. The team can learn how it needs to play on a game-to-game basis to hang with the cream of the crop programs.
These games help to serve as a blueprint for how execution and preparedness need to be applied in live scenarios. 
The fruits of their labor may not show this year in the record column, but it would come as a surprise to absolutely no one, if after taking their lumps in conference play this season, the Spartans are a national power next year. If MSU is able to apply the lessons learned in these lopsided affairs to the field either later this year, or early next season, we could very well see a new program being ordained among the conference elites in the Big Ten.
Contact Nathan Stearns at [email protected] Follow him on Twitter at @NathanStearns11.