Spartans have eyes set on Columbus as road test against Ohio State looms
EAST LANSING, Mich. – The No. 25 Michigan State Spartans (4-1, 2-0) head out on the road to take on the undefeated No. 4 Ohio State Buckeyes (5-0, 2-0) in Columbus, Ohio this Saturday. 
Michigan State goes on the road off a homecoming win against Indiana, while the Buckeyes return home after defeating Nebraska. The two teams come into the matchup each undefeated in conference play.
This is the first time Ohio State's head coach Ryan Day will coach as a head coach against Mark Dantonio. Day has yet to lose a game dating back to last year. He's 8-0 in his career.
"I think Ryan Day is doing an outstanding job his first year as a permanent head coach," Dantonio said. "He has them playing at a very high level, and he's done a great job getting everyone going in the same direction."
Ohio State has won its last three games against Michigan State dating back to 2016. Last year in East Lansing, Ohio State came out with the win 26-6. The Spartans, however, have defeated Ohio State three times since 2011, the most of any team in the conference. The last time Michigan State defeated Ohio State was in 2015, when both teams were ranked in the top 10. 
The Buckeyes come into this matchup as one of the best teams not just in the Big Ten, but also the country.
"Dominant, one of the top five teams probably in the country," Dantonio said. "Certainly can make a case for them to be anywhere from one through five."
The statistics back those claims from Dantonio. Ohio State's offense ranks in the top 10 nationally in scoring at 52.4 points per game, total offense with 535.6 yards per game and rushing offense with 281.6 yards per game.
Ohio State is led on the offensive side by quarterback Justin Fields and running back J.K. Dobbins. Fields has accounted for 23 touchdowns this season, 16 passing and seven rushing. Meanwhile, Dobbins has had three games this season eclipsing 100 yards on the ground.
"They're doing a tremendous job in terms of offensive production," Dantonio said.
On the defensive side, Ohio State ranks in the top five nationally for scoring defense, allowing 8.6 points per game, total defense, letting offenses only gain 223.8 yards per game, as well as sacks. The Buckeyes are averaging 4.8 sacks per game. Ohio State is anchored by its defensive line, including defensive end Chase Young. He is averaging 1.6 sacks per game, good for second in the conference as well as the nation. 
"I don't think they blitz as much, but their defensive line is very good and they've got a ton of sacks on the quarterbacks, so we're going to have to be solid up front to be able to stop them," Michigan State quarterback Brian Lewerke said.
Michigan State, while not as dynamic on the offensive side of the ball as the Buckeyes, still has a lot of positives to look at going into the game. 
"I do like our offense," Dantonio said. "It's more productive than it was last year, there's no question. Our quarterback is playing at a high level."
Spartans wide receiver Darrell Stewart Jr. leads the Big Ten in both receptions (35) as well as receiving yards with 556. Those receptions come thanks to Lewerke, who leads the Big Ten in total passing yards (1,325), completions (104) and attempts (174). 
"We're focusing on what we can get done this year," Lewerke said. "Offense is confident."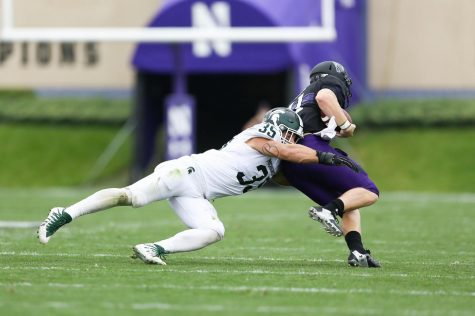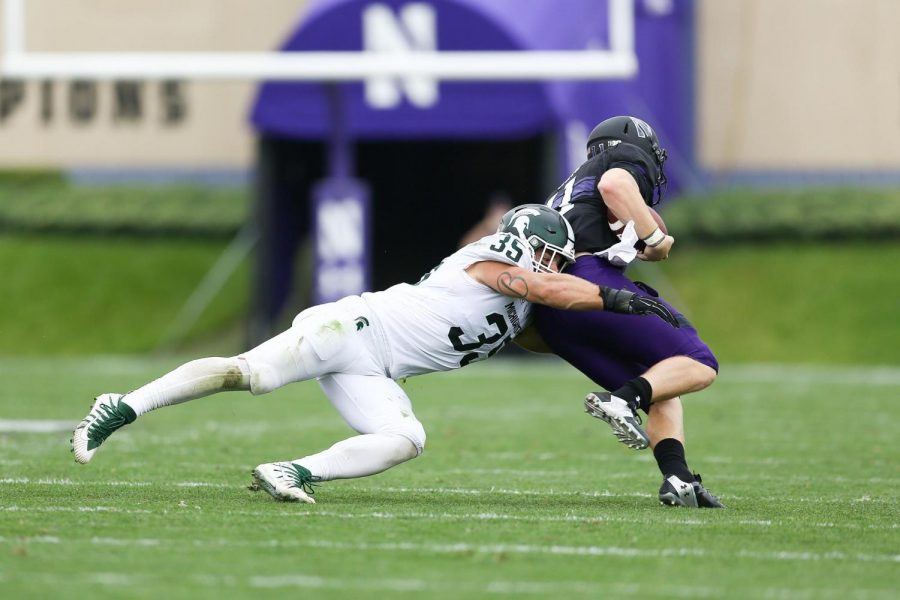 The game on Saturday is a challenge for Michigan State's defense. The Spartans gave up a season-high 31 points to Indiana, the first time in 16 games an opponent of the Spartans has scored over 30. 
"We needed to adjust a little bit better, in terms of coaching perspective," Dantonio said. "Then we also needed to tackle in space a little bit better, and more importantly than that, leverage the ball better."
Michigan State's defense, however, is still one of the best. It ranks in the top 10 nationally in total defense, only allowing 253.8 yards per game, and rushing defense. The Spartans' opponents are averaging just 55.8 yards per game on the ground. 
"If you want to be the best, say you're the best defense, one of the best defenses in the country, then you better play well against a great offense as well," Dantonio said.
The Spartan defense is led by senior linebacker Joe Bachie, who leads the Big Ten in tackles with 46 on the year. Michigan State's defensive line is in the top 20 in the FBS, led by Kenny Willekes and Raequan Williams. Willekes and Williams combine for 7.5 on the season.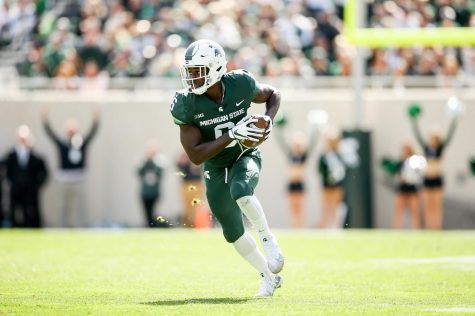 Michigan State has 28 players on the roster that are from the state of Ohio. Of those 28 players, 10 are potential starters, including Joe Bachie and defensive back David Dowell.
"For me, personally, I prepare the same way for every single team," Dowell said. "This is a big game, I'm not naive to that fact, we're not naive to that fact. The next game is always the biggest game for us."
This game is a big one in the eyes of Michigan State, which is on a quest for a conference championship. In recent years, that quest for a conference championship always flows through Ohio State.
"At the end of the day, if you want to be Big Ten champions, or East division champions, that goes through Columbus, Ohio," Dantonio said.
Contact Luke Saccone at [email protected]. Follow him on Twitter at @luke_saccone4.