Spartans defeat Purdue, remain undefeated at home
EAST LANSING, Mich. – Michigan State women's soccer returned to the pitch Sunday afternoon, following the postponement Friday's match against Indiana due to inclement weather. The rain continued to fall at DeMartin Stadium Sunday, as the Spartans held off the Purdue Boilermakers for a 2-0 victory. 
The effects of the rain were evident early on, with the playing surface more closely resembling a slip 'n' slide than a soccer pitch. Players were falling all over due to the soft footing, and the ball had the characteristics of a wet brick.
"I think the team's attitude about dealing with conditions is fantastic," MSU coach Tom Saxton said. "They just dealt with it really well, and enjoyed it actually. I think playing the game in the rain can be an enjoyable experience, and you can see that out of a lot of them today. They really excelled."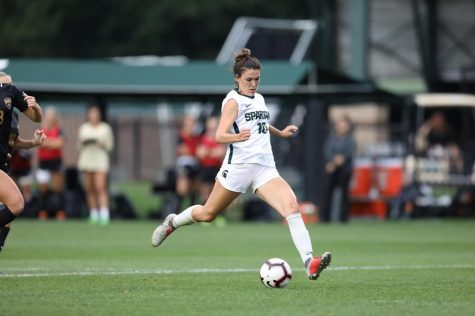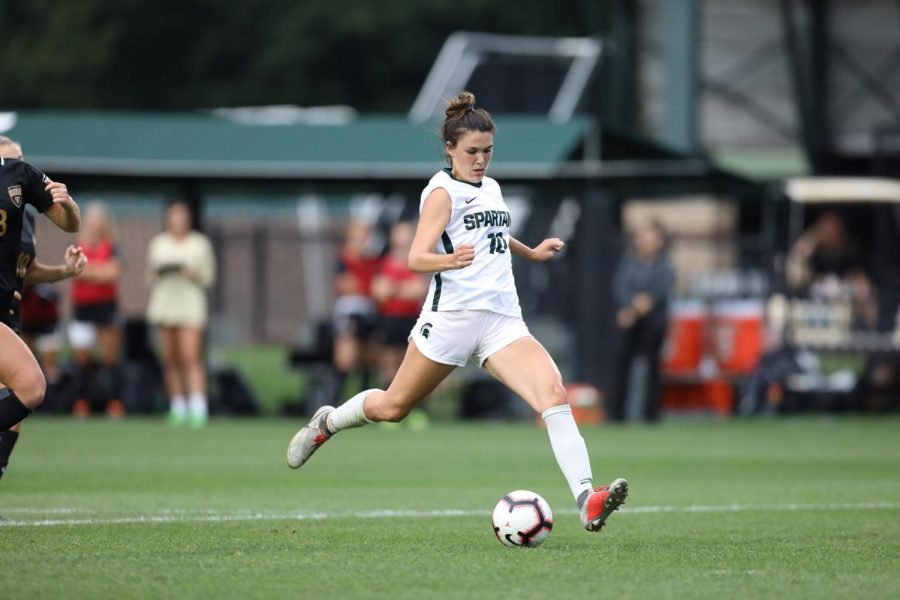 It didn't take long for MSU to become acclimated to these poor conditions. Sophomore Gia Wahlberg broke away late in the ninth minute of the match, passing the ball off to Camryn Evans who would then gain an assist off of a beautiful score from freshman Paige Webber. This would be Webber's fourth goal of the season, the second most for the Spartans. 
Neither team would find the back of the net for the remainder of the period, sending MSU into the half with a 1-0 lead. 
Coming out of the half, the Spartans were able to withstand a couple of strong Purdue attacks before stringing together some nice possessions of their own, but to no avail. A couple of missed opportunities on both sides left much of the second period scoreless. 
That is, until Gia Wahlberg struck.
The Spartans' leading scorer again broke away in the 78th minute, streaking past two Purdue defenders and finding the net from the bottom third. This would mark Wahlberg's team-high ninth goal of the season, giving MSU a 2-0 lead.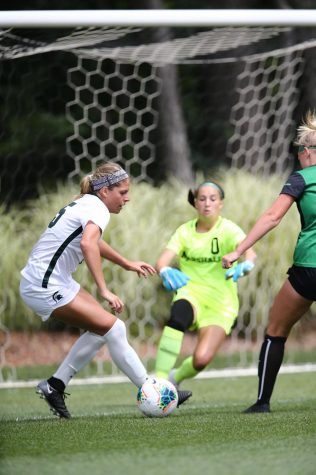 The rain came down even harder in the waning minutes of the match, as the Boilermakers tried in desperation to produce some miracle. The Spartans wouldn't let it happen however, and would emerge victorious, preserving their perfect 6-0 home record. 
"We know that if we continue to do well in DeMartin, it spells for a great season. So we'll continue to focus on that," Saxton said. "Although, it would be nice to go out on the road and get a Big Ten win," he added.
The Spartans move to 8-3 on the season, they now prepare to challenge Minnesota on their home turf in Minneapolis, Minnesota on Thursday. 
Contact Henry Menigoz at [email protected]. Follow him on Twitter at @HMenigoz.