Spartans look to carry momentum from Northwestern game into Big Ten play
EVANSTON, Illinois – Michigan State made the best of a get-well game on Saturday, winning big over the Northwestern Wildcats in the first game of a treacherous Big Ten schedule. Coming off a devastating home loss to Arizona State, MSU made a statement in their 31-10 victory over the Wildcats. 
The big story in this one was head coach Mark Dantonio achieving his 110th career victory, putting him past Spartan legend Duffy Daughtery for the most wins by a head coach in the school's football history. Morale was high after the game, as coaches and players seemed grateful to have something worth celebrating. Dantonio was also in good spirits, and attributed his success to the teams he's worked with.  
"You can't get there without players, guys," Dantonio said. "You can't get there without coaches, and this is a very special group we have here."
MSU fans have reason to celebrate as well, as the struggling Spartan offense showed flashes of greatness in the second half of their victory over Northwestern. After yet another rough start, quarterback Brian Lewerke finished the game with an impressive 328 yards and three touchdowns, two of which went to tight end Matt Seybert in his breakout performance. 
The wide receiving corps looked healthier as well, as Darrell Stewart continued his electrifying streak of games by making some big third down plays for the Spartans, and the mysteriously quiet Cody White finally broke some big plays, including a hauling in a touchdown. 
But MSU's offensive success continues to come down to the run game. Running back Elijah Collins and his ability to break tackles and extend plays is what keeps this offense rolling down field. If the Spartans are going to move forward in progressing as an offense, they need to accept their identity as a run-first team, and take some pressure off of the arm and decision making of Brian Lewerke. 
In the first half against Northwestern, we watched the Spartans continue to try and make a square peg fit into a round hole, and consequently stall out on first and second down. Their second-half success can be traced down to a run-based attack, and the subsequent rhythm found off the back of Elijah Collins.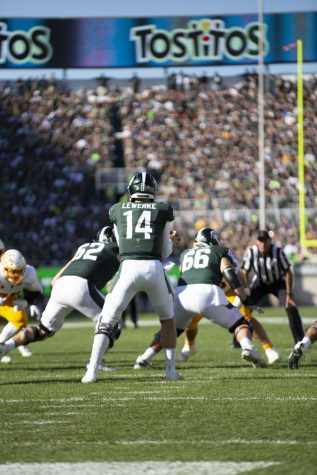 As the offense began moving the chains, we saw Lewerke looking much more confident in the pocket, making some plays that bode well for the future of this offense. To be successful, Michigan State must commit to developing the run game, and give Collins the touches he deserves. 
On the other side of the ball, the Michigan State defensive squad continued to shine against the Wildcats. The Spartans were able to hold Northwestern to just three points through three and a half quarters, before subbing out their starters in the fourth. 
Early on, MSU was able to make some big stops on important downs, including a fourth-and-goal stop backed up on their own 1-yard line. They also were able to force three interceptions, answering to complaints regarding the lack of turnovers. Linebacker Joe Bachie played exceptionally well against the Wildcats, racking up 14 tackles along with a sack and a pick. 
"Business as usual," Bachie said. "Getting back down to business, that's what we did this week."
Another high point for players and fans alike was significantly fewer penalties, as opposed to the nightmare of the ASU game. The Spartans had the fewest amount of flags on the season, cutting down the 10 they had against ASU to only five against the Wildcats. Not only did this help the offense, but Spartan Nation enjoyed a less stressful game as well.
As Michigan State now prepares to host Indiana for their homecoming game, we can only hope this second-half momentum can carry over to the rest of the season. 
Contact Henry Menigoz at [email protected]