Spartans, Mark Dantonio earn record-setting win in Big Ten opener against Northwestern
EVANSTON, Illinois – Michigan State was coming off a 10-7 loss to Arizona State last weekend and to boot, opened up Big Ten conference action today at Northwestern – a team they had lost four of the previous five meetings with dating back to 2012. 
And with all eyes on what their offense would do after a no-show against the Sun Devils at home, the Spartans and Brian Lewerke came alive in a 31-10 victory over the Wildcats to give the team a Big Ten conference play opening win and Mark Dantonio win No. 110 and the all-time win record at MSU.
"I knew that sooner or later maybe it would come, to be honest with you I'm just trying to focus on winning a football game," said Dantonio after the win. "Those things that come with that one hundred and ten, I think those are things that you sit back at a later time and say 'Ok, did this did that' but its not an individual thing, it's just so many people working towards (the win). I was very impressed with our workmanlike attitude today."
The record-setting win was buoyed by two first half touchdowns on a 5-yard Elijah Collins rush and an 11-yard touchdown catch by Cody White – the latter set up by a Josiah Scott toe-tap interception with 1:39 left in the first half. 
White's touchdown with 24 seconds left in the first half gave MSU a 14-3 lead into the break, one that the Spartans never looked back from.
"Touchdown before half, I think that was (a) huge tone setter going into the second half," said Lewerke.
"If something happened negatively, we just lined back up and played," said Dantonio.
Even with that halftime lead, Northwestern forced the Spartans to fight for every inch of it.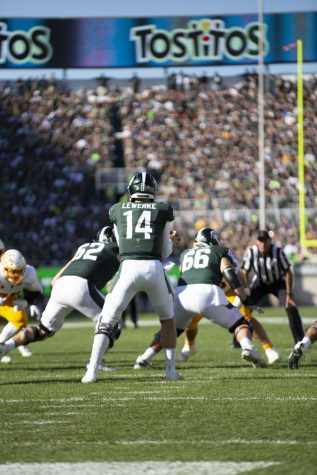 Northwestern battled all throughout the game, even after being down 7-0 in the first few minutes of the game, the Wildcats managed to drive to the MSU 39-yard line before being forced into a field goal attempt with 14:13 left in the second that left them still down 7-3. 
Despite battling Wildcats were not able to establish their offense at key moments in the game, getting a turnover on downs after recovering the muffed punt fumble by White with just under six minutes left in the first quarter. 
In the end, as Lewerke tossed his second touchdown pass on an 8-yard strike to Matt Seybert – one of his two touchdown receptions in the game – with 4:41 to go in the third quarter proved to be the backbreaker for the Wildcats.
"Growing up, you know I went to Traverse City St. Francis (MI), the Bulloughs obviously," said Seybert. "Growing up, middle school watching Max (Bullough) on the big screen and stuff, It's just a dream … I always wanted to play in a power five conference and I knew I could do it here at Michigan State."
MSU's Lewerke threw for three touchdowns and 228 passing yards in the game and Northwestern quarterback Hunter Johnson was 15-for-28 with 88 passing yards and an interception in a losing effort.
Collins had 76 rushing yards and a touchdown run in the game as well.
Mental mistakes on both sides
Although Michigan State got the win, the offense specifically was hampered and helped by penalties during the game. 
Early on, the first drive for MSU was kept alive on a 38-yard reception by White that also drew offensive pass interference with 13:43 left in the first quarter, but then the team was hurt by a pass interference call on Josh Butler that helped set up the only points of the day for the Wildcats.
Northwestern also had three turnovers in the game, one by Johnson in the first half and two more interceptions thrown by second-string quarterback Aidan Smith. 
"The turnovers they made, I thought we definitely capitalized on those," said Dantonio.
The Spartans had two muffed punts, one lost and one recovered, but both were by Cody White – who has taken over return duties for much of the time with return specialist and wide receiver Jalen Nailor out indefinitely with a lower leg injury that he suffered the week of the game against Western Michigan.
Both teams made several mental errors throughout the game that could cost them as they get into the meat of their Big Ten schedules.
Mark Dantonio gets all-time win record
Joe Bachie, the captain of MSU's defense and starting middle linebacker, had one of the best games that fans have seen of him in a Spartan uniform. The senior had 14 total tackles, two pass breakups, two tackles for loss and a sack in the game. 
"We talked about last week, refocusing, getting back down to business," said Bachie after the win. "That's what we did this week, offensively, defensively we did a great job, we focused together and we got Coach D his win."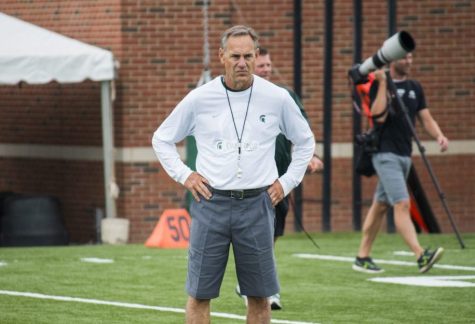 He was a big reason why Mark Dantonio was able to get win No. 110 and surpass Duffy Daughtery as the all-time winningest coach in MSU football history.
"Lot of family came, just to be a part of the moment," said Dantonio. "You can't get there by yourself, you need family, very supportive especially in this position, you need players that'll buy you and you need administrators to give you the opportunity and support you when things are tough."
Dantonio has averaged just under nine wins a season in the previous 12 seasons as the head coach at MSU. 
In his time, the Spartans are 6-6 in bowl game appearances and he also has won two Big Ten Coach of the Year awards. 
"Here you get to play for something way bigger than yourself," said Seybert. "You're playing for Coach D's record setting win, that's something way bigger than yourself."
Up next: the battle for the "Old Brass Spittoon"
Michigan State will play next weekend at home against Indiana, the homecoming game for the Spartans.
Michigan State defeated Indiana last season 35-21 in Bloomington, Indiana and currently holds the trophy that the pair battle for each fall: the "Old Brass Spittoon," a tradition started in 1922. The Spartans lead the all-time series with 45 wins and 12 losses.
Kickoff for that game will be at 3:30 p.m. and it can be watched on Big Ten Network. For those in the Lansing area, the game can be found on the airwaves of Impact 88.9 FM in the Lansing area.
Contact Joe Dandron at [email protected] Follow him on Twitter at @JosephDandronMI.