Spartans complete weekend with much-needed victory over Ball State
EAST LANSING, Michigan – It's amazing how quickly a game can change. The first 29 minutes of the first half featured a sluggish and somewhat sloppy affair for both Michigan State and visiting Ball State. However, within a 30 second period, MSU put Ball State in a rather large hole right before halftime.   
On the strength of two almost simultaneous last-second first half goals by Aisha Osinga and Meredith Ross, as well as a third period goal by Lia Sinisi, the Spartans snapped a mini two-game losing streak and regained some confidence.
That will be pivotal as they begin a lengthy road trip against three consecutive top-15 opponents that will most likely determine the overall success of the season. With the much needed victory, MSU is now 5-3 on the season.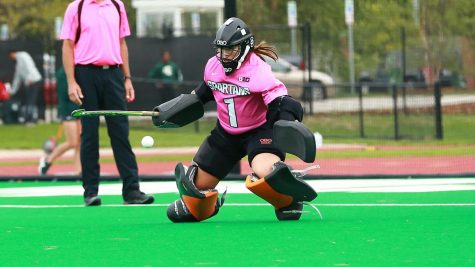 Yielding corner opportunity after corner opportunity was something that has really plagued the Spartans throughout portions of the season. The first period saw this flaw rear its ugly head yet again, as Ball State mustered an early 3-0 corner advantage over the host team.
Thankfully for the No. 23 ranked team in the land, goalie and big ten save leader Jade Arundell was once again sensational, both in the net and directing traffic out front.
Not much can be said about the majority of the second period, other than the fact that neither club could generate much of anything on the offensive end. The game was being played at midfield for a 10 minute period. It appeared that a scoreless first half was in the cards for both teams. 
A switch was then flipped. After regaining some offensive rhythm and corner opportunities in the latter stages of the second, MSU finally broke the game open on the strength of an Aisha Osinga goal. She was able to drive a shot past Cardinal goalkeeper Grace Chavez courtesy of assists by Cara Bonshak and Meredith Ross.
Ross, who had a goal on Friday against Indiana, would get into the action only a few seconds later by poking a shot past Chavez. She has attributed her recent success to taking advantage of opportunities.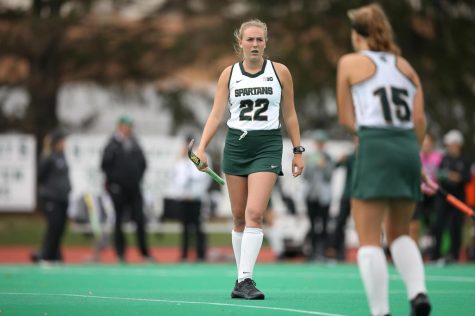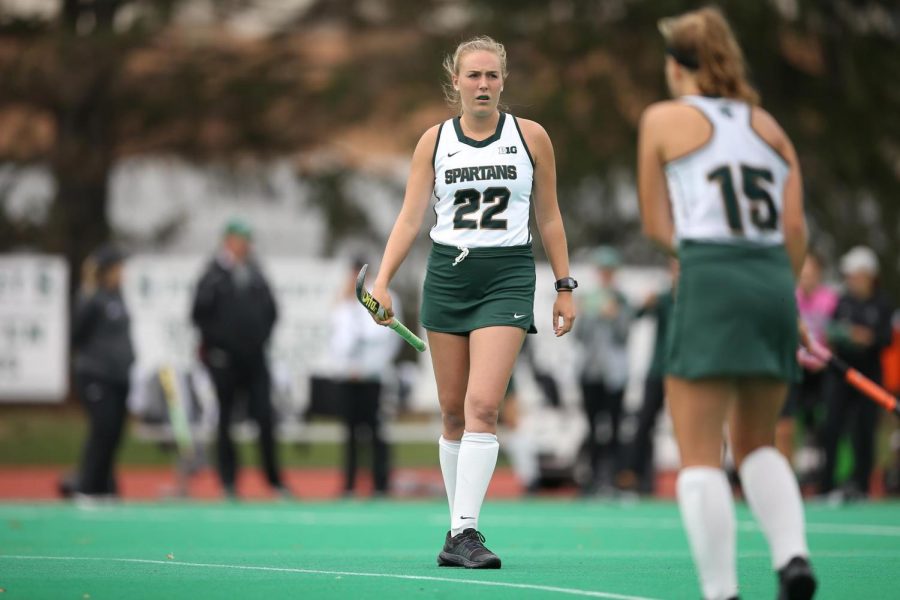 "I've been given opportunities," Ross said. "I've had an eye for the goal and the last goal I scored, I heard someone on the sideline telling me to go and I went and it ended up in the back of the net." 
Within a minute, the mood on the Michigan State sideline had undergone a complete transformation. The pendulum of momentum had completely swung toward the Spartans at the intermission. 
"We adjusted our press a little bit and worked on intercepting a bit more," head coach Helen Knull said. "They always say once you score, the most dangerous time is two to five minutes after because you have the momentum shift and I thought we used that in our favor very well." 
MSU went full throttle throughout the third period, renewed with confidence after that mini scoring outburst. Lia Sinisi, who now leads the Spartans in scoring with five goals, further extended MSU's advantage with assistance from Celina Riccardo. Sinisi credited her teammates for putting her in a good position to capitalize on scoring chances. 
"That's my teammates. When we go in numbers and go together, we are a dangerous team," Sinisi said.
Ball State would answer rather quickly with a tally in their own right, as Rachel Pereira shrank the Spartan advantage to only two goals. The gates had opened for an offensive shootout. MSU would hold serve for the rest of third and enter the stretch run of the contest with a two-goal cushion.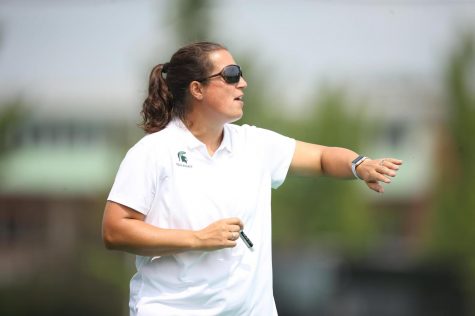 Both squads initiated a handful of corner opportunities in the fourth, but neither team could scratch another score onto the board. With a two-goal lead and the clock as their friend, the Spartans were content to be smart with the puck and burn time in the latter half of the fourth.
When the final horn sounded, the Spartans had collected their fifth win of the year and matched their win total from last season.
"Last year overall was a very disappointing year just in our ability to perform and get wins," Knull said. "We struggled to play together as a team last year, whereas this year that isn't a problem."
MSU will now leave the friendly confines of East Lansing in favor of Evanston, Illinois and the No. 13 Northwestern Wildcats this Friday. They will then travel to No. 8 Iowa next Sunday before they return to Michigan, with a matchup against No. 9 Michigan on Oct 6.
Michigan State will not return home until Oct. 11, when another Mid American Conference foe visits East Lansing in the Ohio Bobcats.
Ross mentioned how "if we play on our front foot and play the game that we are capable of," then Michigan State could register some signature wins over the next few weeks.
Will this come to fruition? We shall be kept in suspense until next Friday.
Contact Nathan Stearns at [email protected] Follow him on Twitter at @NathanStearns11.