Spartans can't get out of their own way, fall to Indiana
EAST LANSING, Michigan – This one line by head coach Helen Knull sums up quite well the overall performance of Michigan State against visiting Indiana on Friday afternoon.
"They have to start executing. It's on each individual player to execute," Knull said.
Any coach will tell you that it's quite hard, if not impossible, to beat your opponent while simultaneously shooting yourself in the foot over and over. Continuous mental lapses and unforced gaffes buried the No. 23 Spartans against the visiting Indiana Hoosiers. With the overall ugly performance, MSU fell to 4-3 on the season and is in the midst of a two-game losing streak. 
The story of the first half could be surmised in one simple statistic. Indiana accumulated a 7-1 corner advantage over Michigan State, mostly as a result of several uncharacteristic sloppy mistakes by the Spartans in their defensive zone.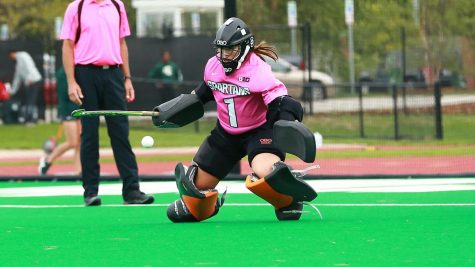 "We are not moving and protecting our feet, and we have them opportunities that they did not earn," Meredith Ross, who scored a goal, said.
Sophomore forward Hailey Couch was able to single-handedly put the Spartans in a deep hole, as a result of her three goals in the first half, all coming off of corner opportunities.
The only goal for the host team in the first half came off a corner by Aisha Osinga that was punched in by Nienke Bloemsaat. But after the game, the Spartan freshman was more focused on the team's lack of overall functionality, rather than her individual triumph.
"Today we weren't playing as a team," Bloemsaat said. "We just have to be better in the 25 (attack zones) and our attacks need to become so much better." 
Alas at halftime, what was expected to be a joyful affair instead turned into a shell-shocked result for all of those in attendance. Indiana had come into Ralph Young field and thoroughly dominated MSU in a way that very few have this year.
If the Spartans were to have any aspirations of coming back and snatching a come from behind victory, than the second half would have to follow a vastly different script than the first half.  
Whatever was said during halftime by coach Knull worked. Within the first part of the third, Meredith Ross blasted an absolute missile of a shot past Indiana goalie Sachie Ananias. MSU would then receive a corner opportunity only a few seconds later.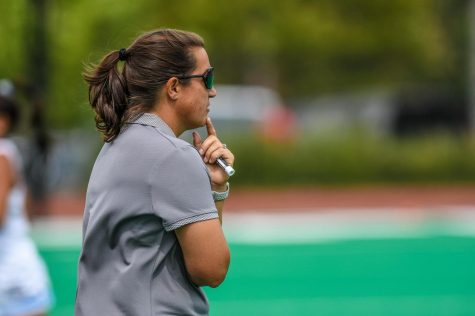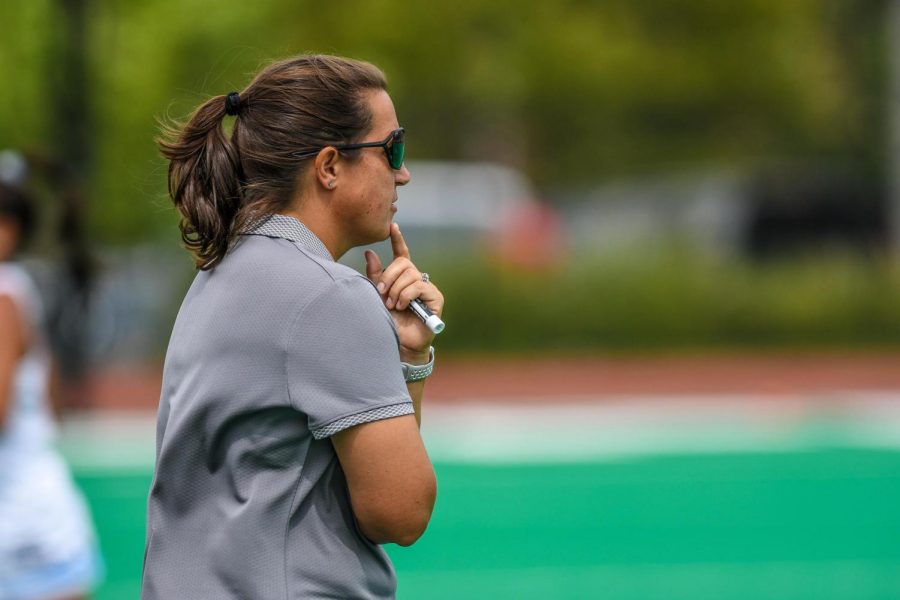 Despite not capitalizing on the corner infraction, the sheer ability to drive into the Indiana zone was quite encouraging to see. MSU was finally able to amount a great degree of pressure on that Indiana zone for the first time in the game.
Whatever momentum the Spartans compiled in the third was swiftly eradicated when the fourth goal of the game for Indiana was yielded by Arundell on yet another corner. Instead of controlling the pace of the game, Michigan State was playing catch up once again.
They were unable to capitalize on a late two man advantage and several corner chances, as Indiana would hold on for a huge ranked road win against a conference opponent.
Like Bloemsaat, the idea of being better in the 25 yard zones on offense and defense was also echoed by Knull. 
"Our big thing is that we have to be better in our 25s, both defensively and attacking," Knull said. "We've talked about getting stretch and depth a lot on the attacking side. Our strikers are creating depth for our midfielders. That kept happening again today."
Unlike the first two losses of the season for the Spartans, this was the first defeat of the season in which MSU was supposed to win. Combined with this being the opener for Big Ten play and MSU was understandably frustrated following the game. 
"We let balls over the end line and didn't pay attention to detail," Ross said. "When we can't make adjustments, we aren't going to be able to win games." 
On the bright side for the Spartans, they will be afforded a quick turnaround when Ball State comes to East Lansing on Sunday Morning. The Ball State contest will wrap up the six-game homestand for MSU, as the team begins a long road trip that starts this Friday at Northwestern.